Food is a huge part of travelling and while I may not be the biggest 'foodie' in the world I can certainly relate to the excitement of arriving somewhere new and sampling their local delicacies. After all, it doesn't really feel like you know a place until you've sat down and filled your face with their most popular dishes.
Although we didn't have great experiences with food in China, South-East Asia more than made up for it with endless incredible dishes, available 24 hours a day and for next to nothing. Despite not being in Asia for a few years now, most of our cooking at home is still influenced by the meals we fell in love with there. Hunting down a good (good being the keyword) Thai restaurant is often top of our list when going somewhere new.
Even in Asia, surrounded by all that great food, there were still times when we craved some of those classic tastes from home. Maybe on a special occasion or the morning after the night before we'd be tempted to splurge on something we'd grown up with. I remember once travelling 2 hours across Bangkok on 2 buses and a sky-train, just to pick up a Cornish pasty from a supermarket selling English products.
There was also the time my parents were instructed to pick up the biggest block of mature-cheddar they could find on the way to the airport to get us through our cheese cravings –  cheese was available in Bangkok but  it was never quite the same and unusually very expensive.
Now we're living back in Europe many of the items we crave from home are readily available however, there are still a few things that haven't quite taken off in mainland Europe that we're still desperate to get our hands on.
That's why when we were approached by the British Corner Shop we were more than happy to talk to them about receiving some tasty treats from home.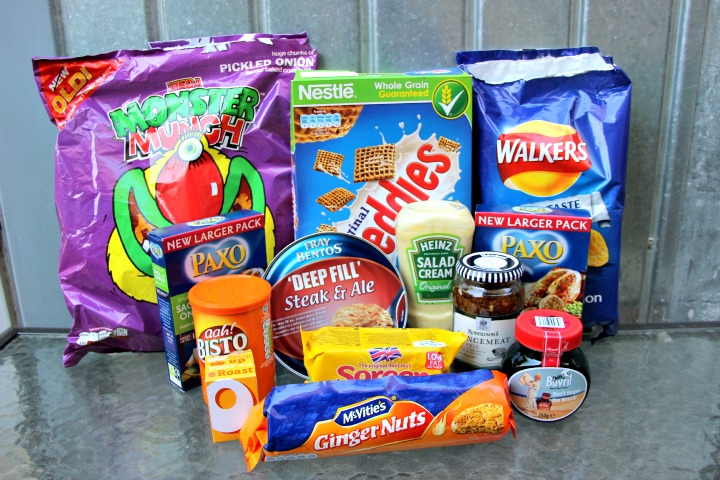 Our collection of goodies
The British Corner Shop is basically your local supermarket on the internet. Think of it as shopping online at your local Sainburys only rather than paying for it to be delivered a mile away you can receive your shopping anywhere in the world, right to your doorstep.
Unfortunately for me, Kirsty dealt with our order and was very happy to receive a couple of items in particular. Heinz Salad Cream is something we use a lot of but have yet to see anywhere else but the UK, mayonnaise just isn't the same.
Interested to see exactly what is available from the British Corner Shop I thought I'd have a little search around and see what we could be munching on now had Kirsty not got in their first.
The first item I searched for was obviously black pudding and much to my delight (or anger at Kirsty) the results showed Bury Black Pudding. I followed that up with a search for another item that I usually purchase within hours of getting back to the UK, Jon Thorners Traditional Scotch Egg and realised quickly it's a good job I don't live in the UK anymore for the sake of my health. Scotch eggs and black pudding do not make for a healthy lifestyle.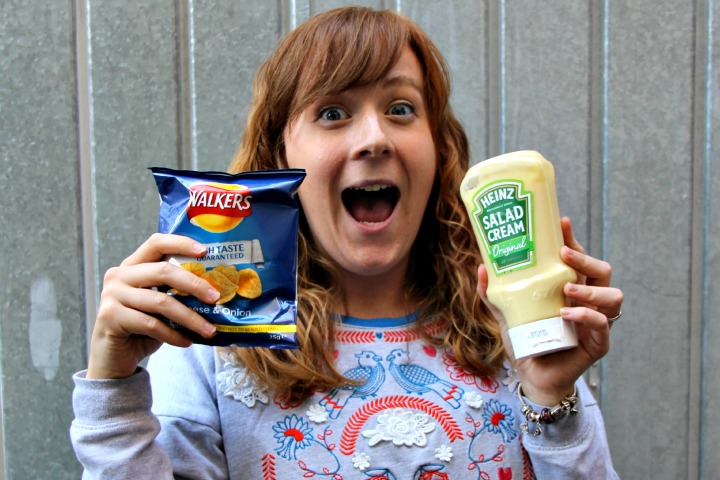 A couple of items in particular got Kirsty very excited
It's great to have some comforts of home delivered to your doorstep anywhere you live in the world but I'm sure you are wondering how much does this all cost? Delivery to most countries in Europe fall into the £12.99 P&P for a large 30kg box, which is pretty good when considering postage costs in the UK can often be quite high. The British Corner Shop will deliver to any country in the world and delivery prices are displayed on their site.
One of my favourite things about the site is the ability to track how heavy your current shopping basket is. Instead of second guessing how much weight you've used when adding items to your basket, a graphical bar will actually show you. It also takes into account the weight of all packing, so no nasty surprises when it comes to paying for your order.
Our only other concern was the condition of the products by the time they had travelled from the UK. Although we didn't really have any perishable foods in our hamper (god forbid the salad cream exploded) everything was wrapped very securely and none of the packaging was damaged. If anything the products were slightly over-wrapped however, that's not a bad thing considering the distances some of these packages will travel.
Are your friends and family sick of filling their suitcases with all your favourite food from home? I know ours are. Then maybe the British Corner Shop is a good option for you?
Black pudding, brown sauce and Lincolnshire sausages. What are the foods you miss most from home?