After being so busy since moving out of London in the summer I've hardly had a chance to reflect on my time living in the city. There is no doubt to anyone who has seen all my updates that I absolutely loved it there and enjoyed making the most of all the different events constantly taking place.
I settled into the capital easily and with very little fuss and I think part of that was due to living in Bangkok before moving back to the UK. We both grew up in Lincoln which, despite having city status, isn't the biggest of places and owes lots of it's stature to the impressive cathedral and castle that can be seen from most places within it.
So after living in two of the worlds major cities, Bangkok & London, what differentiates them?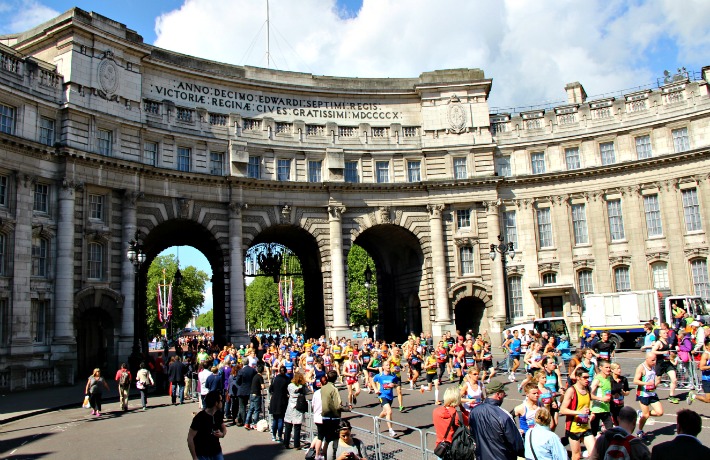 The London Bupa 10k going through Admiralty Arch
Differences
Friendliness – Despite me not buying completely into the consensus that nobody in London will look each other in the eye or ever help a stranger, there's no denying that in general you'll find a lot more smiling faces on the streets of Thailand's largest city than you will in England.
Respect – Being a teacher this is a big one for me. In Thailand teachers receive a lot of respect and the children aren't just looking to get one over on you at every opportunity, you're there to teach and it feels like they're grateful for that. Also, on a slightly touchier subject it's acceptable to be friendlier with the children without the 'everyone's a pedophile' worries that we've developed over here.
Drinking buckets – Although binge drinking is in full swing over here, a full bottle of spirit in a bucket on the street isn't generally accepted. A cheap 2lt bottle of cider however…
No Rannees Restaurant – I miss this place so much and even in London have struggled to find a place that is both value for money and able to cook so many different types of food to a decent standard. Going to Bangkok? Go to Ranees.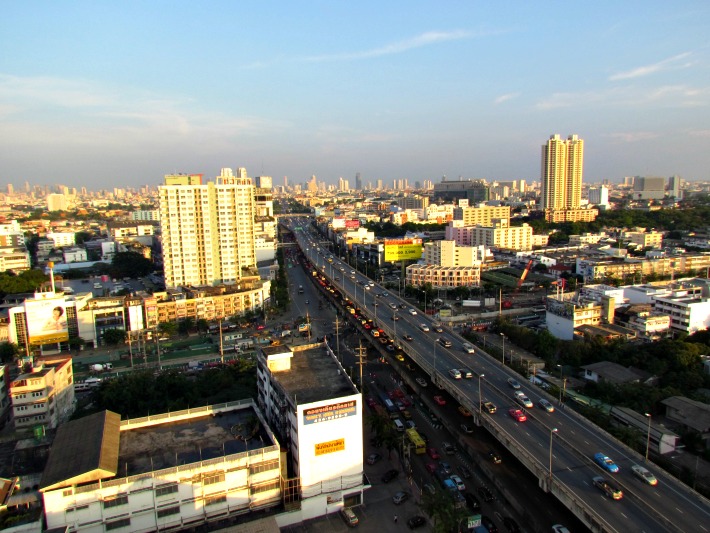 The view from our Bangkok apartment
Similarities
Traffic – A very obvious point but one that is very relevant when living in both cities. The traffic can be horrendous in both but where as in Bangkok it seems to be within the city, London is more of a problem getting in or out.
Public Transport – Both redeem themselves from the above point with excellent public transport. In Bangkok we didn't live very close to any sky train stops which was a pain but the stupidly cheap buses (and bus lanes) as well as the option of a moped thrill ride meant we were always able to get about quickly. In London I was a few minutes away from the nearest underground stop and only a few minutes from the center of town. Easy peasy.
Great shopping – While Poi hated our regular trips to Oxford street for my shopping fix he didn't mind the welcome relief of the ice cold air conditioned shopping malls in Bangkok. Both offer great shopping and not just indoors, both cities have exciting markets where you can pick up just about anything.
Food – While we might not have found a regular favourite restaurant in London like we did with Ranne's in Bangkok both places offered plenty of choice when hunger came knocking. Like most people, we adore Thai food and would eat that 99% of the time but if we ever had a craving for something else it was never hard to find in Bangkok, particularly Indian. The same goes with London, so many varieties just a few minutes in each direction, not something you find in our hometown.
Have you been to these two cities? Which one would get your vote as the best place to live and why?