About
Hello and welcome to No Place To Be
We're your hosts, Poi and Kirsty and through this website we hope to share with you what we are trying to make one hell of a life.
It's a long story, so here's the short of it…
Right back in 2009, on what you might call 'a normal holiday' we decided that we wanted much more than to look forward to a few weeks away each year. We started talking about a dream of long term travel. Fast forward to August 2010 and we were boarding a plane with a one-way ticket to China.
Despite plans of a whirlwind journey through South East Asia and on to Australia we soon realised that wasn't our style. It was almost two years until we forced ourselves to leave the wonderful food and excitement SE Asia had to offer.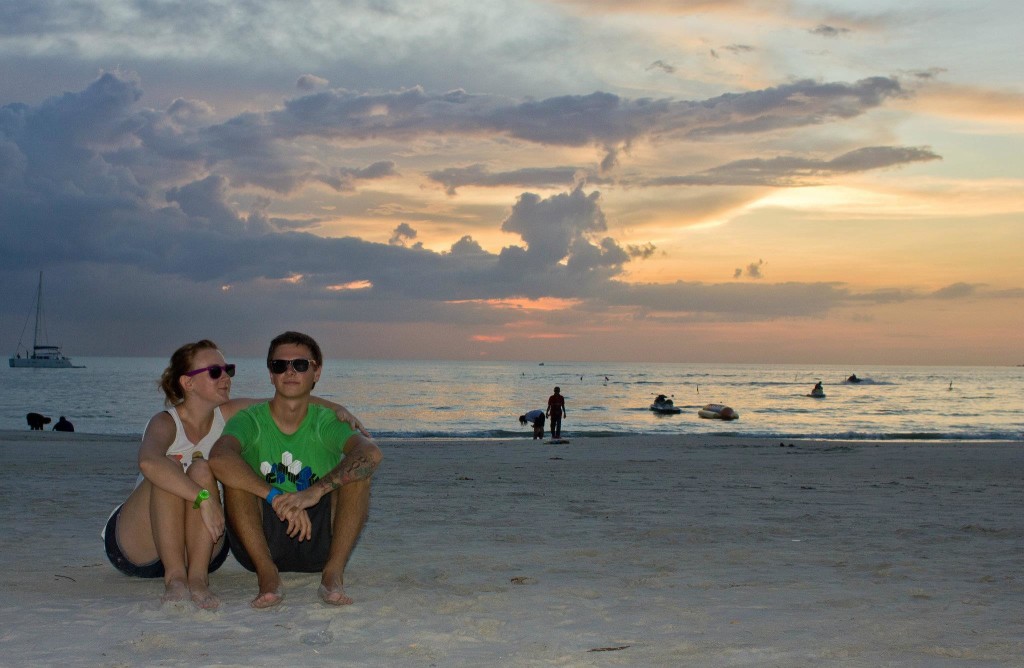 On the beach in Langkawi, Malaysia
Where have we been?
As mentioned above the fun began in China and went on to include Hong Kong, Vietnam, Cambodia, Laos, Thailand, Malaysia, Singapore, Indonesia and the Philippines.
Thailand became our home on two occasions, the first being a three month spell in Chiang Mai. At the time (in fact, most of the time it still is) it was the home of travel bloggers, there were plenty of us living there and even more passing through almost daily.
We grew to love Chiang Mai and by the end it felt like home, we were very sad to leave.
Bangkok became our second home in Thailand and our base in SE Asia. Despite Kirsty working as an English teacher we made the most of the transport links and enjoyed trips to Malaysia, Laos, Singapore, Philippines and of course many of the beautiful Thai Islands.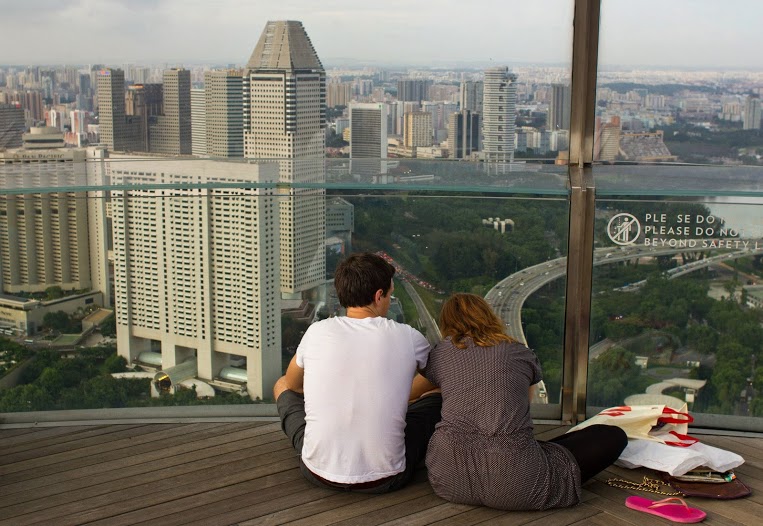 Admiring the view in Singapore
We returned home to the UK for a couple of years after Kirsty received an offer to good to resist. Realising teaching was her thing in Thailand, we moved to London so Kirsty could become a fully qualified teacher and make the move from teaching English as a foreign language to teaching in international schools.
Being back in the UK after a couple of years away gave us the chance to spend some quality time with friends and family but we also enjoyed short breaks to the USA, Slovenia and Spain, just enough to keep our travel fix in check.
We got married in September 2014, spending the majority of the wedding budget on a dream eight week trip to Tanzania. Hiking, camping, diving and some of the most testing journeys we have ever been on made for a honeymoon to remember.
We returned to the UK for just six days after our honeymoon to swap our swimming shorts for thermals and disappearing off to Austria. We worked the winter 14/15 season as ski reps in the gorgeous town of Zell am See, based on a lakes edge surrounded by mountains covered in snow, it was quite a contrast to our time in Tanzania.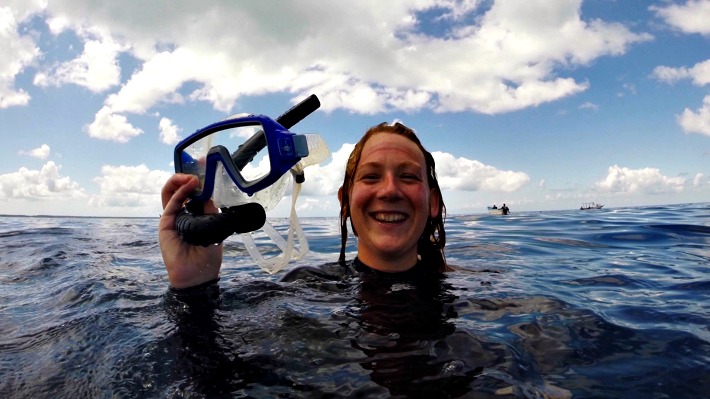 Kirsty after swimming with whale sharks off Mafia Island, Tanzania.
Where are we now?

During our time in Austria, Kirsty was keeping an eye on teaching jobs available across the globe. Shortly before our ski season was coming to an end the perfect job became available in a country we'd been planning to visit for a while.
After a few months at home recovering from pretending to be 21 again during our winter season we loaded our car up with all of our possessions and set off across Europe. We drove through France, Germany, Austria, Slovenia, Croatia and Serbia before arriving at our new home – Bucharest, Romania.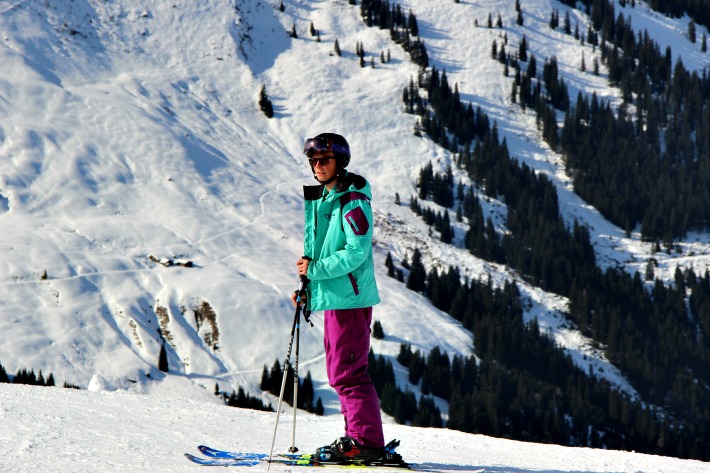 Poi working as a ski rep in Zell am See, Austria.

What's next?
The next few years will be full of adventures throughout Eastern Europe. It's a whole new area of the planet for us to explore and we can't wait to make the most of it and create some wonderful new memories.
Do you want to know more about us or have a question about something we've done? Get in touch – We'd love to hear from you! Alternatively take a look at our New Here? page for a suggestion of where to start.