We could stop off in Zurich for a couple of days, camp on the edge of town, walk around the lake and have picnics on the grass. We'd probably have to cut our time in Freiburg down though?

Why? Let's do both
Unfortunately our European road trip didn't turn out to be the free-flowing, laid back adventure we were hoping for. Kirsty's skiing injury turned out to be a little more serious than it first appeared.
With our arrival date set due to work commitments and our departure date pushed right back to allow Kirsty plenty of recovery time, we were left with only 7 days to reach Bucharest.
With an injured wife, unable to walk very far and a young puppy, the trip became very much about just getting to Bucharest rather than the journey itself. Kirstys operation has been moved at the last minute and there was nothing we could do. After a summer of planning all the exciting destinations we could visit the idea of essentially giving up on the whole road-trip side of things was incredibly disappointing and hard to take.
So where did we go on our European Road-Trip/Drive?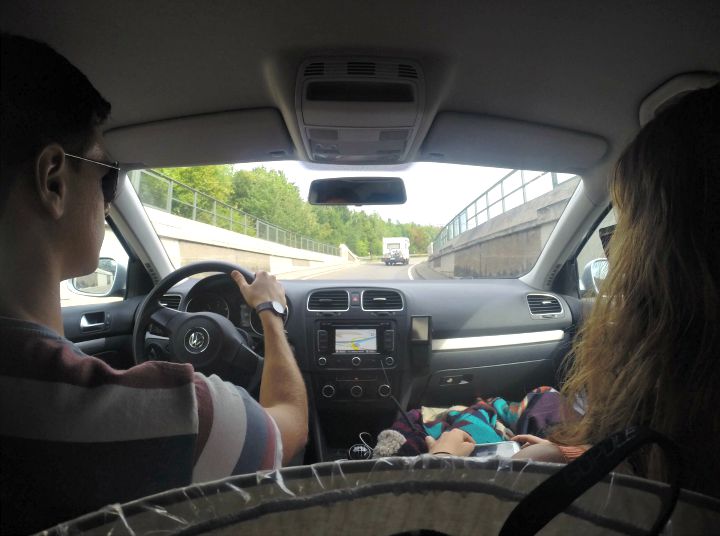 With all our belongings there was just enough room for the two of us.
Reims, France –

Distance Driven 409 miles
Our first stop was very much one of convenience. A dog-friendly hotel on the edge of town and close to the motorway, a popular night stop for people heading all directions across Europe. We considered stopping in Calais right after the channel tunnel but instead decided to make at least a small dint into mainland Europe (It would also give me a chance to get used to driving on the wrong side of the road).
Ohmden, Germany –

Distance Driven 728 miles
Once again a stop of convenience, this time in what felt like a very well-to-do small town near Stuttgart. We'd booked a place to stay here based purely on the fact it was on route and close to the motorway. Can you see a pattern emerging here?
Lienz, Austria –

Distance Driven 892 miles
By the time we arrived at our destination in Austria we'd had three days of driving and decided to give ourselves a break, more for the sake of my injured wife's still bandaged leg than anything. We'd been looking forward to returning to Austria since working a ski season in the winter. It didn't disappoint and the drive through the alps provided the best scenery of the entire trip.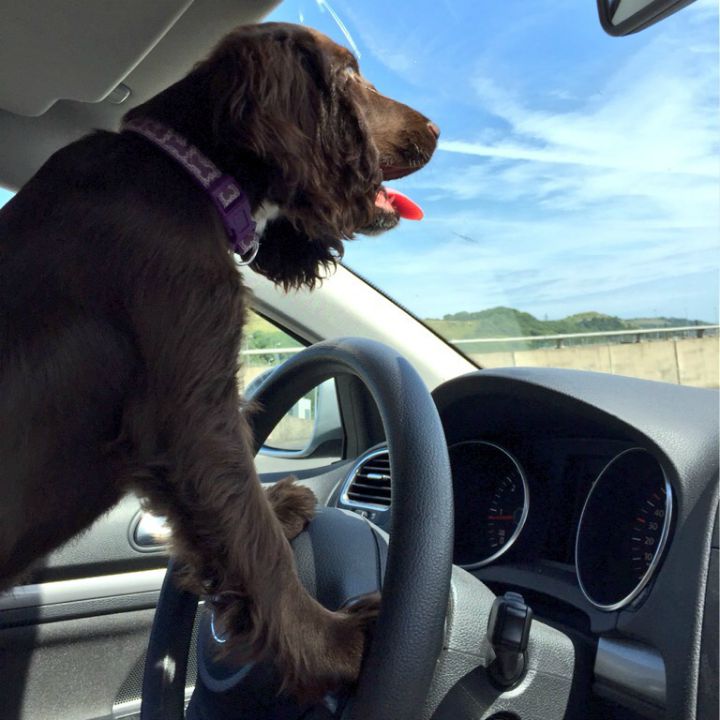 Lola taking the wheel (the car is parked).
Marčani, Croatia –

Distance Driven 1,145 miles
After three nights camping in Austria it was time to crack on with the second half of our drive. We made a slight detour to visit Lake Bled in Slovenia having only been in the winter before continuing on into Croatia. After our mid-journey holiday it was back to locations of convenience, this time in a tiny village about an hour from Zagreb.
Donji Milanovac, Serbia –

Distance Driven 1479 miles
The next day took us right across Serbia and within touching distance of our final destination, Romania. We drove along the edge of the Danube River that separates the two countries and enjoyed the scenery of the Djerdap National Park. We arrived late and left early leaving Serbia very much still on our to do lift, especially now it's only next-door.
Bucharest, Romania –

Distance Driven 1,738 miles
With our adapted road-trip plan of just getting to Romania it was a relief to arrive into Bucharest. The city traffic came as a shock after spending so many days in towns and villages but it was nice to lock the car and have no intention of getting back in it for a few days.
---
In all honesty the trip was nothing like we had in mind and it was frustrating to travel through all these countries without being able to enjoy them more. The most important thing however, is that are we are now in Romania with our own car and all our camping gear. Soon Kirsty's leg will be back to 100% and Lola (our working cocker spaniel puppy) will be old enough for longer walks and we'll have easy access around Eastern Europe and plenty of time to explore it.

Life in Romania starts here!