We came back to the UK for one reason only and that was to allow Kirsty to qualify as a teacher.  Despite teaching heavily affecting what we get up to we haven't actually had an update from the girl herself in quite a while and it was about time that changed.
For that reason I decided to interview my own girlfriend (a bit weird) and below are the results.
Firstly for anyone who doesn't know, what are you currently doing?
I'm currently in my second year as a teacher completing my NQT (newly qualified teacher) year in London before hopefully flying off somewhere a bit warmer. We flew back to the UK in May 2012 so I could join the Teach First program, I specifically wanted to do Teach first because you learn on the job which meant come September I was teaching straight away.
There was a stiff learning curve, I attended a 6 week intensive training course before having just August to prepare as best I could to stand in front of 30 teenagers, all eyeing me up to see what they could get away with.  I'm not going to lie and say it all went smoothly at first, in fact I remember many times asking myself  "what on earth am I doing" but as the year progressed things became easier and I really started to enjoy myself.
The best thing about my current job is building a relationship with each of the classes and learning what their passions are.  At one point last year I went to see a school dance show (which was amazing) and one of the girls I never even knew could dance, or was even interested in it, did an amazing solo performance! These surprises are what make teaching so interesting.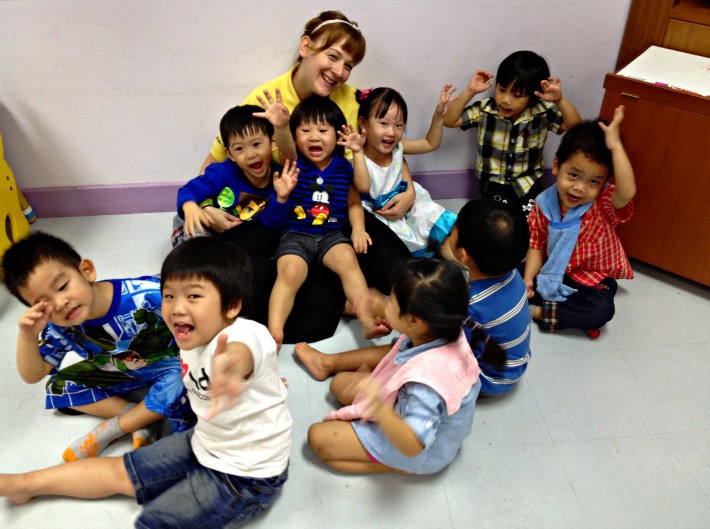 Kirsty with her favourite class in Bangkok shortly before leaving.
When you first applied for teach first whilst working in Thailand could you imagine yourself in your current job role?
Not really – when I first applied to become a teacher I always imagined myself teaching cute little babies. I wanted to be a reception (kindergarten) teacher – I love that age and already had experience from working in Thailand. I thought it would be all songs, play time and basic maths
Unfortunately, Teach First thought I would be better suited to secondary school, so I'm currently teaching Business and ICT to 11 – 19 year olds. I don't even have an ICT GCSE so that was a massive learning curve for me. However I am really happy and maybe Teach First knew something I didn't – I'd make a really good secondary teacher.
Have you been able to transfer any of the skills you used in Thailand into your current job?
Yes and no, Thailand gave me the confidence to teach, I knew that I always had to have something up my sleeve in case my original idea bombed. I also developed skills in describing exactly what I wanted from the children and when. However when I looked back to the trembling mess I was last September when I started teaching in Loncon I'm not sure it did help much in the end.
So far what's been the biggest challenge of becoming a qualified teacher?
This time last year was the lowest point of my teaching career; I was over the honeymoon phase and was struggling with behaviour in most of my classes. The students worked out I was pretty soft and they could run rings around me, telling me they'd handed in their homework when they hadn't or generally being quite rude.
On top of this I had a nightmare class – a class that you just couldn't predict what they'd do from one day to the next. I would spend a lot of time planning an awesome lesson and they would just ruin it within minutes. There were quite a few tears at this point and I remember thinking at Christmas – why did I take the hard route? I could be in my hometown doing a normal PGCE (post graduate certificate in education) and learning how to teach nice younger children like I had in Bangkok.  The grass is always greener right?
Luckily it all changed in January and things that I was finding difficult before Christmas just clicked. I think I must have come back with a new lease of life, or the students realised I wasn't going anywhere and were a bit nicer to me. Things that used to take me ages suddenly I could do in 5 seconds, I could now concentrate on honing my craft. By this point I wouldn't say I was becoming a good teacher but I was certainly on the road to it!
What about this year – is your NQT year any better?
This year I feel 1000% better, classes are easier to manage, planning is quicker and I have developed great relationships with most of my classes. So much so I know I will find it incredibly difficult to leave in the summer. In fact I have had quite a few conversations with Poi seeing if I could persuade him to stay in London another year so I can carry on at my school.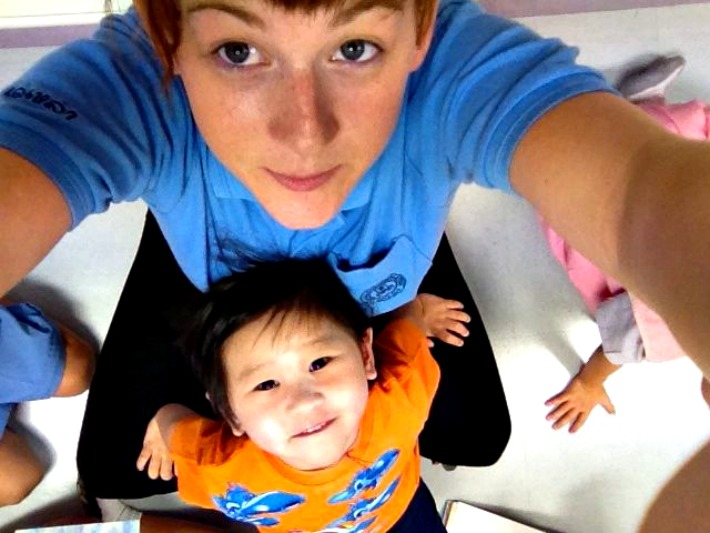 Teacher Selfie
What made you decide to complete your masters on top of everything else?
Poi would say it's because I'm crazy! In the first year of Teach First there is a lot of work to complete on top of a normal teachers schedule, now I'm in my NQT year all of that is out of the way.
I think it's something that I always do – the minute I finish something I find the next thing to do! Also it's a good opportunity and should make me more employable in the long run – which means I can support Poi becoming a beach bum!
And finally, if you had to choose between teaching teenagers or kindergarten for your next teaching job which would it be?
This is a tricky one – I would like to teach younger children again at some point in my career but I'm really enjoying teaching business, it's something that interests me and I think that comes across in my lessons. This year I have started an after school club with some of the girls in my classes, they're are going to set up their own business from scratch.  I've really enjoyed working with them and I think I would miss that if I went back to younger children as you have a completely different relationship with them.
Plus I wouldn't be able to get nuggets of wisdom like:
I have a brilliant business idea – I think we should make a machine that turns carbon dioxide into oxygen for us to breathe….. 
Obvious point:  Taking cameras into schools is a bit more frowned upon in London than it is in Bangkok…