Want to learn more about us? Of course you do!
Well here are our ABC's of travel, A big old shout out must be Given to Will of My Spanish Adventure and Ali from Ali's Adventures for nominating us!
A: Age you went on your first international trip:
Erm, about 13 I think. I went to Turkey on a family holiday that nearly didn't happen because my mum was terrified of flying. She loved it and we went back to the same place (Fethiye) a few years running.
B: Best (foreign) beer you've had and where:
I've not spent much time in Europe since being of drinking age so it's hard to remember, the part of the world I'm in now it would have to be Beer Lao but I miss all my real ale's from back home in England.
C: Cuisine (favorite):
Thai of course, it gets better and better the more you try.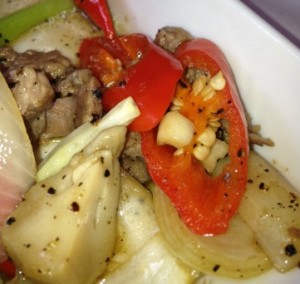 D: Destinations, favorite, least favorite and why:
Favourite: I loved everything about Laos, everything and so far it remains my favourite place
Least Favourite:  Unfortunately I've not had the best experiences in Malaysia and so it's currently sitting in last place.
E: Event you experienced abroad that made you say "wow":
Songkran festival in Thailand. It's just amazing how everyone gets involved, I've never seen anything like it, young and old, locals and tourists all together just having a really good time. I can't imagine it ever happening at home without people killing each other and it would probably be banned after a year anyway.
F: Favorite mode of transportation:
Tuk tuk, it's just a shame they charge so much so it's rare I take one.
G: Greatest feeling while traveling:
Finding a clean public toilet, everyone needs to have a sit down in Singapore airport, 5* Luxury in there!
H: Hottest place you've traveled to:
Not the hottest place I've been but Beijing, China felt the hottest. Wandering around the forbidden city in the sun I thought I was going to melt, everyone was running for shade.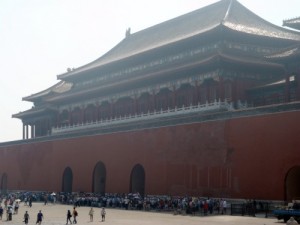 I: Incredible service you've experienced and where:
First example that pops into my head was in Chiang Mai. The owner of our building was a doctor and despite being a very busy man came to see us when Kirsty was really ill one day and even sent one of his family to collect medicine for us and he expected nothing in return.
J: Journey that took the longest:
Although it's not that huge of a distance I recently travelled from Vang Vieng, Laos to Koh Phi Phi, Thailand and it took well over a day thanks to slow buses and boats with big delays. Not a lot of fun especially with my visiting non-traveller friends along for the ride.
K: Keepsake from your travels:
I don't really pick up a lot of stuff on the road. Maybe a few cheap shitty t-shirts that last about two weeks?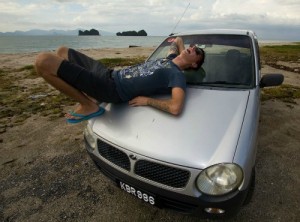 L: Let-down sight, why and where:
Every 'sight' I went to on Langkawi, Malaysia. Driving the car around the island was probably the best bit, that place just didn't do it for me.
M: Moment where you fell in love with travel:
About 5 seconds after getting off the tube and hitting the streets of Beijing for my first time in Asia back in August 2010.
N: Nicest hotel you've stayed in:
We splurged on a nice place near Bangkok airport during the floods before an early flight which was like heaven compared to many places we've stayed, massive bathroom, a bed you sink straight into and a balcony over hanging the pool – Kirsty keeps begging me to go back!
O: Obsession—what are you obsessed with taking pictures of while traveling?:
Strangers being strange.
P: Passport stamps, how many and from where?
Anywhere between 1 & 1000, I don't know.  I've been going round in circles through SE Asia for the last year and I've never been bored enough to count.
Q: Quirkiest attraction you've visited and where:
Probably the 'Crazy House' Dalat, Vietnam. The name says it all really, an artist who made a crazy house that also operates as a small hotel. I'm sure it would be one freaky place to wake up depending on which room you got.  They we're expanding at the time so I imagine it's even better now.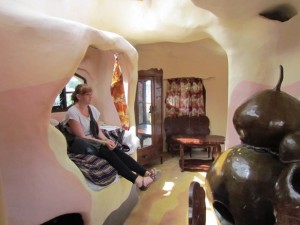 R: Recommended sight, event or experience:
Come to a rock show in Bangkok, we get some decent bands come through and the Thai kids go crazy for them. We're talking inflatable animals, fire and lots of crowd surfing, all in a tiny venue.
S: Splurge; something you have no problem forking over money for while traveling:
Beer, what's the point of life without it?
T: Touristy thing you've done:
Uh everything? We've been travelling around Asia checking out stuff, we're tourists no?
U: Unforgettable travel memory:
Abseiling down a waterfall in Vietnam was pretty special, looking back at it afterwards with shaking, bleeding legs made me feel very proud. And the best bit Kirsty slid the whole way down!
V: Visas, how many and for where?
Lots for Thailand and the surrounding countries.
W: Wine, best glass of wine while traveling and where?
I drank some wine in France years ago but I was very drunk so who knows if it was any good, I'm guessing it was better than the roughly 2 glasses I've had since I've been in Asia.
X: eXcellent view and from where?:
Our apartment here in Bangkok, come and stay and see for yourself!
Y: Years spent traveling?:
1 year 4 months
Z: Zealous sports fans and where?:
England, it's strange seeing big hard blokes crying in the high street after we get knocked out of the world cup!
I would love to see the Travel ABC's of:
We look forward to reading your answers.