In 8 weeks we will be packing our bags for our next big adventure and so many of our conversations these days end up with us discussing what we need to pack for the trip. I've written plenty of different lists over the last few months, but inspired by the recent competition with Enterprise I thought I'd share some of our must have essentials for any trip!
But First! – Do you know what your essential items would be for a road-trip? You could be neededing them sooner than you think because just by sharing your list you will be in with a chance of winning £1000 trip for you and a friend – but be quick the competition closes tomorrow at midnight!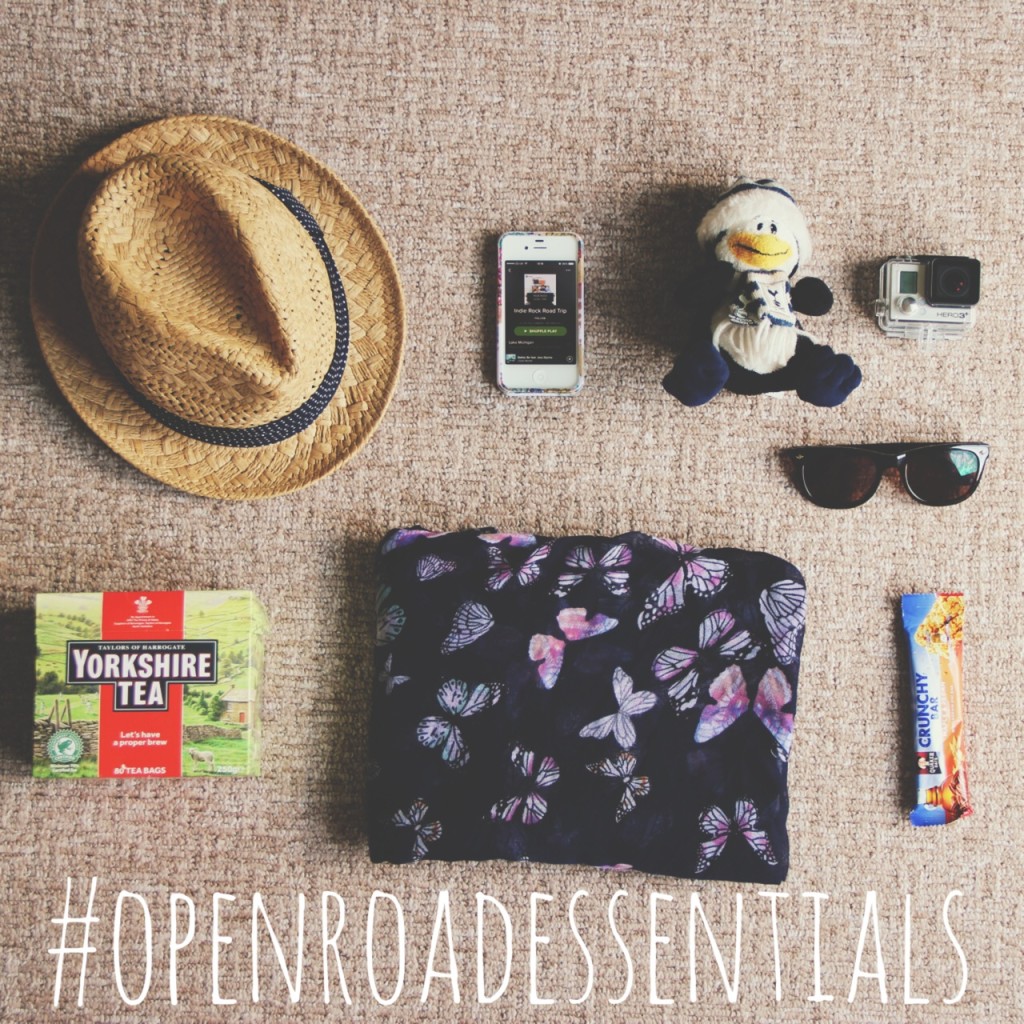 Go Pro
We bought ourselves this an early Christmas present last year and have completely fallen in love with our Go Pro. They are incredibly versatile and take some amazing wide angle shots. I can imagine using this attached to the dashboard or rear view mirror to make sure everyone is jealous of our trip!
Cereal Bar
Sometimes I get hungry & when I get hungry, I usually get angry = hangry. I always pack a trusty cereal bar to make sure I can stay sane until we find somewhere to eat!
Sun glasses
We all hope the weather is going to beautiful when we set out and luckily this summer has been pretty perfect in the UK! I love my sunnys, it probably helps that I'm half blind without them.
Hat
I used to say "I don't look good in hats" or "I will never wear hats" However this is my new favourite item, they are perfect for bad hair (don't want to wash hair) days and now makes my must-have list!
Flip Flops
Not so great to drive in but great for slipping on and off for paddling in the sea, besides they take up next to no space.
Scarf
As most of you know I'm obsessed by scarves, they can keep you warm or keep the sun off you. My favourite at the moment has butterflies on (much like nearly everything else I own)!
Phone – with Spotify playlist on
We both love spotify and have lots of different play lists to suit our mood. You can even find our road trip playlists, follow them and off you go! 500 miles by The Proclaimers is a no no.
Yorkshire tea
This one is more for Poi, he loves his tea and can never start a morning without it! If we have a nice big boot where we can store a couple hundred bags Poi will be over the moon and never have a bad day.
Tottenham Ted
Poi loves Tottenham and was incredibly happy when we lived in London so he could go to as many games as possible. Since we set out on our travels back in 2010 this little Ted has been our mascot! He's walked the Great wall of China, floated down a river in Loas so he has to come on our road trip too!
So what are you waiting for? You have until Friday 8th August to take a picture of your own road trip essentials and upload it to instagram or twitter and be sure to and use the #tag #openroadessentials. Of course we would love to see your images too!
If you want to find out moreabout the competition click here:
Photo Credit: Photo 1