WE'RE HAVING A BABY!
Bloody hell, I scared myself even just typing that. We're not having a baby, at least as far as I'm aware, Kirsty?
Let's start again:
It's been no secret to anyone that knows us that we've been planning to leave the UK pretty much since we got back. We always say to people that we only came back home because Kirsty's teaching course was too good to ignore and we'd probably be in Australia or New Zealand now had she not been accepted. The truth is we have no idea where we would have been, we might have well have made it to OZ but it took something drastic to make us leave South East Asia and had we not had that who knows? Maybe we'd still be there, maybe we'd have about 200 dives logged by now and be pro surfers?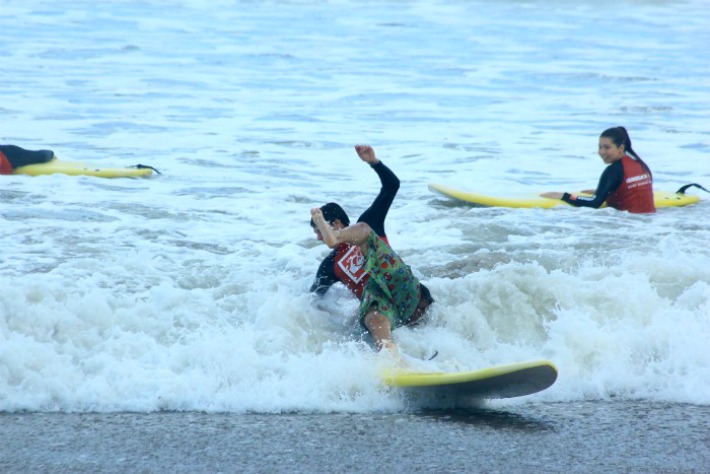 But more than likely doing this…
But we're not in South East Asia, we're in England and our biggest fear upon returning here was that we would slip into a routine again and find it twice as hard to leave as we did the first time. We promised each other that is was just short term and that we'd be back out on the road in no time and experiencing new places. We've reminded each other of that plan a few times during our two years back here and luckily we've never been in any real danger of forgetting it. Of course there is nothing wrong with settling down anywhere but if there is anything we learnt on our last trip it's that we're nowhere near ready to think about anything like that anytime soon.
What we didn't expect however…
… was to get so bloody close to our leaving date and not have a single thing planned. Kirsty finishes teaching this week, I finish work on 12th September, we get married on the 20th and then we're free.
We obviously had/have some very exciting travel plans that will undoubtedly happen but up until a few days ago there was nothing…
"So, I've just heard you're leaving us?"

"Yeh, that's right"

"Where you off then? Finally booked that flight?"

"Actually no, we've got nothing booked yet"
It's a very odd conversation to have and one that's happened a few times. Leaving jobs, getting married and then, err nothing
But like I say , that was up until a few days ago because…
Wait for it…

We're going to Austria for the winter season as reps with Crystal Ski!
We're hugely excited to spend the winter in the snow and couldn't be happier with the jobs we've been offered. We first started talking about skiing last year and like everything we do it soon escalated from a quick holiday into a full season.
Part of the reason we had nothing else planned was because we needed to secure jobs for the winter before arranging our other travel plans. When the Crystal Ski jobs came up it was the first time that a job really caught our attention and sounded like something we'd both like to do and so, we applied.
Loooong interview day with @CrystalSkiJobs but good fun and want the job more than ever now! #fingerscrossed

— Poi & Kirsty (@NoPlaceToBe) July 10, 2014
The interview process wasn't easy by any stretch of the imagination, it consisted of a full assessment day lasting between 9:30 – 5:30 (for those lucky enough to make it past the x-factor style sending home at lunch time anyway) and included a presentation,  written test, group task, role play and one-on-one interview. Luckily for us we actually had quite a fun day, the staff we're really friendly and enthusiastic (apart from during the role play obviously) and we met so many interesting people also looking for jobs for the season. Including a very cool married couple who left their well paid jobs and big home for a life of freedom and they've never been happier.
Despite leaving the assessment day feeling pretty confident it was still a nervous few days waiting for the call, with no travel plans booked we really wanted to get something sorted so we could finally start planning our next great escape. As you now know, we got the call and it was good news and to be placed in Austria? Awesome!
So what will we be doing?
It almost seems to be too good to be true. We're joining Crystal Ski as they look to go completely digital. Moving away from sales and focusing on the customer experience with a particular focus on social media. Well, I don't know if you've noticed but that's pretty much our life anyway with this website (We try not to put every meal on Instagram) I'm forever updating twitter and looking for interesting photos to take and that's basically what they want us to do.
Obviously there is still the usual side of the job to being a rep but with us both realising a while ago that despite out social media wh*ring we actually like dealing with people face to face as well it couldn't get much better.
It's hard to describe, but since getting our jobs confirmed a couple of days ago it feels like a huge weight is off our shoulders and we can start to relax and enjoy planning the rest of our travels!
So what are they?
Well this September, right after our wedding we're heading off to somewhere completely new, a new continent, nowhere near where we've been before and where could prove to be our biggest adventure yet.
But that's not booked yet so you'll just have to wait a little longer…