Kirsty and I, like most travellers, have been through our fair share of bags over the years. We started with something huge and inconvenient before quickly moving down to backpacks that you know, you could actually travel with.
Those bags remain our 'backpacking bags' of choice but that's not something we do a lot of at the moment. Our current lifestyle usually means we travel one of two ways:
Load the car up with camping gear (and the dog) and head off into the mountains or wherever else we happen to fancy.
Jump on a flight to whoknowswhere for a city break or long weekend away.
The car is simple, you just throw it all and make sure you can still see out of all the windows before you set off. Unfortunately the air travel is a little trickier, we're blessed with many cheap airlines in Europe offering great value flights most day. The downside? They can be very strict with their carry-on baggage allowance.
The feeling of walking straight through baggage collection and out the doors while other people are stuck waiting is just too good to give up. Carry-on is our only option but our trusty backpacks were occasionally deemed just a little too big.
Arcido could not have timed their email better. Would you like to try out one of our carry–on bags? Yes, yes we would.
The Arcido Novaya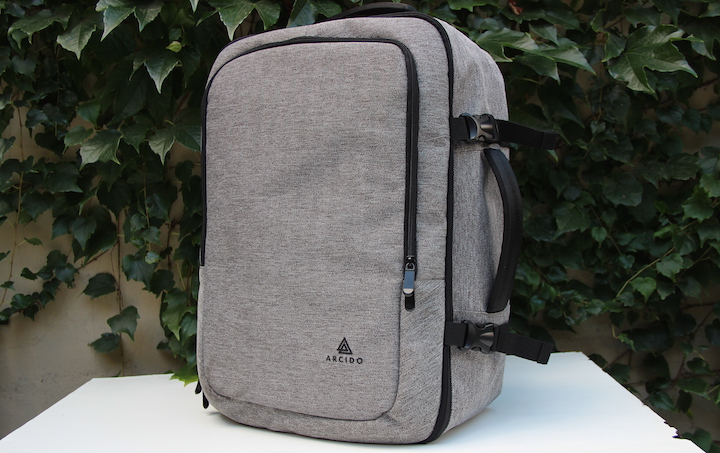 First Impressions
When the bag was first delivered I picked it and thought maybe we'd been sent the wrong thing. I couldn't see through the packaging and not only was the package very light, but also very soft. I was expecting some sort of solid frame to hold the material in place like with other carry-on bags but that wasn't the case.
Look and Feel
The lack of frame certainly isn't a problem, the material feels very high quality and with cushioning on all sides your possessions are certainly going to be well looked after.
The design is great and it looks very much the bag of someone who knows what they're doing. The grey colour is very stylish and there's no huge logo grabbing everyones attention.
Packing
This thing is a TARDIS (thrilled to finally get a Doctor Who reference into a post). While meeting the carry-on size requirements for most airlines (listed below) you'll feel as though your cheating the airline somehow. Unzipping like a regular suitcase, it's surprisingly spacious inside and includes an internal zipped compartment on the top.
A large front pocket (almost the entire size of the bag) has another secure zipped pocket and a couple of pouches to store your passport and other travel information.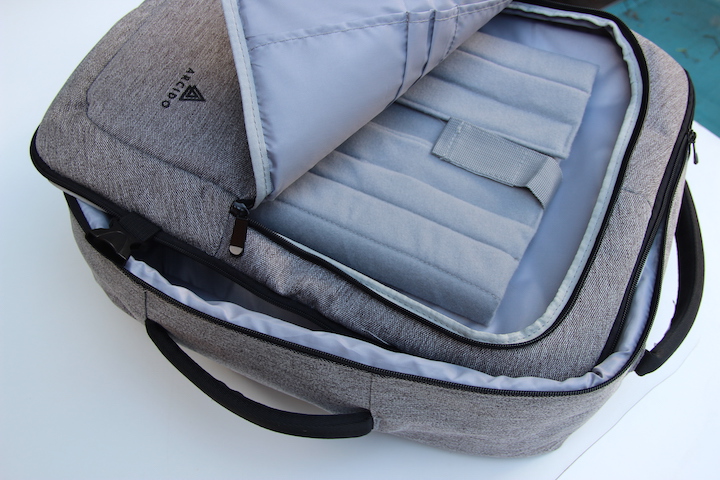 Electronics
Within that large front pocket you'll also find a very useful laptop protector. This can be removed from the bag entirely and sticks back into place with the use of velcro. It fits our 13 inch Macbook perfectly but can be adjusted for slightly larger machines too.
We've had no worries storing our computer in there as it feels very well protected, it's also very easy to remove when going through security checks.
The most important question – which airlines can you fly with accepts the bag?
Pretty much all of them. The dimensions of the Novaya are 50 x 35 x 20cm which means it counts as hand luggage for the following airlines:
Easyjet
Monarch
Blueair
FlyBe
KLM
Ryanair
Air Lingus
Virgin Atlantic
Birtish Airways
Tarom
Price
This bag currently sells for £65. Of course there are cheaper options out there but do they offer the same quality, we've learnt the hard way many times that you get what you pay for.
Verdict
It makes me look like I fly regularly and I'm not lost in the airport (which I usually am), it holds a tonne of stuff, it's lightweight and easy to store away when not in use. What is there not to like?
---
If you want to find out more about the bag – and maybe buy one, you can find Arcido using the following inks.
www.arcido.com
facebook.com/arcidotravel
instagram.com/arcido_travel
twitter.com/arcidotravel
Thanks to Arcido for giving us the Novaya bag to try out, as always all opinions shared in the post are our own.