Us Brits are living pretty much everywhere across the globe these days and especially in huge numbers across Europe. I'm sure every one of us knows someone who's retired to either Spain or the south of France in recent years.
For that reason, we figured we wouldn't be alone in wanting to purchase a left-hand drive car in the UK, the market must be well and truly catered for.
Although an initial internet search might have you thinking that's the case, you'll soon come to realise finding the vehicle for you isn't going to be as easy as you'd hoped. Despite the endless websites offering LHD cars in the UK, almost none of them will tell you what they actually have for sale. Flashy websites with lots of promises but next to no information on what you want, actual cars.
We came across The Left Hand Drive Place as part of our own search and half expected to encounter the same problems. Yes, there were plenty of cars on the website but how up to date was it? Could they be trusted and what hidden costs might there be.
A phone call to The Left Hand Drive Place offered a pleasant surprise, someone actually answered the phone (already an improvement on some of the other companies we'd tried). They confirmed the website was updated regularly and all cars advertised were also available to view in their showroom.
A left-hand drive dealership that actually has the cars? this is sounding more promising.
Before visiting the showroom, I decided to be sensible and do a little homework. I spent hours trying to find reviews online (much like you probably have if you're reading this) without finding much at all. I eventually came across ten or so positive experiences buried deep on expat forums but more importantly, I failed to find any bad reviews, very rare for any company these days no matter how good their service.
Again, promising. Wanting to double check, I turned to my favourite source of information: social media.
@NoPlaceToBe They're the biggest & longest established LHD specialists we know of & we're not aware of any bad experiences. Hope that helps!

— Honest John (@_HonestJohn) April 15, 2015
We arrived unannounced at the showroom on a Saturday morning to find as promised, all the cars from website ready and waiting to view. We spotted the two cars we'd been considering and a few short minutes later were taking the first of them out for a test-drive. We arrived back to find the second vehicle ready and waiting in the car park (the showroom was rearranged to get it out) and went straight out again.
Once back at The Left Hand Drive Place we were shown around both cars in a bit more detail before being left alone with them to inspect for ourselves. At no point did we experience any sort of pressure sales tactics (something they later told us will never happen there) and it was nice to have the freedom to look around the cars closely without a salesman hanging around.
We made our decision and paid our deposit. The car was spotless as you'd expect and like many of the cars on show was an ex-company car from Germany. This meant it had been very well maintained with a full service history and documentation, The LHD place would also service the car including a full oil change before we collected it a few days later (we were offered a delivery service but opted to pick it up ourselves).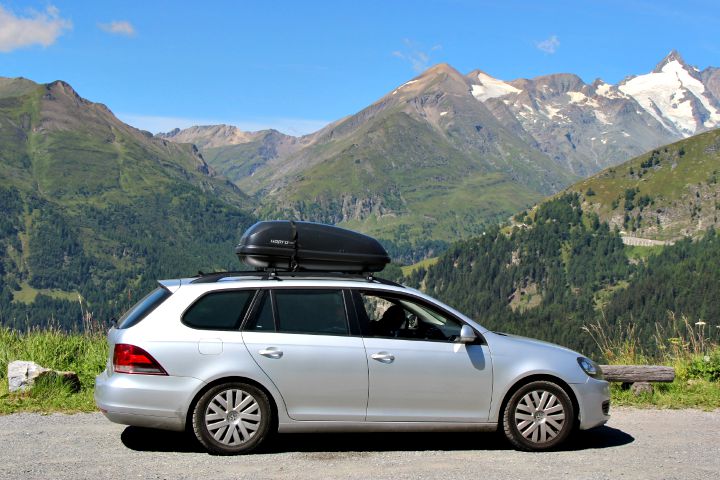 Our new car has been on quite the journey 
After-Service
A few days after picking the car up a strange noise developed in the engine. I called the LHD place who asked me to take it to a local car garage to try and get the problem diagnosed, unfortunately, the garage were unable to do this. After calling the LHD place again, the car was picked up the following morning by one of their staff (about a 3hr drive). Over the course of a week the car was inspected by their own mechanics, the problem diagnosed and sent to the car manufacturer for repair. I collected the car and have had no issues since (4 months – including driving UK > Romania).
Despite the problem with the car, I was very impressed with the customer service I received. I was kept in the loop with the progress of the repair throughout the week and felt everything was done as quickly as possible to get the car back to me. Given the lack of bad reviews and the swiftness in which my problem was dealt with, I by no means believe this to be a regular occurrence. The company seemed very keen to check that I was satisfied with the situation at all times and through various conversations it's clear their reputation is very important to them.
Just to be clear, this is an honest review of my experience with The LHD Place and they have no idea I've written it. My struggle to find reviews was frustrating and hopefully this can be of some benefit to people having the same problem.
I would highly recommend The LHD Place to anyone looking to buy a left-hand drive car in the UK and look forward to selling my car back to them should we ever move back to the UK.