Deciding to have a long distance relationship for the second time was the easy bit, actually doing it turned out to be more of a challenge.
The first time around was easy, mainly because we didn't have a choice. Kirsty was already at university and we both knew there was no way I was moving to Birmingham or that she would be returning early to our home-town. It wasn't a simple cross country journey between the two places either and that's probably why some people, even some of those in Kirsty's family, said it would never work out.
Just in case you're still not 100% sure, it did work out and now we're getting married (So screw you!)
Doing it all over again however was much harder, it made sense, but it was harder. When Kirsty first got accepted onto 'Teach First' we knew it would be incredibly challenging, working all day with the responsibility of a full time teacher whilst essentially doing a university course on top of it all.  The workload along with the fact she was based in London half made our decision for us, while the idea of living in London was appealing the cost was not, especially when I knew I'd be tempted to head back to our home-town most weekends to spend time with my friends who I'd missed so much while we were away. Living together would limit Kirstys interaction with other new teachers who were sharing the same experiences, something which in the end turned out to be invaluable (even if it was just someone to vent to who could relate).
For these reasons we went for it again, four years into our relationship, after two years of living out of each others pockets while travelling, we were not only going to be living apart but be two bloody hours away from each other!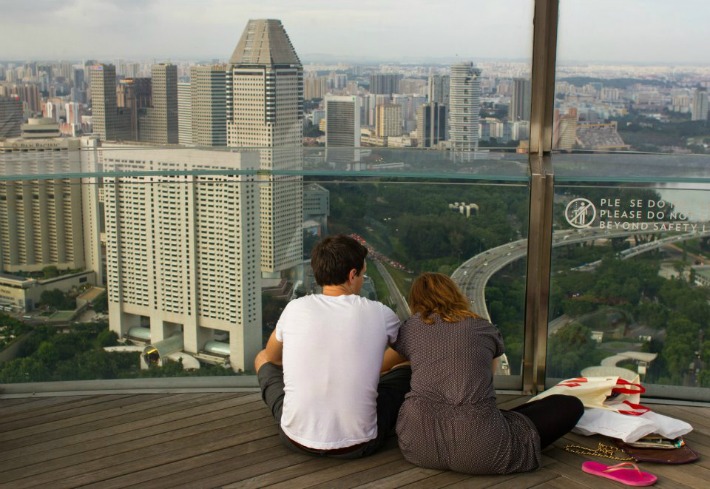 Time together – Marina Bay Sands, Singapore
Why Long Distance Sucks:
We like each other you know?
I guess this is a very obvious one but it's equally as important as it is obvious. We're pretty damn fond of each other, hence the whole marriage thing and just like being apart from your friends and family, you start to miss those close to you after a while. Despite seeing each other on a regular basis it's still nothing like what were used to and being apart so much came as a bit of a shock to begin with.
Different Schedules
Sometimes it seems impossible to find a time when we're both available to talk for any meaningful amount of time. Usually we're working different hours and with eating, sleeping and going to the gym at different times, phone calls often turn into nothing more than a quick catch up –  "I'm just walking to the shop so thought I'd give you a call". We've always tried to make sure we make time for a decent chat but it's harder than you might think with so much going on.
Support
Following on from the above, because we're both on different schedules it's easy to become caught up in what you're doing and forget that the other person might need your help or support. We're both guilty of this, being a little selfish and getting caught up in the moment, whether it's a weekend away with friends where the hours are flying by and you forget to send a quick text or a lazy day where you just don't feel like talking. We've never had any trust issues or anything like that but it's still nice to know the other person is thinking about you when you've not seen them in a couple of weeks.
Couple times
This is something that wasn't such a problem the first time around. When we were younger most of our friends didn't have partners and if anything we were the odd ones out being together. A few years on and that has changed dramatically, our friends obviously have nothing against a single person but what do you do when they want to spend time alone like all couples do? My Sundays are usually pretty quiet these days…
Intimate activities
This doesn't need much explaining…
Weekday Dates
Probably one of the most frustrating things about a long distance relationship is that we struggle to switch off when we're together. Most phone calls inevitabby end up in conversation about this website, that email we need to send or that post we need to write before it slips our minds and the same thing often happens when we're together. It would be nice to be able to have more time together so we could do what needs to be done but still have time to relax together.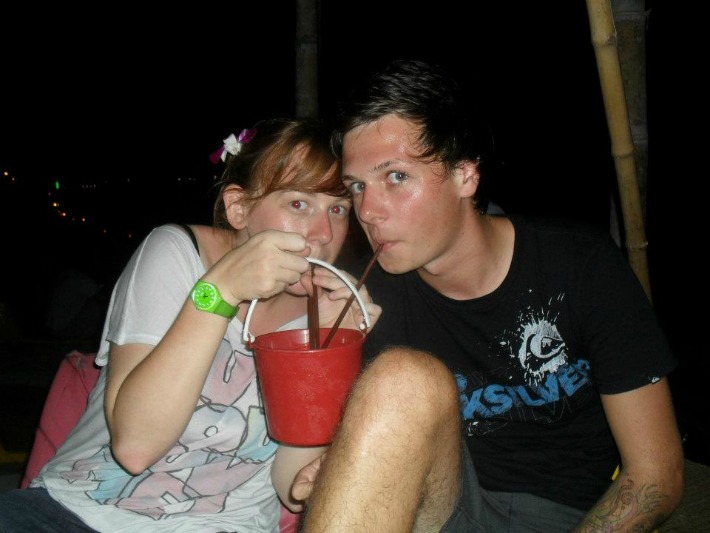 Thai buckets help make happy couples
The Good Bits:
Quite simply there is only one good thing about all this, it has given Kirsty the time and space to focus on the work she needed to do. She's come away with amazing results and even started a masters in education on top of everything else she was doing.
It's a strange one because despite the many negatives, we both agree that the decision to live apart when we came back to the UK was the right one.  I have no doubt Kirsty would have had a much harder time had I been there every night hassling her for attention when all she really needed to do was get her head down.
So in conclusion, long distance relationships can work and even be a good idea if you have specific targets that you hope to meet. Of course, if you can be together then you should but if circumstances force you apart for whatever reason then it can work out for the best.
For us though it's over. We've done it twice and can categorically say we'll never do it again (long-term) no matter what the circumstances. We enjoy those intimate moments too much…