With a beautiful lake in a gorgeous setting between trees and mountains, why wouldn't you include this stop on your summer camping adventures in Austria?
Arriving at Camping Seewiese

If, like us, you are travelling with a car full of everything you own then be prepared for some very slow second gear driving. A 1.5km twisty and steep (nothing to worry about) road will take you up to the campsite entrance.
Once you've completed the slow ascent to the top you'll be greeted with a large car park and maybe even asked for some money. Many people visit this area for the day and are required to pay for parking, however if you let them know you're camping you should be waved on through.
Across the car park, you'll see the entrance to campsite. Once inside turn left at the restaurant where you'll find a few short-term parking spaces and the office (hole in the wall) where you can check in.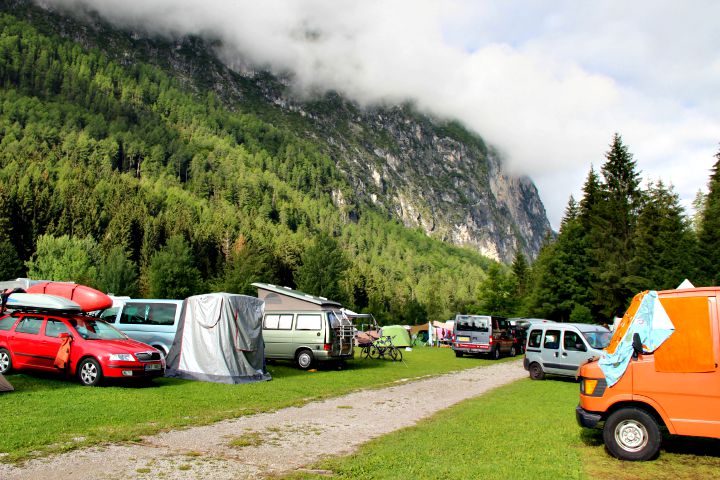 Pitching your Tent
Choosing where to set up your tent is completely up to you as there are no set pitches, caravans and tents share the same area. Cars are allowed on site so once checked in, simply drive around the roads within the main campsite and park up once you've found a spot.
The main thing to consider here is your proximity to the bathrooms. There is only one set of toilets/bathrooms located next to the restaurant area and if camping nearer the lake it can be a bit of a walk in the middle of the night.
Note: Camper-vans do have their own area immediately left after entering the campsite.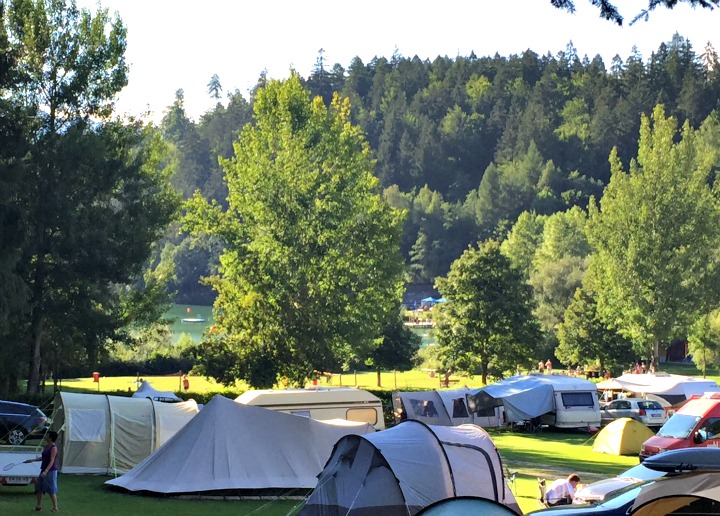 Swimming in the Lake
This is a very popular campsite and it's easy to see why. Situated in the woods with spectacular views of the mountains, it will easily rate near the top of most people's camping experiences. However, what really draws people in is the lake.
As part of your camping fee's, you have access to the swimming area of the lake with it's well-kept garden area, changing rooms, sun-loungers and diving boards. It has everything you need to keep both kids and adults happy all day and it's easy to see why the locals all come along for a swim on an especially hot day.
There are gates to access the lake from the bottom of the campsite or alternatively you can walk around the edge of the lake to the main entrance. Remember to take the voucher given to you when checking in or you'll be asked to pay.
Although dogs are not allowed in the maintained swimming area mentioned above it is possible to walk further around the edge of the lake on the public footpaths and go for a dip wherever you fancy. The lake is very clean and you'll have no problem finding somewhere to climb in and out of.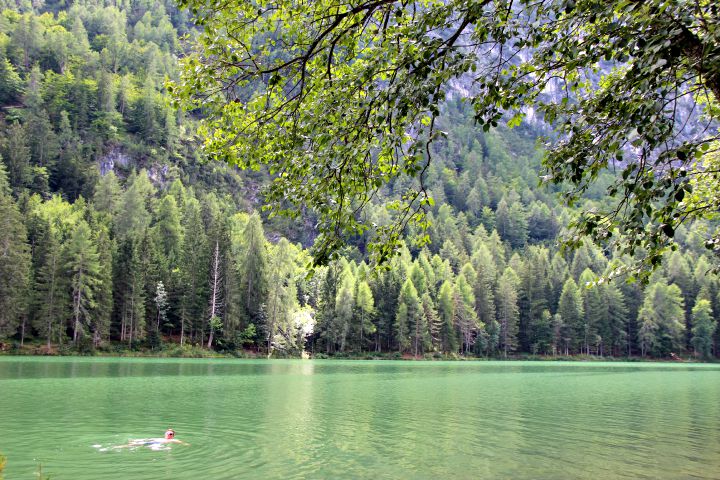 What you need to know – Camping Seewiese
You don't need to specify how long you are staying for or pay anything up front, but the office will hold on to some form of ID until you check out. If you don't want to leave your passport with them make sure to have some other form of ID handy.
The bathrooms are locked at night however, a key is provided when you check in.
You're given a tag with a number on it when checking in – attach this to the outside of your tent to show that you've registered.
Dogs are welcome at the campsite for a small fee, just make it known when checking in.
The bar/restaurant/office only accepts cash so visit an ATM before arriving/checking out.
There are a number of taps around the camping area and the water is fine for drinking.
---
Staying at this campsite? Make sure you take a day trip to enjoy the Grossglockner High Alpine Road.
What's your favourite campsite in Europe? It could end up being the next one we visit!