We're big fans of camping and have used been to some incredible campsites in places like Austria and Slovenia. The problem is they set the standard so high, just ask the Dutch, I don't think I've ever been to a good campsite that didn't have at least one dutch person there, they bloody love to camp.
You'd think finding a great campsite in Romania would be pretty easy too. After all, the country is home to Transylvania and some of the best mountain scenery in Europe. However, during our recent search to find an escape from the Bucharest summertime heat, we found that wasn't the case.
Most Romanian campsites seem to be a throwback to old school holiday camps. Swimming pools, large play areas, villas for rent and huge restaurants take up the majority of the space while the tents are thrown up in a nearby field. That might be wonderful for a large family with small children but it's pretty much the exact opposite of what we look for.
And being Romania, when you do find what looks like a potentially good campsite, it's incredibly hard to find up to date information on it (that's why I'm writing this). We came across 'Camping Panorama' on a random google image search (yes, that's how desperate we were to find somewhere quiet) and although it looked the part, we could very little information about it.
It's not even on Google Maps – Shock Horror!
We decided to head there anyway, mainly due to our lack of options, fully expecting it to be completely full and having to continue onwards. Escaping to the mountains or coast is very common by anyone with any money in Bucharest, the summer months can be very hot and it's almost unbearable at times. For this reason, we thought our chance of getting a pitch in a campsite overlooking the mountains, not much more than an hour away from Brasov and easy to reach from the city, was very slim.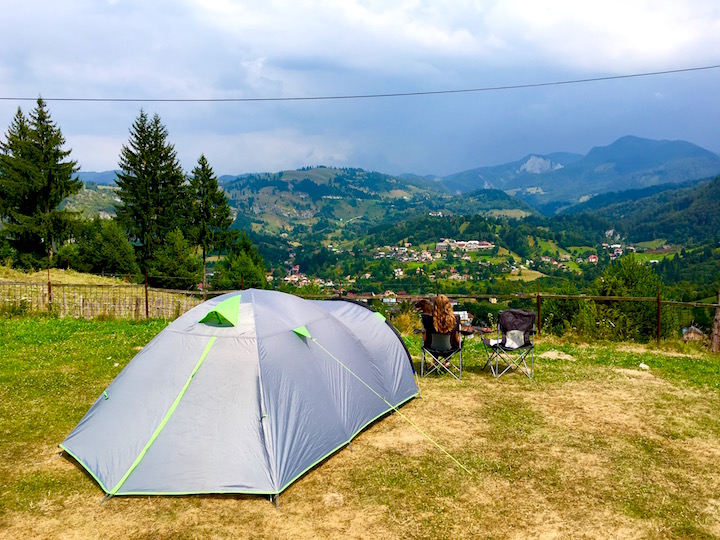 The Best seat in the house. 
We couldn't have been more wrong.
We arrived to find absolutely no one, not even any staff. The campsite was empty but clearly still being looked after so we did what anyone would. Quickly pitch out tent up in the best location possible before anyone else arrived. And what a pitch it was, we'd stopped on route at worse viewpoints to take pictures and now we were waking up to this.
Although the owner wasn't there at the time, his two dogs did most of the greeting and stayed with us for much of the three nights, much to the delight of Lola (our own dog) who enjoyed the fact she could roam free around the campsite without any bother.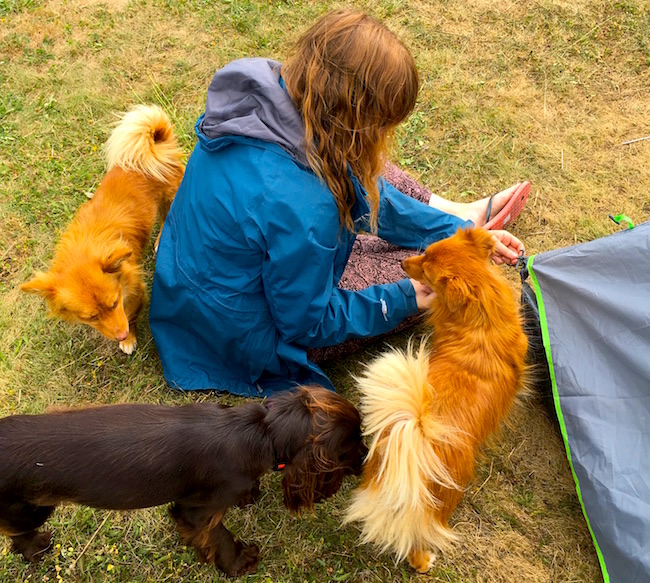 The welcome committee (in matching uniforms)  
Soon the owner (Dutch… what a surprise) came home to greet us and show us around a little more. The toilet and shower block was one of the nicest we've ever had while camping, including well planned out showers and homely touches like real hand towels and soaps.
But really this place is all about the views, spending the evenings cooking and relaxing in front of it were exactly the sort of thing we had in mind after spending the last couple of weeks sweating in Bucharest.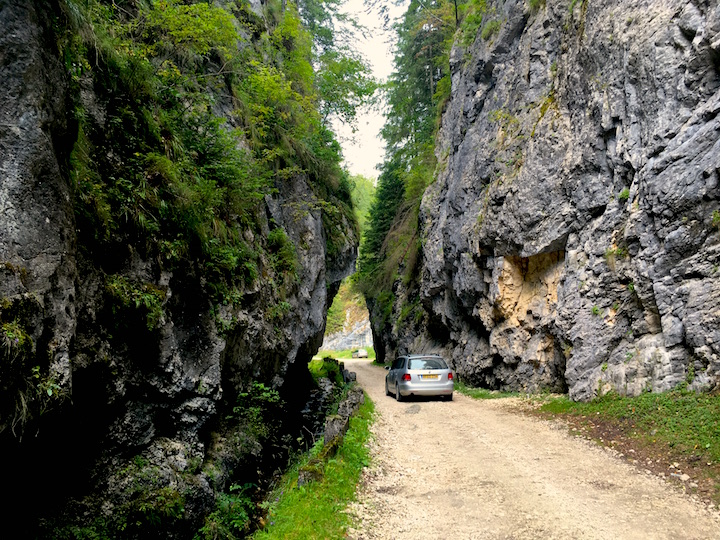 The nearby 'Piatra Craiului' National Park
During our two nights here, we had planned to stay longer but incoming thunderstorms ruined that, only two other campers turned up. Why this place isn't completely full during summer I have no idea. The surrounding area is gorgeous, there's a national park right on the doorstep and the view… did I mention the view?
---
Camping Panorama is located between Rucăr and Podu Dâmboviţei on the DN73. Turn left up the gravel road and through the gate where you see the large sign on the roadside.
There is a well-stocked supermarket (PROFI) just a few minutes away in Rucăr.
We paid 100 Lei for 2 people for 2 nights.