It's not very often the weather effects a decision we make in Romania, the summers are very reliable but we found ourselves in a rare situation recently. Returning from meeting a friend many hours drive away, we'd planned to stop in Timisoara, a city we'd never visited before but heard very good things about.
However, the conditions being as bad as they were (literally the worst weather I've ever driven in (as if driving here wasn't already scary enough)) we decided to put a few more hours between the storm and home by continuing across the country to another new city.
We'd actually heard even less about Alba Iulia and it was only some frantic googling that gave us an idea of what was there, another big thumbs up for Romania's incredible phone signals.
To be honest, it didn't look too impressive, although most 'top things to do' usually involve the really obvious historical stopping points, that's all Alba Iulia seemed to have. Nevertheless, that would be plenty for a quick stop on our way back to Bucharest.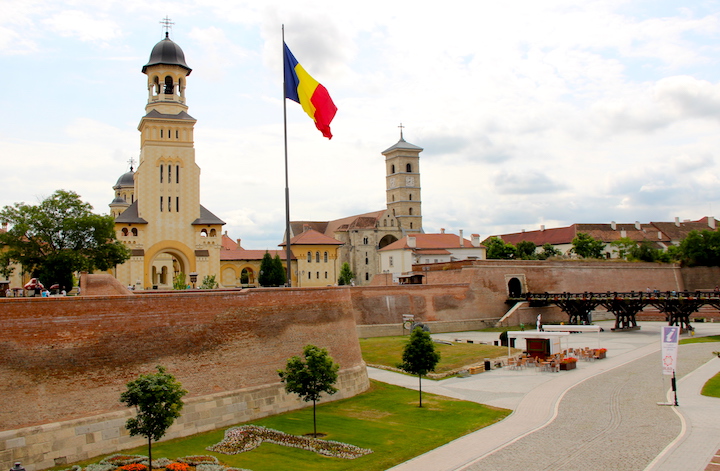 Along the western wall of the old town. 
The large city walls greeted us as we approached the old fortified town and we soon found ourselves standing in front of a very impressive city gate. Perhaps years of visiting 'old towns' that were nothing more than average streets surrounded by virtually non-existent and crumbling walls had destroyed our enthusiasm.
Thankfully this immediately gave us hope, maybe Alba Iulia had something more to offer.
The first thing that hits you is just how clean everywhere is, the pedestrianized roads are spotless and it's a mission to find graffiti of any sort. The second thing is the statues, ah yes the statues, now I remember why this city was in our heads, the statues. They are everywhere.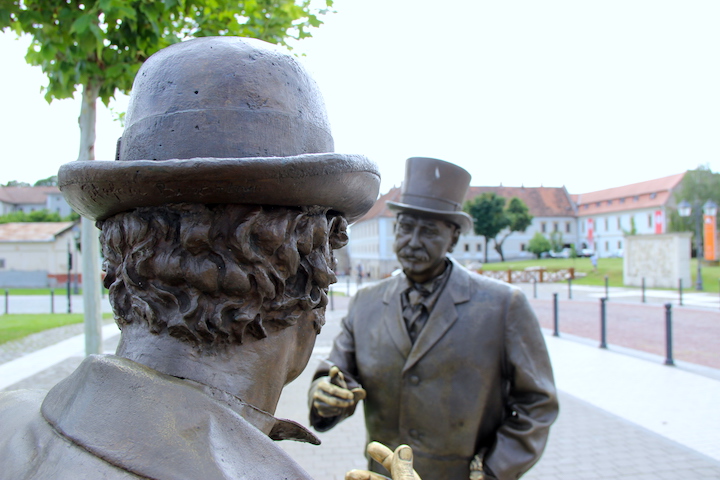 Just a couple of many, many statues.
It's easy to get distracted within the old city as every building is an attraction of it's own. Walking down the street, each piece of architecture seems to out-do the last and you can (and we did) easily lose a few hours clicking away behind your camera trying to find the best angle of each and everyone of them.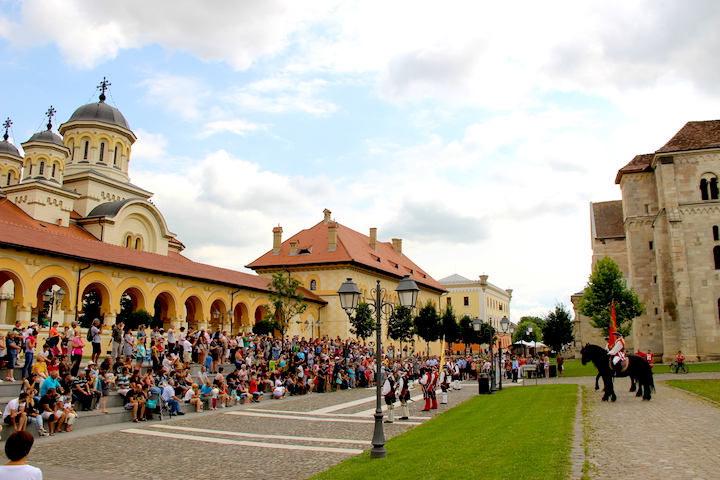 We stumbled on a small parade during our time in the city.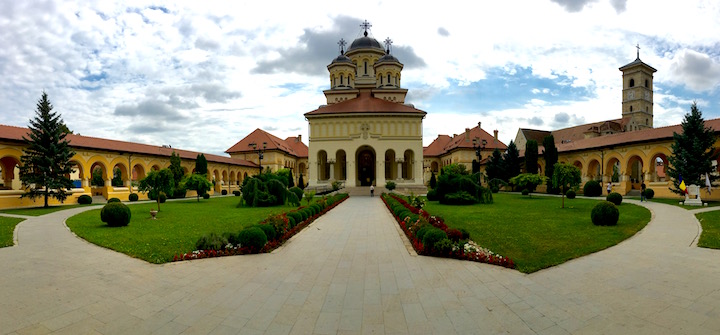 The grounds of the Reunification Cathedral are stunning and free to enter.
Food and trinket (read tourist tat) stalls can grab your attention for a while but make sure to head for the 'Traseul Celor Trei Fortificații' before you leave.
The 'Three Fortification Route' is a restored area offering some of the best views over the city, guided tours of its museum and access to some interesting and otherwise out of bounds areas. A particular highlight of this area is being able to walk along the eastern edge of the city wall and on top of the city gate (the impressive one we entered through). Quite a large area and well worth the small entrance fee.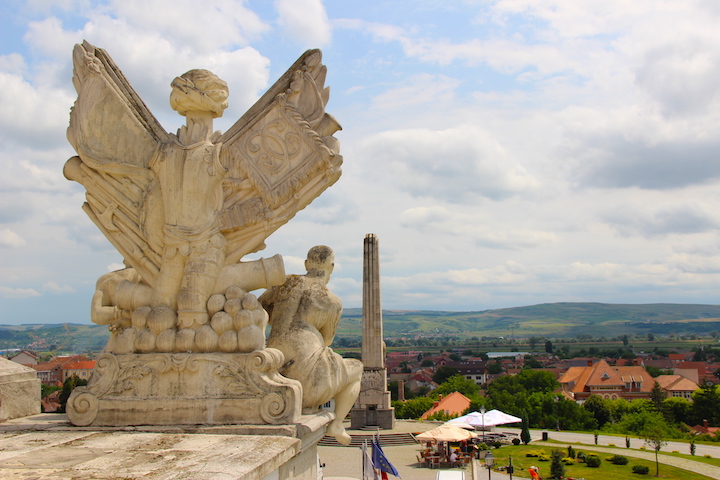 From the top of the 3rd Gate of the Fortress
---
Alba Iulia is located around an hours drive from Sibiu and two hours from Cluj, making it the perfect midday stop to stretch your legs for a few hours (there's also plenty of free parking right along the city walls).
While it was common to bump into Romanian tourist and school groups there seemed to be very few foreigners in Alba Iulia which is a shame. Many people make a special visit to Sighissoara for the day and in our opinion, Alba Iulia is just as nice and deserves it's far share of the guests.
Oh, and go eat at Gavroche – Café Brasserie.