After our pretty hellish journey we couldn't have chosen a better place to start our honeymoon.
We agreed pretty early on we wanted to start our travels on Zanzibar and enjoy the white sand beaches and the ocean water after the stress of planning the wedding. For a long time we left it at that – we will go to Zanzibar. However Zanzibar is quite a big place and after our experience on Koh Chang, I knew how choosing the right part of the island for us could either make or break our first experience of Tanzania.
Our brief
Chilled
Good diving nearby
Beautiful beach
Quiet
And quiet
With that in mind I googled and consulted our trusted guidebook and found the No.1 choice to be the island Mnemba which has some of the best dive spots in Zanzibar. Unfortunately it costs $1500 a night each just to stay on the island which is ever so slightly (ha) out of our budget.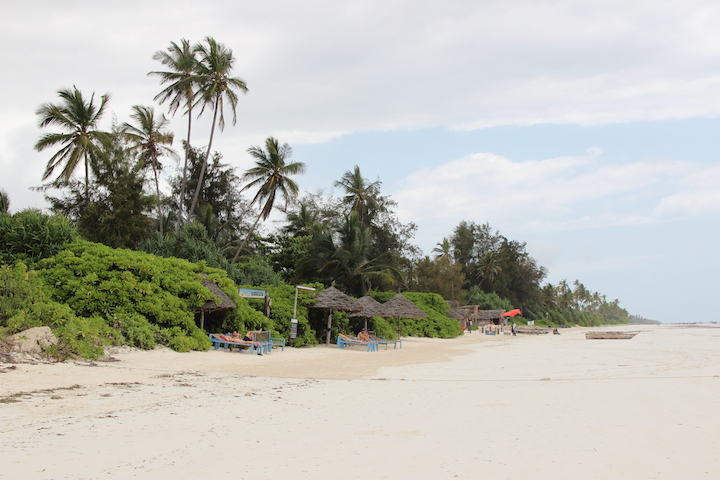 Matemwe Beach
On the main island however, quite close to Mnemba was a beach described as having "the finest sand on Zanizbar" and it certainly sounded peaceful enough "the village moves at it's own pace". Not only that but being so close to Mnemba island it was the perfect base to make sure we were still able to dive the reefs that first attracted us there.
Matemwe turned out to be just as relaxed as hoped, life is centred around the beach and with the village being so small you can expect a lot of space to yourself. With only a few resorts in Matemwe there were never many other tourists disrupting our peace either.
I'm going to be honest and say other than diving we did very little, walked up and down the beach a few times, took a quick dip now and again and read a lot of Game of Thrones (we're both hooked). It was an incredibly relaxed five days and exactly what we needed after the wedding and long journey down to East Africa.
Part of the reason we enjoyed our stay so much was the hotel (stay with us, they have no idea about this website). When we arrived the first thing we noticed was the typical SE Asian backpacker style restaurant and bar, big open, all made of wood and comfy cushions everywhere. It was very easy to slide into life here and feel right at home.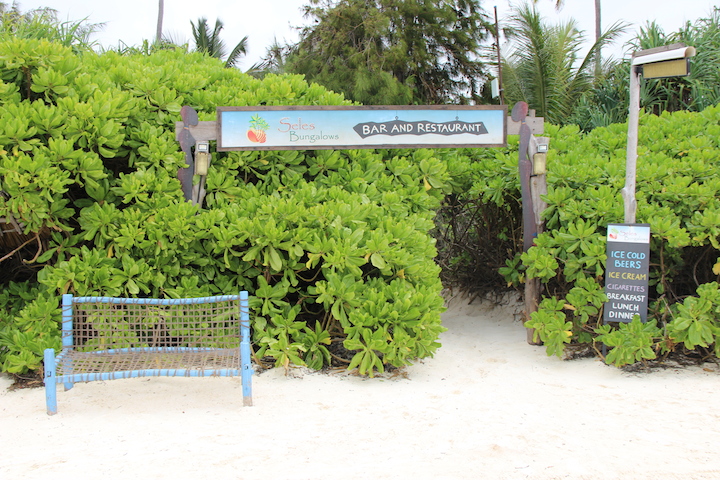 Entrance from the beach
How do they make their salad so tasty? Its only salad!?
Perhaps the best thing about where we were staying was the food, without realising it we seemed to have booked into the best place to eat in Matemwe. We knew the food was great from the first meal and by the end of the 5 days we'd had most things on the menu, none of it disappointing. We spent a night sitting with an Israeli couple that were staying at a more expensive resort next door and after recommending the food to them were nervous about it living up to their expectations. I'm glad to say they loved it too and it turns out they'd tried most the places in the area and found this to be the best.
We're no foodies by any stretch of the imagination but it really was that good, simple food in most cases but done really well. It's been about 12 days since we stayed there and lets just say they set the bar very high and few places are competing.
It wasn't just the food that made our stay so enjoyable though, the staff on hand are great and very happy to chat away but also give good advice on transport and the costs you should expect. Our room was lovely and spacious with a very nice bed (can you tell we're getting older) and very close to the beach, roughly 30 seconds!
We recommend this place highly:
Seles Bungalows – Matemwe Beach
What we paid: $80 per room per night
Taxi from airport: $40 around 1 hour drive.
Dalla Dalla from main road back to Stone Town: 2,000 TSH (just over $1)