It's time; we can finally reveal our plans for the next couple of months or our pre-ski season getaway as we like to call it, many also refer it to as our honeymoon but this was all planned long before we decided to get married this September.
Where are we going?
We'll be spending eight weeks in Tanzania!
It's all sorted. Our flights are booked for the 24th September (4 days after the wedding) and passports came back last week complete with a three month visa each.
We're both incredibly excited to be heading to Africa for the first time and despite not mentioning it on here have had East Africa penned in as our next destination for quite some time.
Why Tanzania?
Towards the end of our two years in Asia we got quite hooked on diving and was lucky enough to experience the underwater world in some very impressive locations. Since being back in the UK diving is something we still talk about quite a lot (although not being tempted by the cold waters here).
In March 2013 we went to the International Dive Show in London and after our experience of swimming with whale sharks in the Philippines we were excited to sit down and listen to the experts talk about them. During this talk there was a lot of talk about Mafia Island and the marine reserve surrounding the island which obviously stuck in our head.
A few weeks later after a little bit of research Mafia Island had become our next must do location and it didn't take long for other parts of Tanzania to join that list.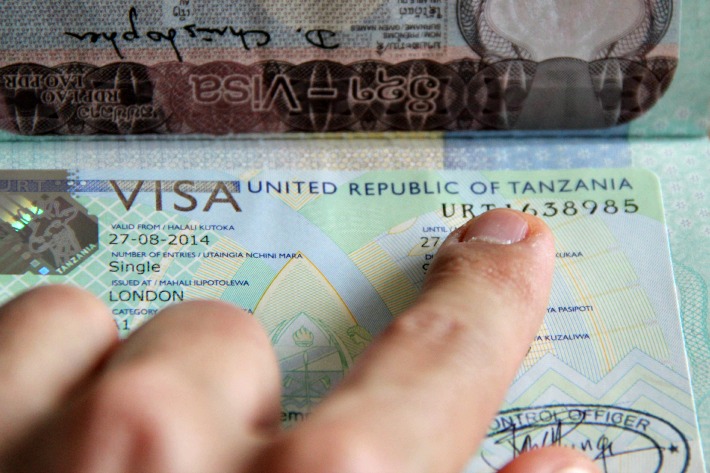 Tanzania Visa
Our Rough Itinerary
Over the last year or so we've had a lot of conversations about how long our trip to Tanzania should be, it started at a mere four weeks and as you now know has doubled since then to eight.
Much of this was down to our other main plan of working a ski season in Europe, until we had a job sorted it was hard to commit to any amount of time in case we couldn't secure a job and had to think about a more long term travel plan in order to manage out finances better.
With jobs secured it was an easy decision to extend the trip to eight weeks, we'll be able to travel slower overland, not have to skip on any of the destinations we have in mind and might even be able to get some writing done while we're there before Crystal Ski start taking up all our time.
8 Weeks in Tanzania
Zanzibar (Matemwe & Stone town) > Pemba Island > Arusha > Ngorengoro Crater > Lake Victoria > Kigoma > Gombe > Dar Es Salaam > Selous Game Reserve > Molka > Mafia Island > Dar Es Salaam.
Obviously it's all going to be pretty incredible but a few of the highlights we're looking forward to most are: Zanzibar for obvious reasons, Pemba Island for the beauty of Zanzibar but without the large hotels, Mafia Island for the diving as mentioned above and Gombe because of the Jane Goodall link.
No Place To Be Timeline
20th September – Get Married
24th September – Fly to Tanzania
19th November – Ski Season in Austria
Sometime in April 2015 – Decide what to do next…
This is where we need your help, with all this wedding planning and only just finishing full time jobs we need all the recommendations you've got. Have you been to any of the places mentioned above? Do you have any tips? As ever it's all greatly appreciated!