Bucket lists are something that are everywhere, especially in the travel world and there are endless '100 things to do before you die' type lists floating around on the web.
While some of them might be up for debate…
"Go skinny-dipping at midnight in the South of France"  (very specific)
…one thing that should be on everybody's list (if you can be bothered to have one) should be swimming with whale sharks and Mafia Island in Tanzania offers the perfect opportunity to do this.
Why go?
At first it may not seem like everyone's cup of tea but swimming with whale sharks in something that has appealed to Kirsty and I for a long time and luckily we've been able to do it a few times now. The main attraction for us is being able to get so close to something so large and yet so elegant in the water.
To put it simply, you want to swim with a whale shark because they are massive and gorgeous.
What are they?
The largest fish in the sea, that's quite a title.
Whale sharks can reach up to 12 meters in length and weigh up to 15 tonnes. They are filter feeders which means they swim close to the surface with their large mouths wide open extracting food from the sea water as they move.
For any concerned swimmers: Their favourite food is plankton, nothing near human size so don't let that 'shark' bit in their name put you off.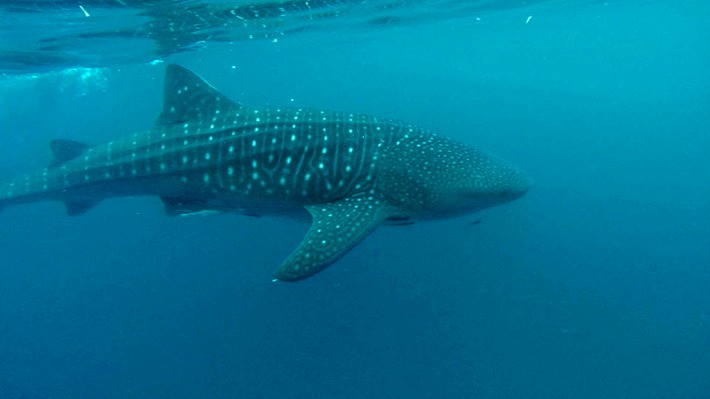 When to go?
The best period to visit Mafia Island for swimming with whale sharks is between November and April. It is possible outside these times but sightings can be fewer.
The experience?
Is simply amazing. Your cruising along on the boats deck enjoy the sunshine, suddenly someone spots a dorsal fin sticking out from the water and you thank your lucky stars it's not going to be one of those 'no show' days.
Despite knowing they're the largest fish in the ocean you still can't help but be blown away by the size of them underwater. There's usually plenty of shouts coming from the snorkels as each swimmer spots the shark through the water. Just like that it's over, a whale shark has just swam past you and disappeared in seconds despite your best efforts to keep up.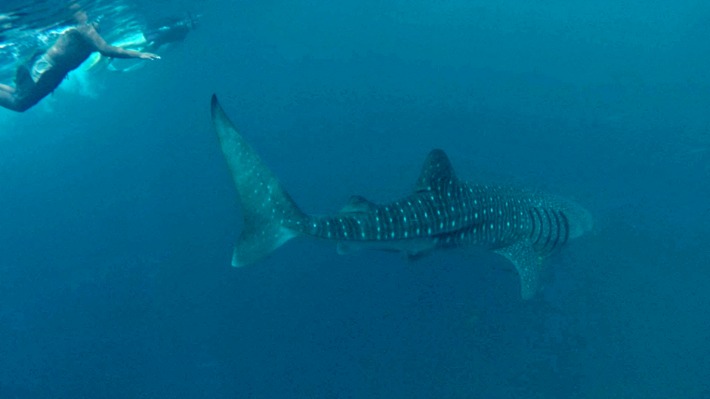 What to do?
Relax. Especially off Mafia Island where there are so many whale sharks to be seen.
Try and resist the urge to jump off the boat with everyone else and engage in a war of who can kick the most people in the face.
We chose instead to simply slip off the boat in the general area where the whale sharks were feeding and swim around gently with our snorkels on. We had numerous encounters with the giants swimming right past us and we had them all to ourselves while everyone else was still chasing each other around.
Example: I was floating around by myself (Kirsty and I both love the water and she'd swam off somewhere else) and decided to have a quick check underwater. I looked down to see a whale shark coming straight up out the depth at me, mouth wide open before turning away as it got too close. This happened twice in a matter of minutes (and yes I screamed like a little girl both times).
A couple of good experiences like that has got to be better than fighting with the crowds to follow a tail.
Organising
You won't struggle to find people offering the chance to swim with whale sharks on Mafia Island. There are a number of tour operators who run trips daily and most hotels will either do it themselves or have a particular company they use. Locals with boats will also often approach you about arranging budget trips for the following day for around $45.
We chose to go with the dive centre we were diving and staying with, Big Blu. Not only was it convenient but being one of the better dive shops we've used, we were confident they would be respectful in the water towards the sharks.
The boats were fast, very easy to slip in and out of the water on and the staff knew what they were doing.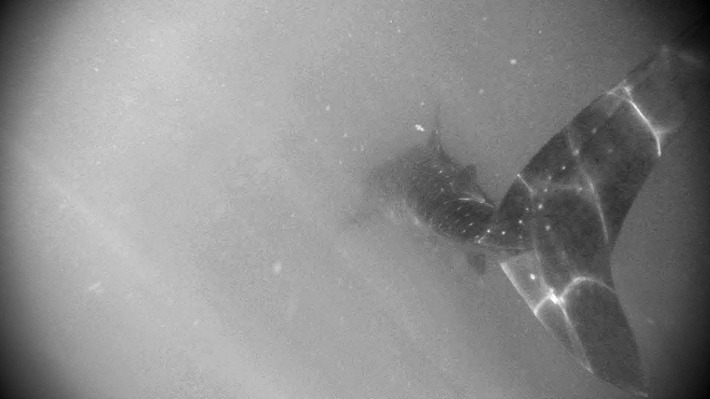 Get used to this sight.
Where to stay?
If you're visiting Mafia Island specifically for swimming with whale sharks then you will have plenty of options when it comes to accommodation. We were staying in the marine park on the opposite side of the island to where the whale sharks are found because of access to the dive sites.
There is an extra daily cost for staying in the marine park so if you're not wanting to dive then you can stay outside of this area and save yourself some money. You'll also be closer to the whale sharks.
---
We've previously swam with whale sharks off the coast of the Philippines in Donsol.
Have you swam with whale sharks in Tanzania or anywhere for that matter? Was it a positive experience?