Now we're back in the UK briefly and have a bit more spare time available, we can finally get around to writing about some of the amazing experiences we had in Tanzania that didn't make it onto this site.
Our time on Mafia Island in particular was incredible and thankfully lived up to the demands of being the main reason we originally decided to head to Tanzania.
As I opened up my trusty battered notebook to try and put that time into words I stumbled across this.
Clearly I was in a very happy place at the time…
---
I think I've found my calling in life and it's a pretty obvious one, one that many people before me have found and followed.
My destiny is to be a beach bum, or more accurately a beach bum who spends most of his time underwater.
The last ten days have been some of the happiest I've ever had. I used to think as long as I was in flip flops I'd be happy but it turns out the barefoot beach life is the way forward.
My island routine isn't a complicated one, but one that is guaranteed (providing you like diving) to keep you entertained for a good while.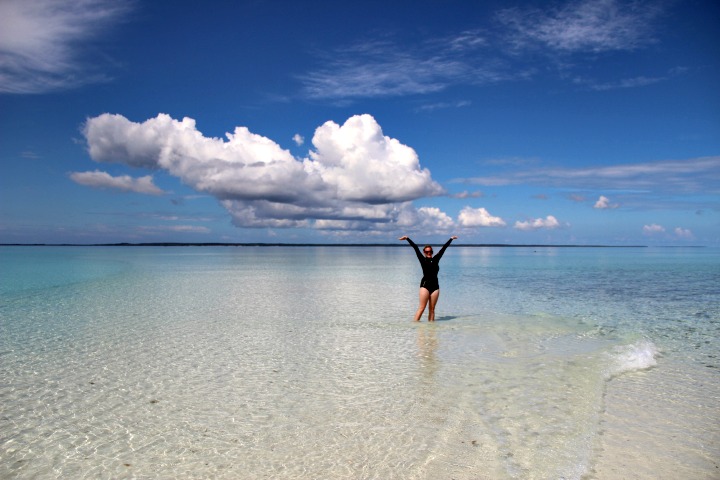 Kirsty at the sand bank
Wake up at sunrise
Without the internet and pointless Facebook updates to stare at for half the night, my body clock has happily adjusted to the sunlight hours. The sun comes up and everyone emerges from their tents to try and be the first in the shared toilets.
Relax
As I'm getting up so early there is still over an hour until the dive shop starts serving breakfast so the day starts outside the tent with my kindle in hand. I'm flying through my reading list here.
Breakfast
Tea, juice, water, fruit, pancakes, muffins, toast and eggs. It's a good job I'm only eating twice a day at the moment…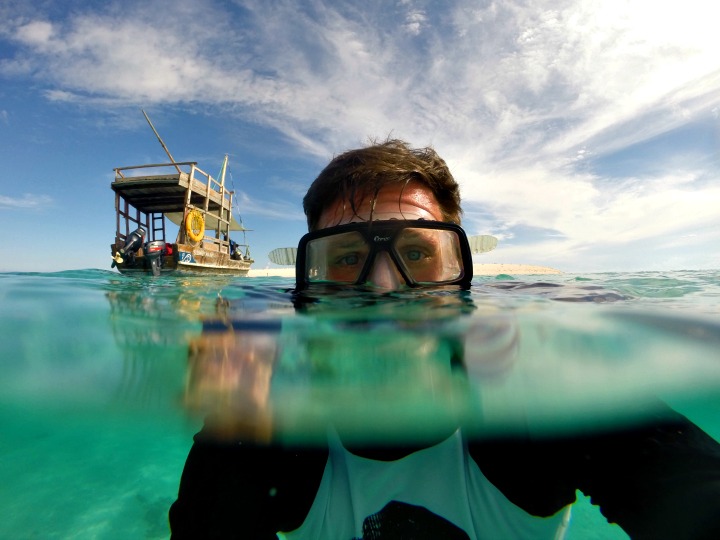 A little between-dive swim around
Diving
I'm easily pleased,  happy just floating on a boat but the world class diving on Mafia Island proves to be an easy distraction. Most of the day is spent on the boat or deep underneath it and with every dive site proving as good as the last I love every minute of it.
Nap Time
After returning from the boat in the mid-afternoon it's time for a cup of tea and a nap. Sprawled out across the seats in the dive centres lounge is fine if the tent is too hot.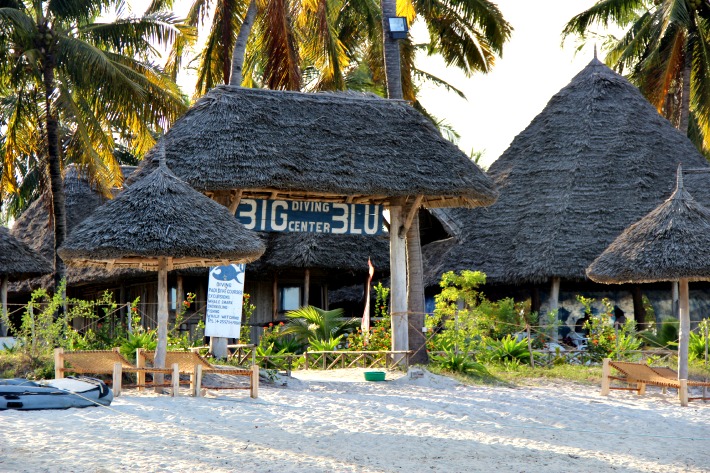 Our dive centre of chocie
The one exception
We allow ourselves a small time on the computer to check our GoPro from earlier in the day. How many not so clear pictures and blurry videos have we taken today? Can we at least salvage some stills from them? Regardless of how they turn out it's fun to remind ourselves of all the interesting things we found underwater and above.
Dinner
A two minute stroll down the beach is a local restaurant. There's only four tables and the chairs are terrible so we borrow cushions from the dive shop to make them a little more comfortable but the food is cheap and delicious.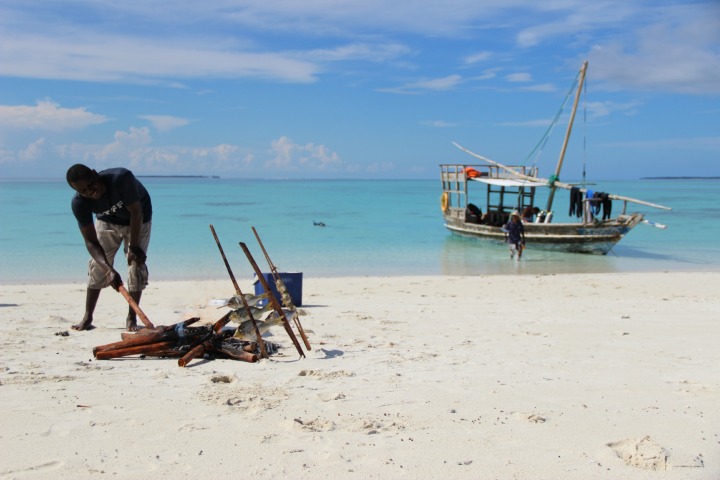 Anyone hungry?
Evening
Due to the lack of internet our evenings consist of actually talking to people (it took some getting used to) and unsurprisingly results in a lot of cool and interesting stories from all over the world. By 9:30pm we're usually asleep.
---
Obviously it can't last forever but I've a good feeling ten days will not be nearly enough. The dive sites all deserve at least a few visits each and with the stunning views on the surface as well maybe a month here in paradise would be more suitable?
Have you ever fallen into a simple routine like this you'd like to return to?