We're in Hangzhou. You may have read about our little error and why we are here instead of Xi'an. So this is our second stop, can we call ourselves backpackers now that we've been to more than one location? Maybe not just yet. I can add to our case by saying we have also ticked off two more things on the backpackers to do list, going on an overnight train and also sleeping in a dorm.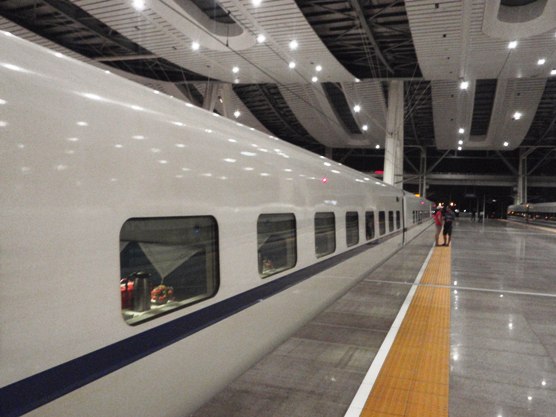 Our train left Beijing South Railway Station an 9:15pm and arrived in Hangzhou station at 9am the next morning. We arrived at the train station in Beijing not really knowing what to expect of travelling on a sleeper train, our first impressions were that it was pretty posh but the rooms didn't look that big – where the hell were our bags going to live for the night? Five minutes later we were kicking them under the beds of our new best friends for the night, a middle aged Chinese couple who didn't speak a word of English. We immediately identified this as an opportunity to show off our language skills and reeled off everything we knew in their native tongue. Once we'd finished saying hello and thank you a few times we jumped into our bunks for the night, nice and comfy. We both spent a couple of hours reading before passing out for the night. That's the problem with sleeper trains I guess, they don't make for much of a story, although Kirsty did have a dream the Chinese couple stole her shoe's so she woke up a bit suspicious of them both.
Stepping off the train in Hangzhou it was clear we had been travelling south, the heat hit us straight away and wandering round with backpacks didn't seem like much fun anymore. After our mistake before we know try and book the train tickets to move on as soon as we arrive in a location. This being China though they like to mix it up a bit. Instead of booking our ticket to Xiamen ten days before, like we were told to, we can now only do it 5 days in advance 'come back tomorrow!' Deciding that if we returned tomorrow and the train was sold out we would settle in Hangzhou and rather than try and book another train, we went on the search for our hostel.
The hostel was kind enough to provide directions to getting there by bus from the train station. They didn't work…. Or perhaps we write them done wrong but this is our blog so for now we'll blame them. We caught the bus we were looking, Y2,  for from round the corner of the rail station and listened happily to the girl at the front telling us wonderful information about various parts of the city as we drove past, all of which we didn't understand a word of. We got off at our stop, caught the next bus in the wrong direction, realised this, got off and caught another bus back again and proceeded to go right past our stop in the other direction. Luckily at this point the bus does a little loop and goes back on itself for a bit and we would have missed our stop again if it wasn't for a Dutch couple kindly helping us as they got on the bus and letting us keep their map. Unfortunately we didn't get a chance to talk properly as once we had worked out where we it was time to get off.
Our hostel is situated about 100m back from the water's edge, a perfect location. Finding it although was not as easy as that, once off the bus we proceeded to walk in the wrong direction away from the hostel. We knew it was by the lake so we walked through the trees to the water's edge. Looking at the map we realised we were going the wrong way so we did an about turn and started in the other direction. Just like on the bus we still managed to go past the hostel yet again! By this time three hours had passed since we got off the train and we were getting a little bit fed up, mainly due to the heat. One last ditch attempt meant asking for directions from the nearest hostel. Kirsty went in and was confronted by quizzical looks "this is Hangzhou international youth hostel!" Turns out the hostel likes to use two names to confuse poor backpackers (sod it! I'm calling us that) like us a little more after a long journey.
We've got 6 nights at this hostel and chose to stay in a dorm room as it's much cheaper. We had always said we would stay in dorm rooms now and again just for the experiences. Is it weird for a travelling couple to stay in a dorm room? I don't know, you tell me. The first morning one of our roomies walked in to find me sitting on Kirsty's bed with her , he started apologising and ran around grabbing his things and was gone in a flash. At the time I felt like chasing him down and saying "don't worry mate I was only talking to her". Of course we will be getting private rooms most of the time because, well let's not get into that, this blog is about travelling.
So for now that's it, we're in Hangzhou, it was quite an experience trying to find the hostel and this place is gorgeous. After two weeks of being in Beijing we know we are going to enjoy this place a lot, if only for the views. What we get up to here to follow!