After travelling down from Ban Lung we tried our best to make the most of our time in Phnom Penh but it was difficult knowing the whole reason we were there so early was to prepare Kirsty for her potential interviews.
By this point Kirsty had a skype interview arranged for our second day there and so most of her attention was on that and rightly so.
We tried to mix site seeing with ticking to do items off the list. Kirsty wanted to visit the Russian Market as she had read in the Lonely Planet that it had some western brand name clothes like gap etc at half the price. Unfortunately it was a massive disappointment and basically sold the same crap, so we weren't able to pick up any interview type clothes from there.
We did get a chance to visit S21, a school turned Khmer Rouge prison which now operates as a museum. A very heart breaking but interesting experience, it seems the more I learn about that period the harder it becomes to comprehend, I tried to write a post on our visit there but it's hard to put the feeling of the place into words. All I can say is that if you are in Phnom Penh I recommend that you go.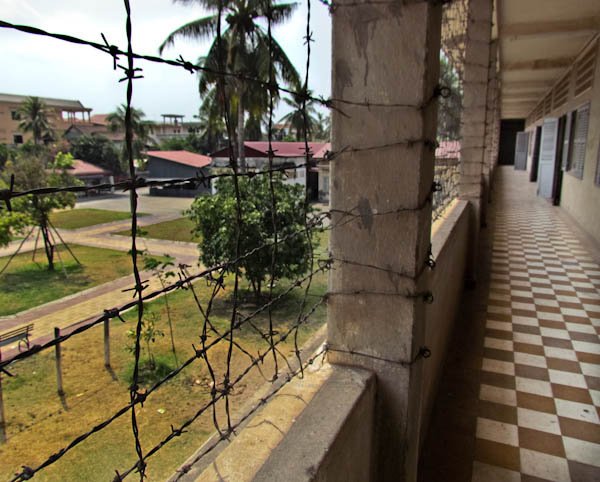 The sign at the bottom of block C reads:
"the braid of barbed wire prevents the desperate victims from committing suicide"
From the little we saw of Phnom Penh it seems like a very exciting and lively place . We both really want to go back and explore properly, 24 hours really didn't do it justice, I could easily have seen us spending over a week exploring and still wanting more.
Next begins the story of Kirstys quest to become a teacher.