Football. Before we set off on this trip I wrote about how we might have to cancel travelling. Well by some miracle this is still a problem we are having to deal with.
Tottenham hotspur football club managed to qualify and top their group despite being put against last years champions Inter Milan. This left us with a problem, a tie against another world class team, AC Milan. Due to take place while we were meant to still be on Don Det Island in Laos, no cable or wifi available.
It was a tough call but we had been on Don Det a week and done just about everything we wanted to. It was decided, we were going to Cambodia in search of cable TV.
Two days later we cross the border and get dropped off in Stung Treng, after a quick check of the guidebook we decide to head straight to Ban Lung on the afternoon bus. We tried to book ahead into our first choice hostel but it was full so instead we rang the poshest hotel in town who promised us wifi in the room and a TV lounge open all night, neither of which turned out to be true.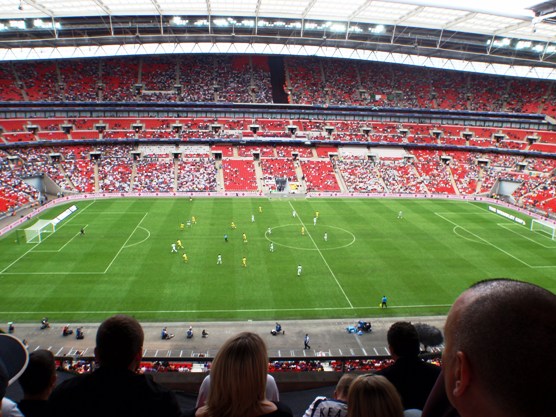 The last time I saw Tottenham play – almost two years ago at Wembley Stadium – we lost
After arriving we explained to the chap at reception what we had agreed earlier on the phone. Once clearing up that I definitely meant 3am and not pm he said I would have to wake the night staff up who would let me I the building. I'm sure the guy was over the moon when he found out.
So now the important bit, was it worth it? Coming into the game Tottenham had a 1-0 advantage from the first leg so even a draw would do. I woke the guy up at 2:45am and he quickly unlocked the door and rushed back to bed without saying a word. Kirsty had kindly agreed to get up with me (I made her) and we watched a fairly even game finish 0-0 – we won!
Definitely a good choice to watch the game, afterall who knows when we'll next be in the champions league. I'm also sitting by said hotels pool writing this which isn't bad either.
The crazy things we do for football, it's only a game!?!