After a pretty disastrous journey between Las Vegas and Los Angeles we were keen to make the most of our time in one of the worlds most famous cities. That meant an early rise from our Travelodge beds and heading straight out to the main attractions.
Venice beach seemed like as good a place as any to start our LA experience and it didn't disappoint. I mean this in the nicest possible way but it's just as cheesy as I imagined.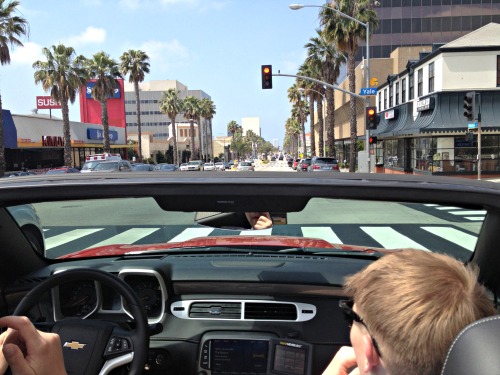 Cruising the streets in LA (or should I say sitting in traffic)
It was beach cruisers and skateboarders galore as we walked along the beach, buff guys in board shorts and scantily clad women clearly living by the rule that if you've got it, flaunt it (A rule I agree with but unfortunately I haven't got 'it' so…)
Meanwhile groups of people played volleyball screaming "woo" and "that's right" as we strolled past wondering if we'd accidentally walked onto the set of the latest american movie.
The sun was shining bright and the crowds were out in full force, the only people who seemed to be 'working' were the hippies(?) lining the walkway selling a mixture of just about everything from abstract artwork to handmade souvenirs. I'm sure life isn't as easy as it looks for these people but snoozing in the sun, smoking the happy stuff and chatting with friends didn't look like too much of a struggle to me.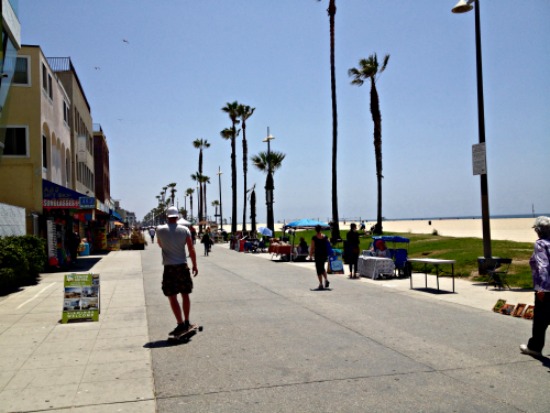 One of many skateboarders who passed us
Opposite our chilled out friends was a long line of cafes, skate and alternative clothing shops fitting in perfectly with the vibe I was expecting to find.  Further down the beach we came across muscle beach, basketball courts and a skatepark all of which were full of people enjoying the sunshine.
I'm not sure what I was expecting to find at the beach in LA but to me this felt a bit like I was in the Truman show. Everything seemed to fit into place a bit too much and it didn't seem real, places aren't usually exactly like you imagine them but life on the beach in LA seemed to be just that, exactly what you would expect.
Have you been to the beach in Los Angeles? Is it what you expected?