Although Bali was the end of our adventure this time around, our official last destination before making our way back to Kuta and ultimately the UK was the Gili Islands.
Despite the fact we'd already been staying in nicer accommodation than we would normally, we wanted to finish our travels with a bang. We were looking for somewhere extra special that didn't mean having to go home with no money. After a bit of research we came across 'Tir Na Nog' on Gili Trawwangan.
The hotel is around a 10/15 minute walk from the ferry drop off point. The biggest surprise when arriving at the hotel is it's front bar area, which is quite clearly a very popular Irish bar. Talking to the owners, we later found out that they purposely avoided mentioning this on the website as it can put people off. However, as mentioned the Irish Bar is a big source of their business that they can't afford to lose.
To be completely honest their concerns are valid,  the minute I saw Irish bar my expectations of the hotel dropped. Without even seeing the rooms I had prepared myself for disappointment and all because of a few signs and a colour scheme.
Thankfully all my fears were quickly forgotten once we were shown to our room. Staying in the deluxe room (well worth the extra pennies) meant we opened what we believed to be the door to our room to find a private front garden area.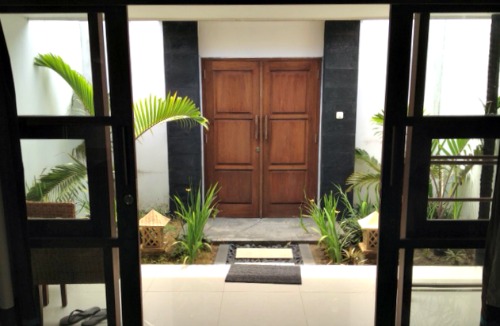 Our Front Garden
Another set of doors opened into our bedroom, identical to the photo's on the website, large room, good sized bed, plenty of storage space, TV, Air con and fan.
The main selling point for us both however was the bathroom. Out the back of the room is another garden area but it holds everything you would normal find in a bathroom, a large drench shower, sink area and toilet. It's all completely private with high walls so no need to worry about peeping tom's while enjoying a very satisfying naked outdoor shower (or shit).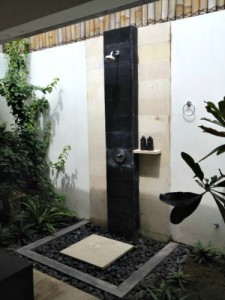 Tir Na Nog has a pretty large piece of land on the island and a number of bars, furthest back from the road is a large indoor area which often fills up for the football at the weekends and you'll find the staff enjoying the game as much as anyone else.
Out the front across the road is the most popular bar which is lively most days and every night serving one of the best barbeques we had on the island. Next door is a Ryoshi, a Japanese Restaurant run by the same people which we unfortunately didn't get round to trying, there is a lot of good food on the island and it's hard to get round them all. There's also a small bar just inside the entrance, which is popular with the local divemasters who like to relax after a long day showing you around under water.
If you're looking for a party then Tir Na Nog is the place to be on a Wednesday night, this weekly event seems to attract half the island and you won't find it hard to make friends. We had a great time and as long as you're not in the front two rooms it shouldn't be a problem getting away for a bit of piece and quiet when you're done. The room service helps as well the following day when your hangover is too bad to move.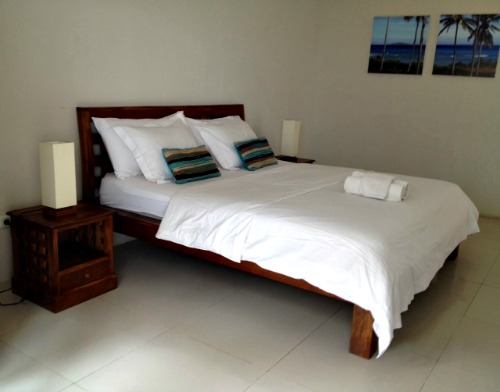 Looking back we enjoyed our stay at Tir Na Nog a lot and the deluxe room was exactly the sort of place we were looking for. My only criticisms would be the pool area is not as nice as some others you see around the island but when you're on a tropical island you shouldn't be in the pool too much anyway. It would also be nice to have a mini bar in the room so when you fancy a beer in garden area it's there and ready.
All in all a lovely stay and we'd definitely go back.