Welcome to the new look No Place To Be!
No Place To Be is now 3 and half years old and well in need of a face lift.  Over the past 6 months Poi and I have become more and more annoyed with how our site looked.  We'd grown sick of the bright colours and despite loving them, it was time to say goodbye to our little characters in the header.
It's now been through two transformations and looks completely different from when we started back in February 2010.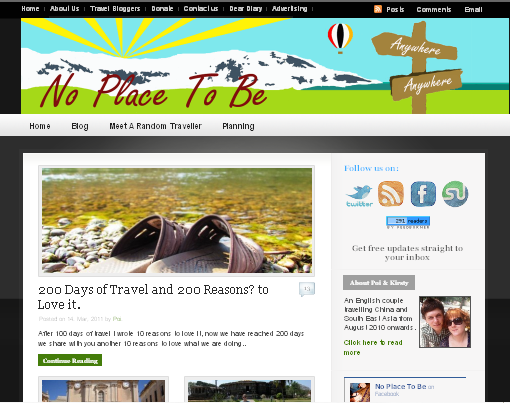 No Place To Be – Version 1
We have been working tirelessly with a designer (Hannah – Further Bound)  for the past few months on our new design and we are really pleased. We're much happier now with the colour schemes, site navigation and the overall cleaner look. Plus, that big ol' picture of us is wonderful even if I do say so myself….
We also thought it would be a good time to show that we are a little more "grown up" it seems passing the halfway mark in our twenties has taken it's toll…
A good time for a little update…
We've been back in England for over a year now and while the time with family and friends has been wonderful, the talk of where next has picked up a lot of pace over the last couple of months.  We're in the final planning stages for our next trip, and if it all goes to plan we'll be starting with a bang in less than a years time.
Last time we went away the major turning point in our saving was booking a flight, we hope it will have the same effect this time so keep an eye out for an announcement soon!
In the meantime life in London is still a lot of fun, we love living here and I think we will find it very difficult to drag ourselves away.
I'm in the final year of my teaching qualification and still finding myself coming home with ridiculous stories. For some reason I decided to give myself even more work this year and sign up for my masters in education, Poi is still dreaming of his life as a house-husband swimming in the ocean everyday so I've got to make myself as employable as possible…
So for now we are happy with how things are going and excited to get back out travelling again.
Now lets hear from you, take a look around and let us know what you think of the new site or if you haven't been here before check out

New Here?

to get you started.