To be honest, we really didn't feel like leaving Thailand so we decided to ease ourselves gently back to the UK and head to Bali for a few weeks beforehand.  The island is very well known for a certain type of water sport, it's evident from the moment you arrive at the airport, everybody seems to be struggling with oversized, odd shaped luggage. When in Bali you HAVE to go surfing.
Surfing is not something I've ever been that keen on trying, my biggest fear being just how terrible I would be at it the first few attempts, did I really want to put myself through that kind of humiliation? Well clearly yes, either that or the little voice in my head went off as usual "when's the next time you'll be in so and so? Better make the most of it!"
In short, you can't go to Bali without trying your hand at surfing. Everyone is doing it and despite what 'they' tell you, following the crowd is cool!
With Bali being such a popular surfing spot you won't struggle to find somewhere offering to take you from zero to hero. We contacted Quicksilver Surf School Bali and they invited us to come and try out one of their beginner lessons. Their surf school is located on Legian Beach and is run by world champion and master coach Cheyne Horan (As I said before I know nothing about surfing but a quick google reveals he's quite a legend).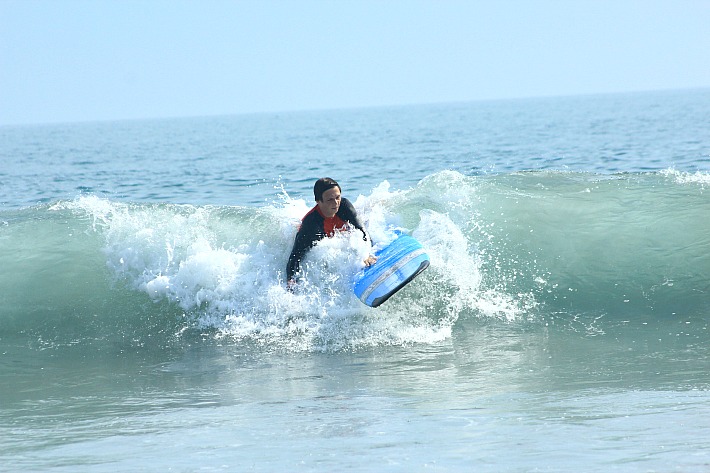 Surfing Fail
We arrived on the morning of our lesson to some pretty intimidating surf, the conditions looked pretty rough and we were warned that although the surf school usually guarantees you'll be standing on your first lesson the conditions might make that impossible on this particular day. They kindly offered to move the lesson to whenever suited us in hope of better conditions but we decided to just go ahead and try and make the most of it.
We began on the beach with some basic stretches and an introduction to surfing from our local instructors. We were taught the basics of simply getting on and controlling the board in the water. After each new skill we spent 10-15 mins in the water mastering it before moving onto the next step.
In no time at all we were ready to go for the biggy, it was time to stand up. The conditions made it tough but I've always loved anything to do with water and even falling off the board time and time again and being thrown around by the surf was great fun.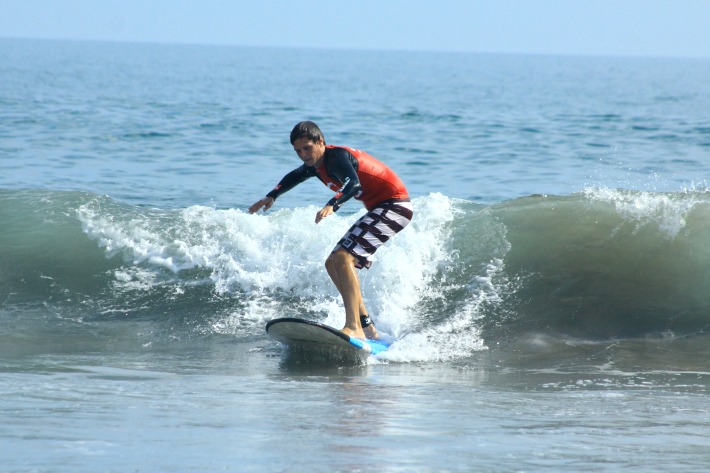 Almost pro…
Our group was only made up of Kirsty, myself and a family of four all starting at surfer level: zero. We had a number instructors with us offering advice after every attempt and a shoulder to lean on after every mouthful of salt water. The staff were great at keeping you calm and getting you started and in Kirsty's case helping to stabilise the board all the way back to the shore. It must be a tough job seeing people get it so terrible wrong time after time but somehow they remained patient and kept smiling and laughing the whole way through.
Eventually the hard work paid off and I was stood up comfortably riding a small wave in to the shore. Weather conditions too bad? Not for me. It's a very satisfying feeling when you get it right and being comfortable on the board is not something you can fake, when it clicks, it clicks.
Unfortunately my success didn't last long, either my cocky attitude or one of the breaks came at the wrong time because in the last final session of the day I somehow went backwards and got worse at the whole thing but at least my moment of glory was caught by the camera man.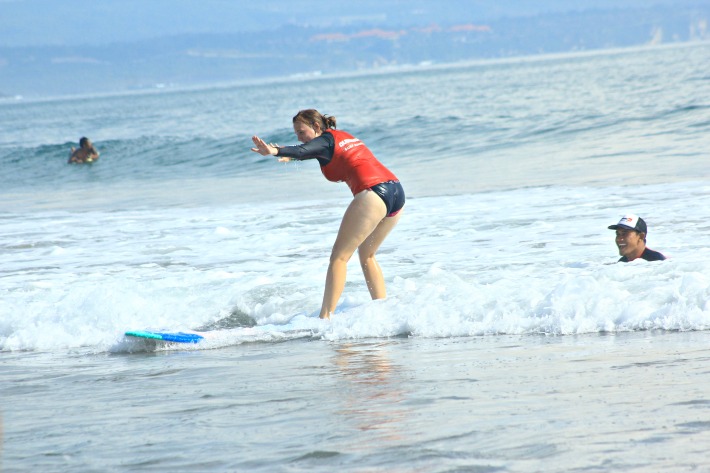 Unfortunately by the time Kirsty got up the waves had gone home
Regardless of my poor final efforts I left the water with a big smile on my face, the success was one thing but who'd have thought even being terrible at surfing would be so much fun, I loved it.
Despite the pain of the next few days, apparently we had been using muscles that I didn't know existed, we were eager to go back and give surfing another go. Although Kuta wasn't my favourite place in the world, the fun we had with Quiksilver Surf School was enough to convince us to head back again a few days before catching our flight out of Bali and take a second lesson in the waves.
I whole heartedly recommend you to try surfing! Whether you stand up or not you're guaranteed to have a good time!
You can check out Quiksilver Surf School Bali on their website or via their facebook page.