There is of course a lot more to Vegas than just gambling. The nightlife is known for being pretty incredible and every casino seems to have at least a couple of clubs with something happening every night of the week.
That's all well and good but I bloody hate nightclubs and so did my two friends on this trip. There's something about queuing for two hours while groups of girls and other 'god knows who's" wandering straight in ahead of  you that doesn't really appeal to me. For that reason our excitement had to come from somewhere else.
So what else is there to do for a bit of adrenaline in Vegas?
The Stratosphere Trill Rides
Located towards the end of the strip the Stratosphere is known as a unique building with decent views but that's not that exciting really is it?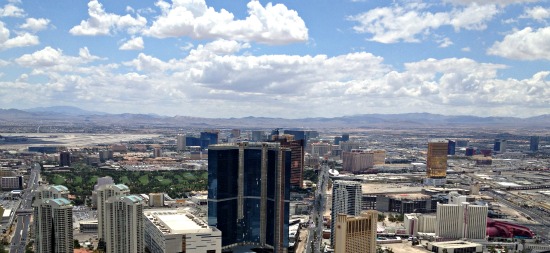 The view from The Stratosphere
What is exciting is taking that big ol' building and sticking some theme park style rides on top of it!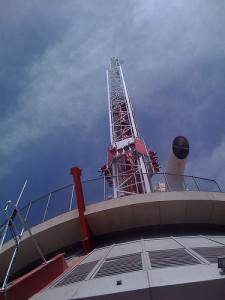 The Big Shot
There are three 'Thrill Rides' available to guests, unfortunately on our visit one of the three was closed due to the high winds but two out of three isn't bad.
The first was the big shot. A pretty common style ride where you're strapped into your seat, legs dangling below and shot vertically upwards at high speed. That's usually exciting enough in itself but when your starting point is already 921 feet about ground it's a whole different feeling.  As you shoot up the mast at 45mph the stratosphere disappears from view immediately leaving what looks like nothing between you and the floor over a 1000 feet below.  It's a surreal feeling of being somewhere you don't belong and gives you a great rush of adrenaline.
Next up was 'X-Scream' which seemed to be the latest main attraction.  It can only really be described as a car that drives off the side of a sky scraper with you strapped in it. Sound appealing?  The scariest part being that the car your strapped into really does look like it's going to roll down the bar it rests on and right off the edge.  There is no big barrier in-between you and a long journey to the floor below. Luckily for everyone involved the car does stop and your driven back and forth several times at different angles over the edge of the building.
There is a video of us on the above ride but the language from my friend is not suitable for this site.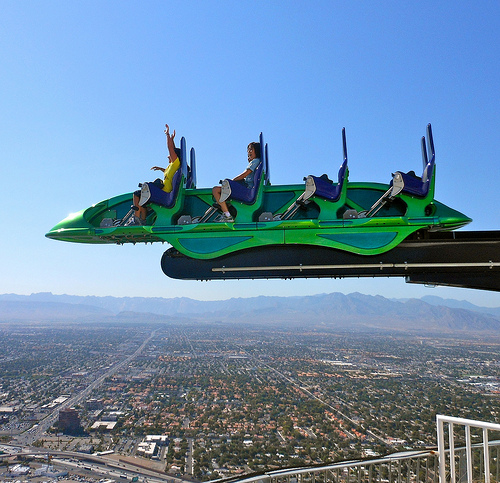 X-Scream – It's interesting leaning over the side…
The final ride that we couldn't go on because of the wind actually appealed the most to me, 'Insanity'.  A giant mechanical arm lifts you out over the edge of the Stratosphere and you're spun round facedown looking right at the floor. That's one ride I would have been going on alone judging by the reactions of my friends who simply said no after a single glance.
All three rides are worth a visit and weren't as expensive as I had been expecting.  Admission to the tower and passes for two rides cost us $28 each and to add the third and final ride would have only been an extra $5.
A must do should you be in Vegas.
Have you been on either of these? Or maybe you can tell me if 'Insanity' is as good as it looks?