There aren't many days that pass without me thinking about our time away or more accurately "What the bloody hell am I doing back here?"
Often it's the usual stuff like weather, food etc but this time of year it's a little more specific. Undoubtedly one of the highlights of our trip, so good –  we took part two years running…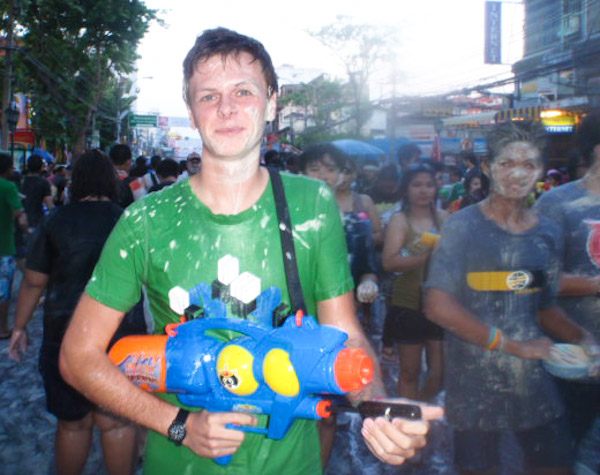 In the thick of it…
…Songkran!
The hardest thing about Songkran is describing to those who nothing about it just how much fun it can be.
"Well you know it's just a huge water fight where EVERYONE gets involved! Seriously even on the quiet streets people are throwing water over each other and…. nobody punches anyone"
So maybe I'm not the best at describing events but hopefully the enthusiasm on my face does enough to convince others that Songkran really is something everyone should try and experience.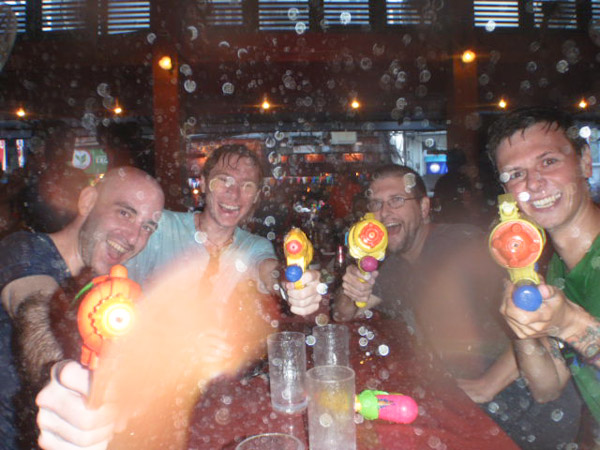 The water fights continue inside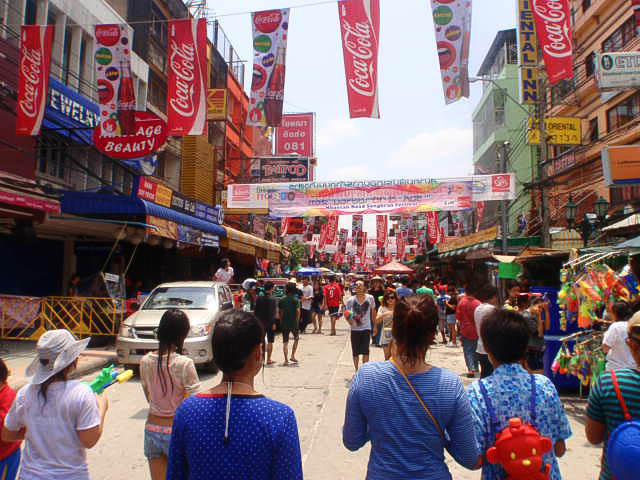 The morning after the night before. A slightly calmer Khao San Road
Although we spent both our songkrans in Bangkok we had quite different experiences. The first year was always going to be special as we had no idea what to expect and it really is truly amazing to see just how involved everyone gets.
We had been away for a few days in Malaysia and returned  on the first day of the festival. After only a few seconds of emerging from the underground we spotted a group of young girls with buckets and a large barrel of water. They nervously gestured what they wanted to do (chuck a bucket of water of us)  – they looked slightly apologetic but we were happy to get straight into the Songkran mood!
A very gentle welcome compared to what we would experience later in the day. A long taxi ride to Khao San Road revealed that most of Bangkok was already soaked and the celebrations were in full flow, even the moped drivers weren't safe from bucket loads of water.
Khao San Road was just mayhem, as you would expect, but incredibly good fun and we spent most of the day and night refilling our super soakers with ice cold water and "going at it". We also got to meet and hang out with some other travel bloggers, which is always good fun.
A year passed and despite our plans to head home being set we opted to stay in Bangkok longer to enjoy another Songkran rather than squeeze in a trip to somewhere new. Having lived in Bangkok for a year we had decent group of friends and more idea of what was going on. After having so much fun the year before it wasn't hard to get excited for another big water fight.
This time we headed to Silom rather than Khao San Road and found it to be just as crowded and exciting if only a little more Thai. Fire hoses sprayed (Blasted? Those things packed a punch) constantly and ice cold water regularly made it's way down the back of your neck.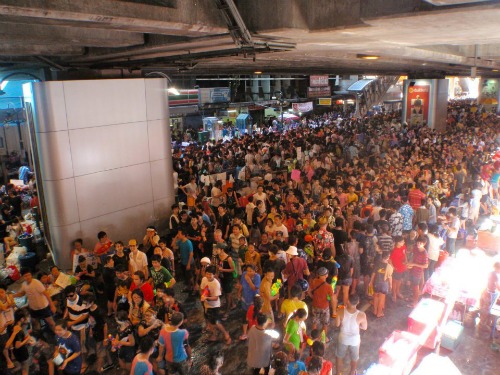 Silom attracts quite a crowd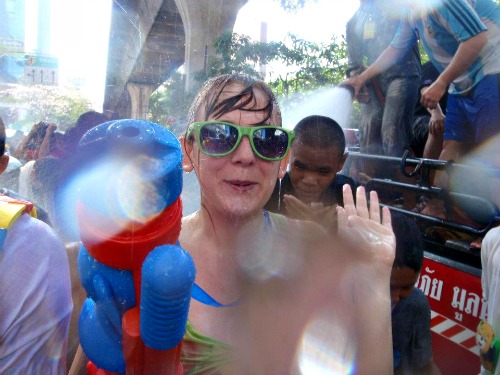 Kirsty was a popular target
With three days to enjoy Songkran in all it's glory it would be easy to enjoy both of these places, both of which are as much fun as the other and won't disappoint.
We've heard a few people mention how they get sick of Songkran but for us it's the perfect way to really let your hair down and take part in a very unique and eventful celebration.
Tip: Clay paste is also very popular during Songkran and can become quite a pain but Khao San Road is a clay free zone. Don't let that stop you trying out the other areas during Songkran, you just have to supersoaker yourself to wash it away.
Are you celebrating Songkran for the first time this year or perhaps you have your own tale of water fights to tell?