Before arriving in Laos we'd heard all the stories of how dodgy public transport was. By the time we had got to Vientiane we had only made a few short journeys by minibus and not had any big problems (other than pot holes introducing our heads to the vans ceiling).
The next journey was to be our longest here, the trip between Vientiane and Pakse, an overnight sleeper bus. We booked the trip for 165,000 Kip per person which included transport from our guesthouse to the bus station, some water and a portion of fried rice to keep us alive.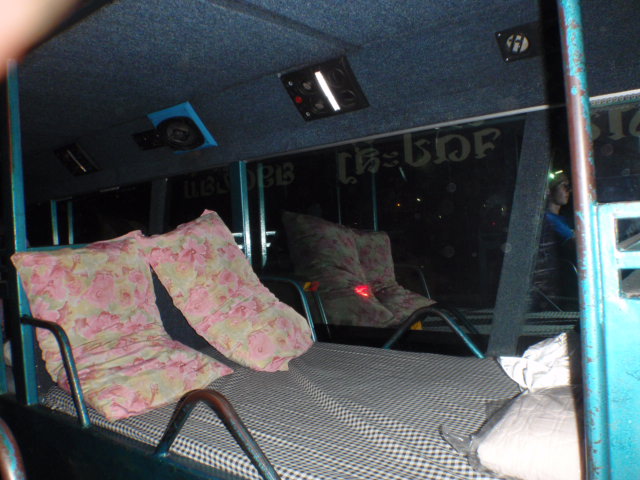 Very Cosy
We'd heard the sleeper bus had double beds and weren't quite sure how to take that. It turns out here are basically two levels of single sized  (maybe a few milometers more) flat beds running down the entire bus. Each (slightly bigger than single) bed is home to two people for the journey. They're no the most comfirtable but a blanket and pillow are provided.
This set up works brilliant for couples or two close friends but for a solo traveller….. Be Warned: Unless you book two seats you're going to end up making very good friends with someone over the next 12 hours.
I'd say this bus was comfier than the Vietnamese sleeper buses, but that could be because I was able to invade a lot of Kirsty's space to fit. The length of the bed is probably about 5ft 5, perfect for Kirsty but a little on the short side for me.
Once we got the sleeping arrangements sorted we both slept quite well, only waking up a few times either through the heat or the drivers obsession with driving fast and breaking hard. On the whole the roads did not seem half as bad as I was expecting, maybe we got lucky?
Vientiane to Pakse by Sleeper Bus – The Details
The bus sets off at 8:30pm from the bus station in Vientiane and arrives in Pakse between 6:30 and 7am. If you have only booked to Pakse just walk left out of the bus station and into town, don't be tricked into getting a tuk tuk into town, it's a two minute walk into the centre (we learnt the hard way.)
If you've booked transport to the 4000 islands you'll be loaded into a waiting minibus to complete the final two hours of your trip.
If you haven't booked to the islands but want to continue there straight away (why didn't you just book like everyone else?) there will be plenty of people around to sell you a ticket, somewhere between 50,000 & 70,000 kip. Buses leave around 8am near Nazims Indian Restaurant on the main road through town, it'll be the only busy place you see.
Have you made this journey recently? We always appreciate hearing how it's changed over the years.