Poi completed his open water course in January this year, It was something we had always planned to do together but I was pretty pleased when he went off with a friend and did it without me. Over the course of the year we had been travelling I had lost all interest in diving, I was even becoming a bit scared of the whole idea.
However, while we were in the Philippines Poi had already gone off diving twice in Donsol and Boracay, leaving me bored and alone on dry land.
Over the course of that week he slowly convinced me that I should give scuba diving a go, after all he planned on diving a lot and I'd already spent enough time by myself.
Well, what's the worst that could happen?
Well… a lot with me, I'm fecking accident prone! I went skiing in my second year at uni, went down one piste and injured myself just enough to ruin the whole week! On this trip I regularly fall down, even on smooth roads and the story Poi loves to tell everyone – I nearly fell off the Great Wall of China during our first week away.
So yeah, for me there usually is some worse case scenario!
Despite my concerns within 30 minutes of being on Malapascua Island I had signed up for my Open water course, I think Poi wanted to make sure I didn't back out and had me sign up right away.
Luckily for me this dive shop doesn't have hundreds of students passing through every week so I would be learning 1 to 1 with my instructor, Jo.
And so my scuba diving journey began
After some quite lengthy and pretty boring theory (I know, they have to do it & I should know it) I was to start my confined water dives. This is done in about a metre or two of water, if you feel uncomfortable you simply have to stand up.

First time underwater… very strange feeling!
Fear 1 – Breathing Underwater
My only main hiccup was with the first skill I was required to do underwater.  Jo asked me to take my regulator out, you know, the thing that allows you to breathe underwater.  There was terror in my eyes and I point blank refused… WHY would you take the one thing out that is allowing you to breathe underwater?? IT'S MADNESS!
Jo was really calm and just demonstrated it again and on the second try I thought 'what the hell'… I took it, blew out a steady stream of air like she had demonstrated and I was fine.  The regulator was back in my mouth within seconds and hey presto, I had completed my first skill!
I actually got to the point where I didn't mind taking "the only thing that lets me breathe" out whilst swimming around on dives later in the course.
Fear 2 – Removing My Mask
Getting over the breathing under water was my main thing but I was also worried about taking my mask off.  I couldn't work out how water wouldn't rush into my nose and being generally against having any water around my face didn't make it any easier.
Jo again demonstrated the skill first and explained that I could keep my eyes closed throughout, she would then tap me to let me know once all the water had been cleared from my mask once it was back on.  The first time I took the mask off underwater was strange, laws of physics means that no water comes into your nose (something about the pressure inside being greater than the pressure outside or something like that). As much as it was horrible to have salt water in my eyes it really wasn't that bad, not that I would want to repeat it.
I did this once again on my 4th and final dive of the course at a depth of about 10m and didn't even think twice about it.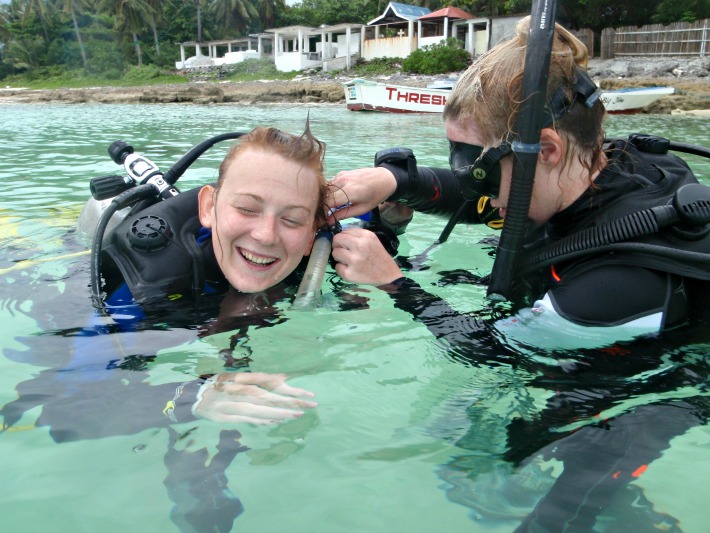 It seems that is is harder to take your mask off at the surface than underwater – this was the biggest drama of the day!
Fear 3 – Ear Pressure
During the theory part of the open water course I kept being told how important it is to clear your ears (equalising the pressure of the air pockets within them) as it can get really painful or worse pop your eardrum during a dive.  I was pretty worried about this as I sometimes have problems with my ears on flights etc. What if I can't pop them, then I've done all this theory for…. Nothing.
Once in the water I did have a little bit of trouble at first, it's a really weird sensation but there are plenty of ways to equalise your ears, the instructor will go through them all with you. So if one doesn't work the next one is likely to. As you do more and more dives you'll find the one that works best for you.
For something I was so worried about it became second nature very quickly.
Fear 4 – What Happens if I Run Out of Air?
Ok this is a natural fear, but by the end of my 1st open water dive I realised that it is highly, highly unlikely. During the confined water session we went through different scenarios of running out of air and what you can do, including sharing someone else's supply, going to the surface etc. BUT as long as you check your air regularly you shouldn't ever need to do these. (I probably check my air too much because of this!)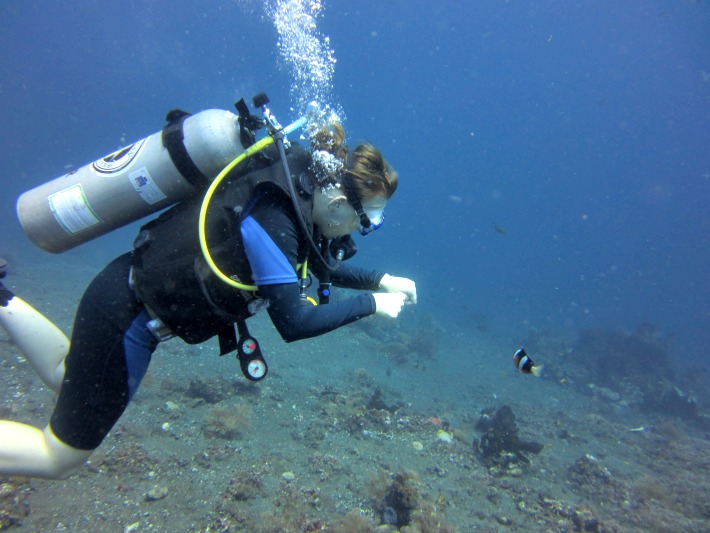 Just me fighting a nemo! Supposedly Clown fish are territorial and so swim out to chase you away!
So what did I, as a scared of everything person, make of the open water course?
I was amazed at how easy the whole thing was, all the skills are designed to build your confidence slowly and by the end of the confined water dive I was actually looking forward to getting in the water the next day.
All four open water dives were amazing, each time I was fully briefed on what to expect and both Jo and my dive-master Graham looked after me throughout the dives.  I truly felt comfortable in the water – something I never thought I would say.
I never thought I would like scuba diving as much as I do, which pleases Poi as now he gets to do a hell of a lot more diving!
If you're interested in getting your open water certification in the Philippines I highly recommend Thresher Shark Divers – I enjoyed both learning and diving with them.  The cost of the course was 19,500 Philippine Pesos.
Have you got any fears about diving I can help you with? Or maybe you've recently taken up diving as well?