I can't remember the last time I woke up in a tent, probably drunk somewhere with my friends. I got the feeling these next few nights camping probably wouldn't be forgotten so easily.
We'd looked into quite a few different safari companies when trying to plan our 4 day adventure and it's surprising how many of them didn't offer any sort of camping safari. And by camping I mean a sleeping bag and tent, not this luxury tented hotel experience they would try and sell you as camping. Part of the appeal of going on a safari is to be in the thick of it and actually feel like you're involved in what's going on. Unfortunately that's very hard to achieve now as safaris mostly mean looking out the top of a 4×4 and listening to a guide give you all the information you could possibly desire. Sleeping in a tent, feeling the hard ground beneath you and hearing all the noises around you is about as close as you'll get to being part of the action. So why spoil that with the constraints of a luxury lodge (unless you're filthy rich then why not? and you're probably on the wrong website).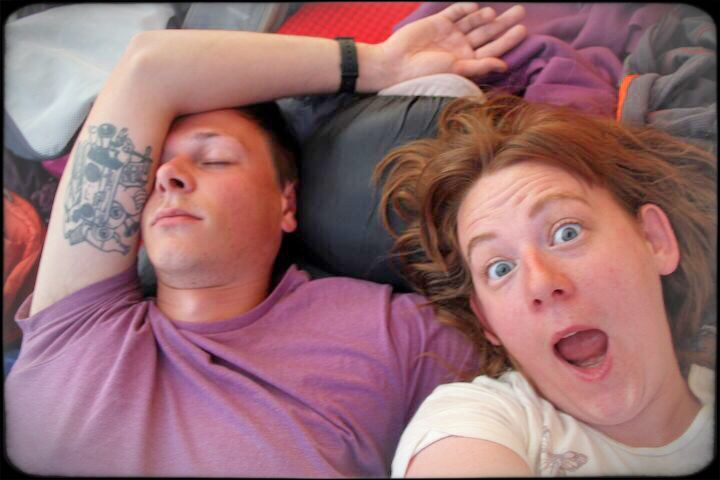 Our Day
A 7am breakfast of eggs, pancakes and toast set us up for the day and we were ready to head to Ngorongoro Crater. The drive wasn't too long as we'd covered most the distance the day before on our first day of safari. Arriving at the park gate it was clear that this was a far more popular national park for tourists and it took some time for our driver to arrange the necessary permits. Looking around at all the other vehicles while waiting it was easy to see why we'd had such a hard time choosing a safari company, there are just so many and there's very little difference between the vehicles, which of course is where you spend most of your time.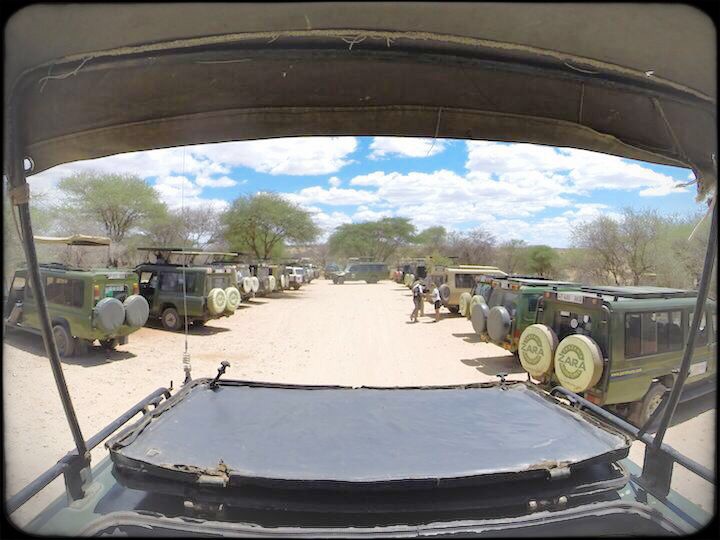 It was like a different world to Tarangire National Park the day before. Once inside Ngorongoro Conservation Area you have to ascend the crater from the outside and drive around the rim before descending back down into the base at the centre. The whole area was so green and the early morning and altitude meant it was very foggy. Our guide (and cook who had now joined us) had no intention of getting out the car once we reached the viewpoint along the craters' rim, they sat wrapped up in multiple layers and compared the weather to what they would expect to find in England.
They weren't missing much… just more early morning fog.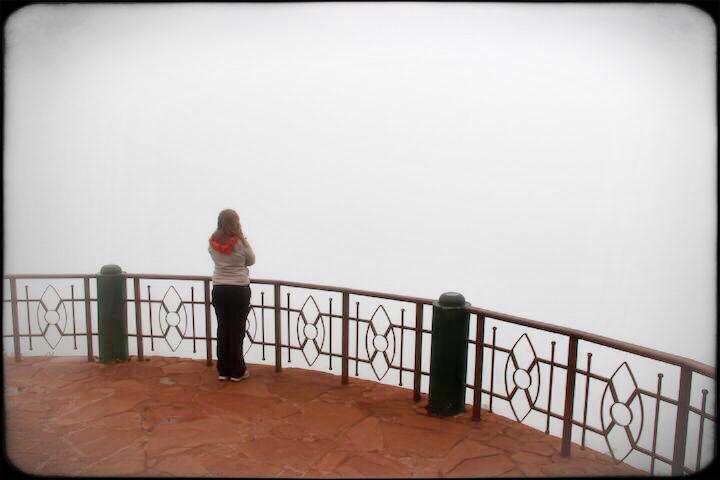 We didn't mind the poor view at the top as we'd read that early morning was the best time to visit the crater, as we descended the fog soon cleared to reveal what you would expect of any typical East African scene.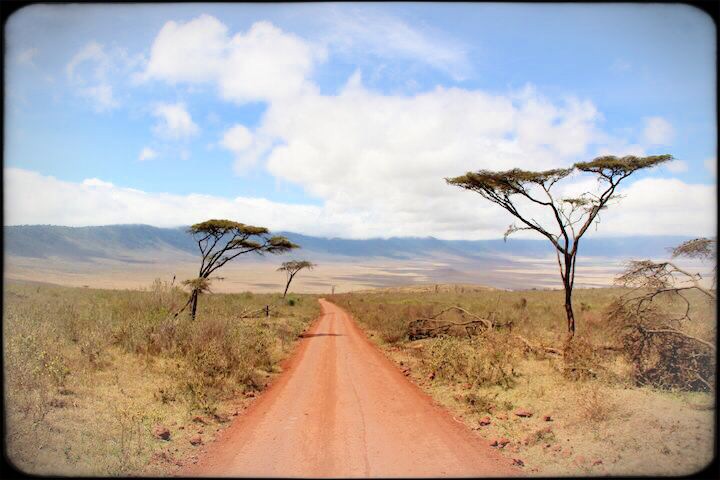 Soon after entering the base of the crater we had a first hand experience of just how lucky you need to be on safaris. A couple of 4x4s were parked up down the road and as usual we went to investigate what they were looking at (there's a lot of that on safari). It's a good job we did, just a few metres from the edge of the road, a fully grown adult male lion was warming himself in the morning sun. Being so close was incredible and gave us a chance to have a real good look at him. It wasn't until he finally got up and wandered back towards the tree line that that we noticed 4 other lions there waiting for him. Once they all sat down it was clear that it would be impossible for anyone to spot them unless you knew they were there, if we'd have been a few minutes later we'd have drove right passed and had no idea they were there.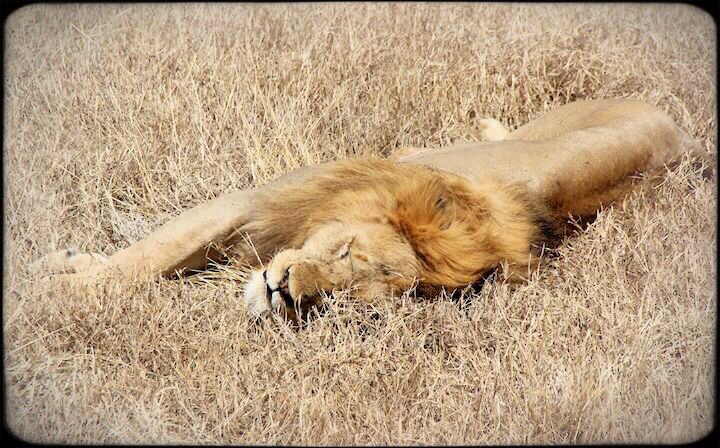 Our next stop was a smelly one, 20+ hippos all squeezed together in a small area of water. The hippos yawning with their huge mouths and jostling for space was fun to watch but the real attraction was just how much life was around. Colourful birds jumped between hippos backs, stalks surrounded the waters edge and zebras and wildebeest FILLED all the other space around. Norongoro Crater is a very picturesque place with the base floor being home to so much life and the cliffs of the crater edge providing a stunning backdrop.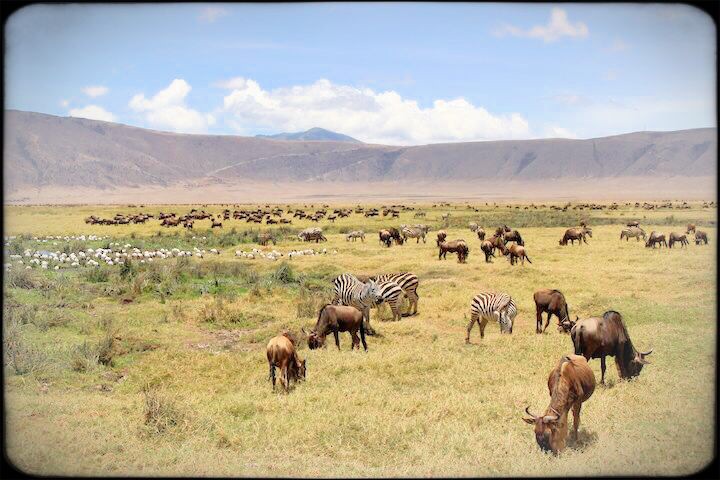 Our guide somehow spotted some hyenas perfectly hidden in the grass and as we moved across the park he also pointed out the huge elephant bones that were scattered everywhere. Apparently Norongoro Carter is the equivalent of a retirement home for male elephants. When they get to a certain age they'll leave their usual stomping ground and come spend their final days here where there is plenty of food and water within easy reach. It's quite an interesting idea and as we drove around the park we saw quite a few solo old elephants strolling around.
Lunch turned out to be an experience in itself. The birds have obviously learnt that the lunch spot is a good hunting area and one in particular swooped down a bit too close for comfort forcing us to eat the remained of our lunch within the safety of the car.
We then began the four hour journey along a very bumpy road to the Serengeti. A nap would have been nice but with the car shaking furiously we had to settle for looking out the window at the beautiful views and Massai villages along the way. I guess it wasn't that bad.
Even the drive into the Serengeti didn't disappoint. We saw the usual wildebeest and zebras everywhere but also buffalo, baboons, elephants and yet more very well hidden hyeenas but what came next was a real treat.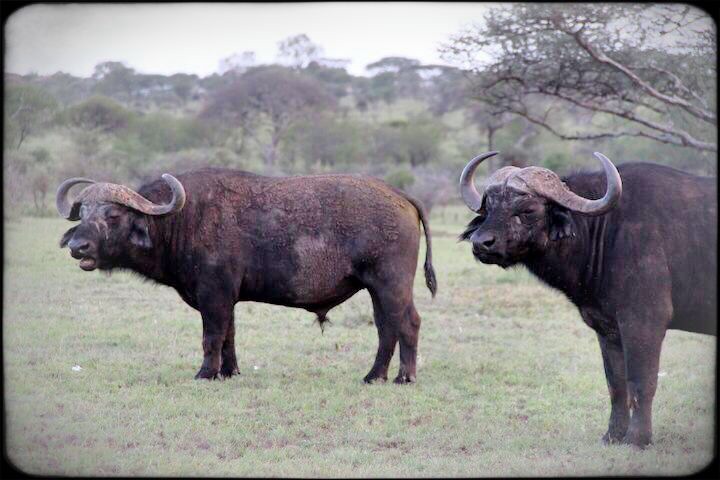 The guides are always stopping to talk to each other and and share information about what they've seen and where but we have no idea what's being said.  The idea is that if they pass on what has been seen it'll only get your hopes up and you'll be disappointed if you cant eventually find it. I think our guide was doing exactly that with us, shortly after we arrived in the park he seemed to be heading away from the camp sites where we were expecting to go. We eventually drove round a corner to find two groups of 4x4s parked up seemingly looking at nothing. It wasn't until we parked up and got the binoculars out that we came across this: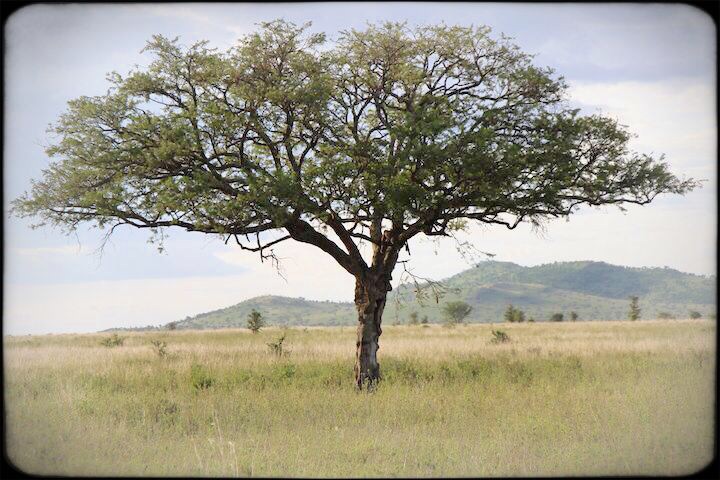 Can you see it? A leopard relaxing in a tree, all four legs hanging down with a kill on the branch overhead (We opted out of carrying a zoom lens around for 8 weeks and this is the only point so far we've regretted that). Our chef was very happy with the find because, despite tagging along on so many safaris and even doing a bit of guiding himself he had only ever seen a leopard twice. I'm sure you've all watched enough David Attenborough to know the reason behind the kill in the tree but it was great to see first hand and a wonderful welcome to the Serengeti National Park that we'd been looking forward to so much.
As we made our way to camp it was clear word had spread about the find as many 4x4s were chasing back in the direction we'd just come from. As the sun was setting on the drive back we watched elephants crossing the plains of the park with and saw our first baby hyena.
We arrived at the public camp site yet again amazed at how successful the day had been and thrilled by our first taste of the Serengeti. Who knew finding such incredible wildlife would be so easy?
Next up: A full day and a half in one of the worlds most famous national parks.