Welcome to round 91 of 'Meet a Random Traveller'. The series dedicated to bring attention to fantastic people all around the world doing their thing.
Random Traveller #91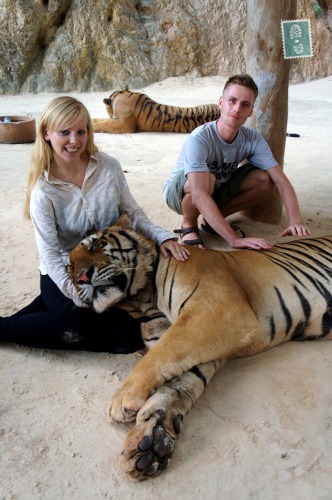 Who are you?
We are Agness and Cez – budget travelers from Poland – who have been living without permanent home and for under 25 bucks a day since 2011, when we both decided to travel the world after we graduated from the university. We have been best friends and travel companions for over 5 years and travel bloggers for more than a year. We lived and worked in such countries as Cambodia, Thailand, Hong Kong, Sri Lanka or Vietnam. Right now, we are working as English teachers in one of Chinese kindergartens in Dongguan and travelling around China sharing our budget travel tips with the rest of the world. Since we started our Asian adventures, our life became full of twists and unknown ahead. We got the freedom and independence we could have only dreamed of before and the hunger for more experiences is just out of our control!
Whats the Deal?
The idea of creating our own travel website came up spontaneously in 2011. I (Agness) set off for my first journey to China and Cez was back in the UK working as a banker. My desire was to blog about my travels and teaching experience in China and he dreamed of creating a travel community where people could share their travel thoughts. One day we combined these two ideas and started working together. Cez built the website from scratch and I was responsible for content writing. Together, we complemented each other and slowly, but surely, started building eTramping.com that we are so proud of at the moment!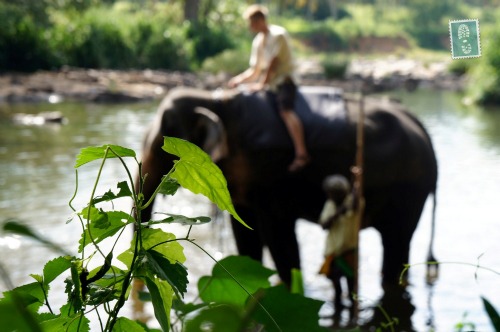 Sri Lanka
If you could only travel to one place ever again where would it be and why?
Agness: For me it would be definitely Lhasa, the capital city of Tibet. It was the most fascinating place for me to travel to, where the humble and religious Tibetans made me feel there like home. I had the best dumplings and salty tea in the world and the scenery simply took my breath away.
Cez: Zhangjiajie in China, that's for sure! I have not seen anything like that in my life. Zhangjiajie National Forest Park is an UNESCO World Heritage site and is said to be an inspiration for visionary movie – Avatar. More precisely, floating mountains called the Hallelujah Mountains, as they appear on fantastic Pandora look so incredible you just can't take your eyes of them. I always highly recommend this travel destination to anyone who is planning to visit China.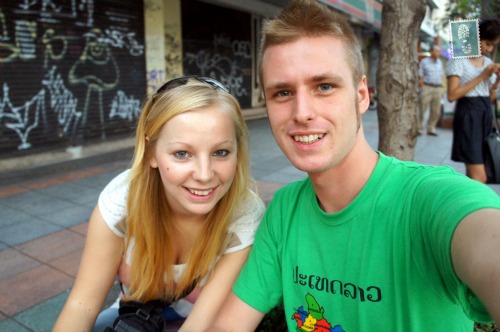 Agness and Cez in Bangkok
What's the weirdest experience you've had while travelling?
The weirdest, and the scariest at the same time, experience we had took place in Cambodia last summer. We were both living in Siem Reap like locals renting a house and travelling around. Cez was constantly very tired and he lost a lot of weight in a short period of time. One day he woke up with a high fever, shivers and muscle and joint pain. I immediately took him to the local hospital where he was diagnosed with dengue fever. As you probably have heard of it, dengue is a fatal infectious tropical disease caused by the dengue virus transmitted by several species of mosquito. We really got scared and Cez started one week treatment at home where he was mainly cured with COCONUTS! Yes, coconuts. No pain killers prescribed, neither any antibiotics, just some coconuts to drink every 2-3 hours. We thought it was insane, but after 7 days he got well and started enjoying our travels once again!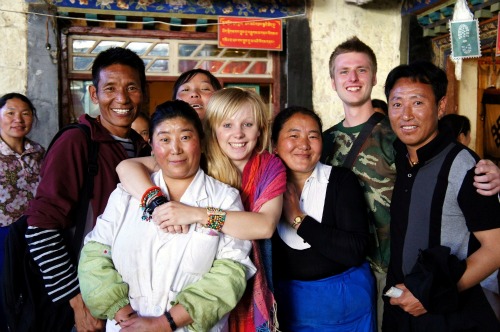 Lhasa, Tibet
What's next?
This summer we are both heading to Europe for a month. I'm visiting mainly Holland and Belgium whereas Cez is doing an Europe trip to Latvia, Belarus and Ukraine. Then we are back in China again to pack our bags and set off for another adventure, this time across South America. We don't know exactly when it kicks off and how long it would take us to visit all South American countries, but we will try to figure it out soon. There are always plenty of new travel ideas in our heads and it does not take much time to make them into something real and achievable.
Agness is a Polish vagabond who, after graduation, left her comfort zone and set off for a journey of her lifetime to China in 2011. She has been constantly travelling the world since then (slowly, but surely as she says), living like a local for less than $25 a day. She became a passionate photographer and adventure blogger sharing her life enthusiasm and travel experience with everyone around.
Cez is now a happy world traveler with a host of experiences and limitless energy to gather more. After leaving his comfort zone in 2011 he joined Agness – his best friend; together they have a mission to discover all amazing places on this planet.

A big thanks to Agness and Cez for taking part. Be sure to check them out here:
Fancy being Random Traveller 92? Contact us!