Welcome to round 107 of 'Meet a Random Traveller'. The series dedicated to bringing attention to fantastic people all around the world doing their thing.
Random Traveller #107
Who are you?
We are Steph & Tony! We are a married writer and photographer duo in our 30s who, prior to leaving on our trip, were living in Nashville, TN, although neither of us originally hails from there. Steph is originally from Toronto, ON (Canada!?) and Tony is from Rochester, MN (almost Canada!!). While in Nashville, Steph was a grad student who earned her PhD in Psychology (yes, you can call her "Dr. Steph"); in contrast, Tony was a real person with a real job, working as a Graphic/3D/Industrial Designer. In addition to gifting us with a wicked case of wanderlust, our time in Nashville also gave us a deep-seated love of silky smooth bourbons and southern comfort foods (fried chicken and fried green tomatoes, anyone?). We do sometimes use the word "y'all", but generally only ironically…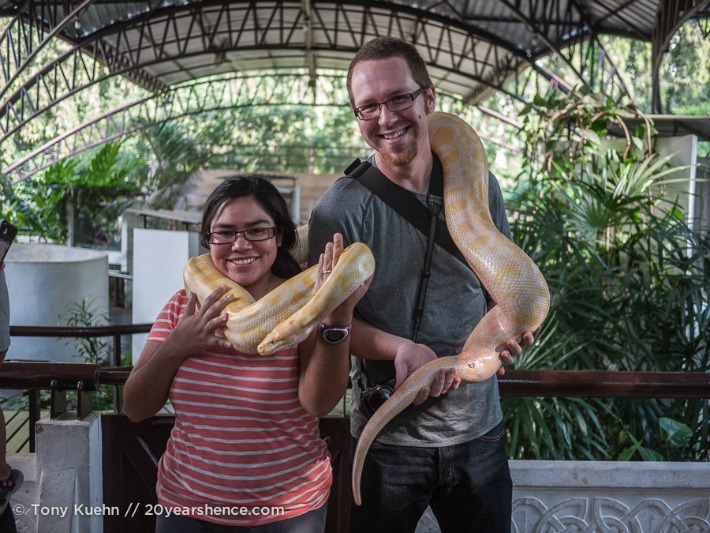 Steph & Tony with a Burmese Python at the Bangkok Snake Farm
What's the deal? And how did you come up with the unusual name for your site?
Like many long-term travelers, we spent many years dreaming and saving for our own trip. During that time, we were inspired and motivated to pursue our travel dreams by reading other travel blogs, so we always knew that when we left we wanted to document our own journey in the same way. A few months before departing, we started 20 Years Hence… It's been 18 months now since we started our trip, and have been sharing our love of travel, food, and unexpected adventures through photos and words.
For us, 20YH is all about sharing stories, forming deeper connections with the world and its people and food, and living life boldly, without regrets. Our site's name comes from the Mark Twain quote, which pretty much sums up our entire trip philosophy: "Twenty years from now you will be more disappointed by the things you didn't do than by the ones you did. So throw off the bowlines. Sail away from the safe harbor. Catch the trade winds in your sails. Explore. Dream. Discover."
Are you travelling on a set itinerary and if not how do you decide your next destination?
We started off with a super crazy serial-killer-style itinerary that was really fast-paced and completely exhausting. We had these pie-in-the-sky dreams of cramming something like 30+ countries into 1.5 years of traveling or something similarly unrealistic. Our first month in Japan, we had everything pre-booked and rarely spent more than two nights in any destination… as you can imagine, by the end of it we were completely knackered (as you English say!), and knew we needed to change. So we flew to Hong Kong with nothing booked and didn't worry about where we'd go next until a few days before we were ready to leave. It was a revelation!
These days, we do a mixture of pre-planning and letting spontaneity rule; this allows us to be flexible but also to travel efficiently and capitalize on things like flight deals. Many of the places we've wound up visiting have simply been because we got incredible flight deals, like when we scored free tickets to Bali by booking four months in advance! Every so often we stop and ask ourselves what kind of experiences we are craving, like if we are missing big cities or want to do some diving, and we'll adjust our destinations accordingly.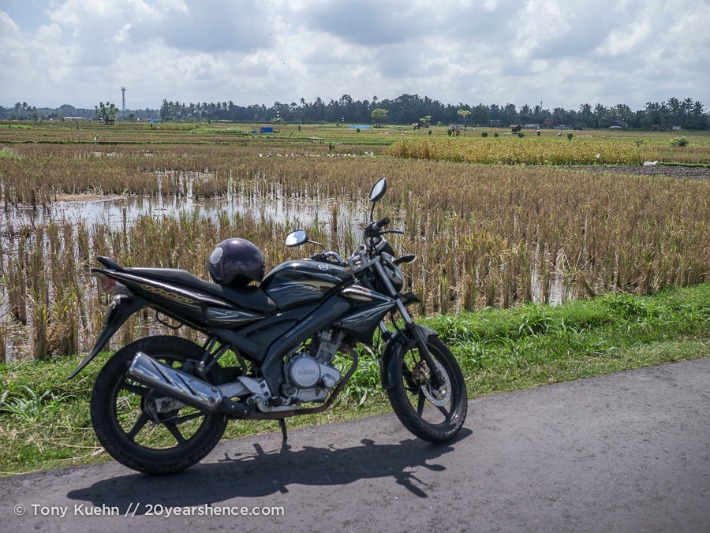 Motorbiking around Ubud
Speaking of diving, like us, you weren't certified before your trip. Where did you learn and what's been your favourite place to dive? What's on your bucket list?
We learned to dive on a small island that is considered to be one of the best dive spots in the Philippines. We're very protective of the place because only a small portion of the income is made from tourists who come to visit the turtle sanctuary and dive the reefs, but the for the most part the island is largely unspoiled by tourism and we think it should stay that way! We always said that we'd never want to have our first dive experiences somewhere like the Great Barrier Reef because we figured it would set the bar so high it would make all other dive experiences pale in comparison… Inadvertently, we may have done just this because we still consider our certification dives some of the very best we've done. The biodiversity around the island is really spectacular with everything from sea snakes to frogfish (and of course plenty of turtles), and the reefs have been carefully preserved and there are many conservation measures (put into place by our dive instructor who was the island's chief for many years!) that have proven really effective, so it really is a lovely place to dive.
Other than that, we've been pretty spoiled on this trip when it comes to diving as we've purposefully set out to experience some of Asia's best. Big highlights would probably be diving Komodo National Park in Indonesia where currents are crazy and we got to interact with a curious cuttlefish, and getting to watch massive manta rays glide overhead while at Nusa Lembongan. Also diving Sipadan in Malaysian Borneo is tough to beat, where we swam in swirling schools of jacks, saw prehistoric bumphead parrotfish, our first reef sharks and so much more!
As for future dive trips, we kind of want to dive everywhere we can! But more specifically, Steph loves pelagics (big fish), so we'd also love to head back to the Philippines to dive with thresher sharks in Malapascua, and maybe see if we can get lucky and have a whale shark encounter! We'd also love to dive with sea lions one day, but we'll probably have to head to Mexico or South America for that! And if we can ever brave the temperatures, we'd love to try dry suit diving in Iceland… the visibility and colors look insane!
Steph & Tony Diving
What's your favourite type of transportation and is there one particular journey that sticks in your mind?
We're definitely motorcycle people, which is why Asia's been a dream destination for us. We had scooters back in Nashville and really love the freedom that traveling on two wheels provides you. We always feel like we see so much more on a motorcycle than we do on a bus or even a train, and it's so nice being completely in control of your route and your itinerary. When it comes to freedom and excitement, nothing beats traveling by motorcycle!
We've ridden motorcycles in most of the countries we've visited, but probably our most memorable journey is the one we did in Vietnam: we rode a 100 CC knock-off Honda Win (with all of our luggage) from Hanoi all the way up to the Chinese border, and then all the way back down across 3000 kilometers to Ho Chi Minh City in the south! Our adventure took us about 6 weeks and was truly epic; our butts were so sore by the end of it, but we visited some places (particularly in the north) that few tourists ever reach and found jaw-dropping scenery and lovely locals that more than made up for any pain on our part. We can't imagine ever visiting Vietnam any other way.
Is there anything unusual that's made it into your backpacks for this trip?
We try really hard to pack light—not only does it make our lives easier when we're hopping from place-to-place but it often means traveling more cheaply too, especially with most budget airlines charging for checked luggage. That means being pretty ruthless about what we carry with us and we don't generally tote things that aren't necessary.
One thing that we do carry along with us purely for sentimental reasons is a little Ganesha icon that we purchased from a Hindu temple in Kuala Lumpur. The truth is, we were kind of scammed into buying it (the temple offers free lunches, but after we cleaned our plates, we were approached by a man who was very insistent we buy something to support the temple… interestingly, he didn't approach any of the locals…), but we decided he would be our talisman to ward off all future scams and bad purchases. So far he's done a pretty good job!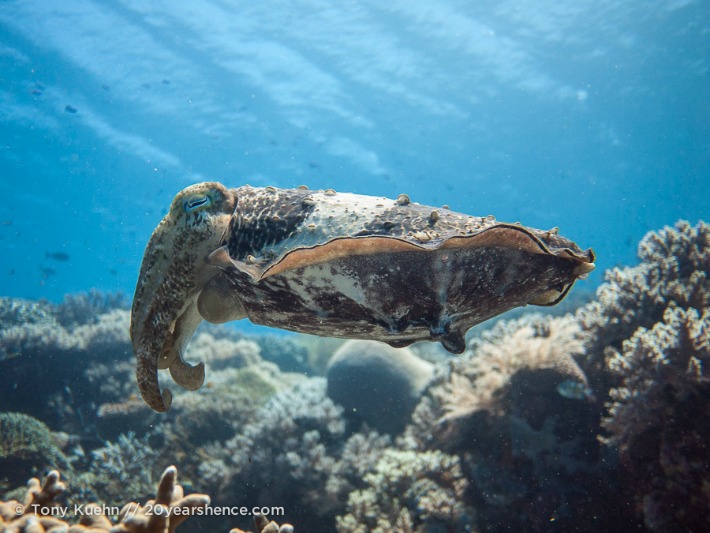 A curious cuttlefish spotted while diving Komodo
One of your jokes is that your goal for this trip was to eat your way around the world without having to wear elasticized bottoms at the end of it all. What's been your favorite food country so far? Which one has been your least favorite?
Given that our travels have been limited to Asia thus far, we've really been spoiled for choice when it comes to great food; it's hard to think of a better place in the world in terms of food, truth be told! Picking our best food country is a bit like asking a parent to choose between their children (or in our case, our dogs!), but if we really had to pick, we'd probably say Vietnam—there's a reason we decided to come back for another 3 months! Meals are dirt cheap and so tasty, but also really light and healthy. We love that they use so many fresh herbs here and every dish is always the perfect combination of sweet, sour, salty and spicy. Plus, it's really interesting how much the dishes change as you move throughout the country, so you're never bored.
In terms of least favorite, we'd probably have to say Cambodia. This is mostly because we found ourselves a bit in the dark as to what exactly local Cambodian cuisine really is. Based on our experiences, Cambodian food seemed to either be sketchy meat on sticks (and we LOVE meat on sticks… just not mystery meat that has been made to look like Angry Birds…), or cuisine that had been taken from Vietnam or Thailand (only not as tasty and more expensive!). We tried our best to explore the local cuisine, but unfortunately we wound up eating a lot of international food instead. The really cheap beer was nice, though!
For fellow food travelers, we host a food-centric interview on our site called Chewing the Fat, in which we chat with other globe-trotting gourmets about their top food memories from their travels.

Vietnamese food is full of flavor & good for you too
What's next?
We're currently in Vietnam, hanging out in Ho Chi Minh City working on a variety of projects that will hopefully allow us to earn a bit of money and help us keep traveling and living this location-independent lifestyle. We're here until mid-March, after which things are a bit up in the air. Our trip was meant to take us through Asia and Europe, but obviously we got stuck here and are finding it hard to leave. There are still a few countries we'd like to visit such as Laos, Myanmar and Sri Lanka. We'd also like to fit in some diving (perhaps by returning to Indonesia or the Philippines), before we head back to Toronto this summer. We've learned that the best thing about plans is that you can always change them, so the only way to know what we'll be doing in March & beyond is to follow along and see what happens!
A big thanks to Steph & Tony for taking part. Check them out here:
Blog: 20 Years Hence
Facebook: /20YearsHence
Twitter:  @20YH
Fancy being Random Traveller #108? Contact us.