Welcome to round 85 of 'Meet a Random Traveller'. The series dedicated to bring attention to fantastic people all around the world doing their thing.
Random Traveller #85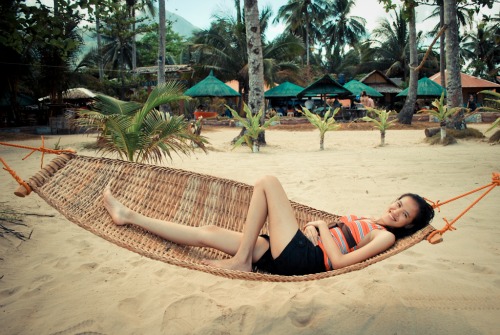 Mica!
Who are you?
Mabuhay! My name is Mica Rodriguez, a twenty-something traveler from the Philippines who loves to eat, explore and celebrate life. I maintain a number of blogs and one of which is Senyorita.net, where I put most of my travel-related stories. I also write for a Philippine entertainment tabloid where I am free to feature the Filipino celebrities I like… and dislike.
What's the deal?
Originally, I bought the domain Senyorita.net for SEO purposes. I wanted to venture into all types of niche blogging and it is supposed to be a Beauty and Fashion blog. Unfortunately, I am not girly enough to keep up with that.
I started traveling in 2009 and I kept on sharing my stories at my personal blog (Micamyx.com). Some friends suggested that I make a separate blog for my travelogue and since Senyorita is quite catchy, I decided to convert it into a travel blog. I still have a lot of backlogs to work on, but I am not complaining. My recent trips opened my eyes to different possibilities and I am simply thankful with all the blessings I'm receiving now. Life is good!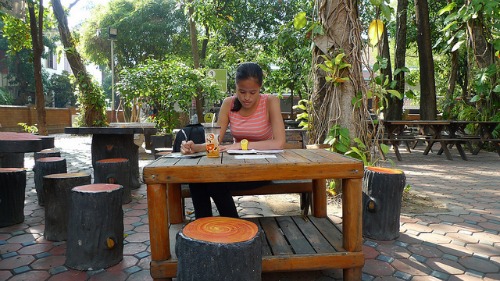 Chiang Mai
When was the last time you had a specific "I love travel" moment?
My recent solo trip to El Nido, Palawan. Most of my travel blogger friends claim it as their top favourite destination in the Philippines. I wanted to go there with friends, but they're all unavailable due to work schedule or the budget. I'm glad I pushed through with the trip as I was able to enjoy the island hopping tours, met new friends (locals and tourists) and ate a lot! It is also fun to see a lot of foreigners enjoying their holiday in this part of Palawan.
Have you surprised yourself while travelling doing something you never thought you could?
I am surprised that I am willing to sacrifice comfort and live within my means. My trip to Chiang Mai last February is a spontaneous decision and I went there with just enough money to feed me for a few days. My first mixed dorm experience was a memorable one. I grew up in an environment where the people around me are protective and look after me all the time. Sleeping with strangers is a big no-no and I remember almost crying during my first night in a mixed dorm. I'm glad that my room mates turned out to be cool and nice.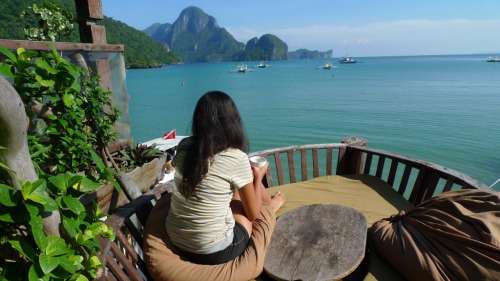 El Nido
Of all the places you've been were could you see yourself setting up home most?
I have two destinations in mind: Chiang Mai in Thailand and Siem Reap in Cambodia. It may sound redundant, but Chiang Mai is like a digital nomad's haven – cheap food, cool weather and it seems like you can do a lot of things there. I also love Siem Reap because of the low cost of living and the Khmer people are really friendly and nice to talk to. I enjoyed talking to the locals during my short stay there. There were some instances where we'd talk about Manny Pacquiao and Marian Rivera – two of the Filipino celebrities that are admired in Cambodia. In the Philippines, I can see myself staying longer in El Nido.
What's next?
I had big travel plans months ago, but it didn't push through. I just realized to just not plan too much or expect that a big thing will happen because you may end up disappointed. For now, I am heading back to Palawan within the month with a good friend. We're revisiting Coron and we will take a sidetrip to Culion and Calauit.

A big thanks to Mica for taking part, great to have you. Be sure to check her out here:
Fancy being Random Traveller 86? Contact us!