Welcome to round 42 of 'Meet a Random Traveller'. The series dedicated to bring attention to fantastic people all around the world doing their thing.
Random Traveller 42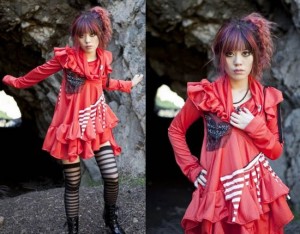 Who are you?
Hello, I'm La Carmina. I am a travel journalist and TV host (No Reservations, Bizarre Foods, NHK). I write for CNN and Huffington Post; I am also the author of 3 books (Random House, Penguin USA), and run a popular Asia fashion, travel and culture blog. I hail from Vancouver, Canada but my work in travel TV takes me all over the world, especially to Japan.
I'm obsessed with spooky-cute Japanese fashion, my plump earless cat, and Goth/alternative nightcrawling. Come join my decadent travel adventures on my blog.
It seems like you have a lot of different stuff going on in your life? Just what exactly are you involved in?
I host TV shows, mainly about travel, fashion and culture. I've appeared on The Today Show and co-hosted an episode of Bizarre Foods with Andrew Zimmern for Travel Channel, which airs in 75 countries. NHK Japan filmed a documentary about my work; recent TV hosting and arranging credits include Dutch Pepsi, Sony Australia, Canal Plus France, Belgium TV (VRT), Norway TV (NRK) and CNN International in Tokyo.
My First Mate Naomi and I started a consulting / coolhunting company, La Carmina & The Pirates. Our services include making arrangements for travel TV crews that wish to shoot in Japan and worldwide.
As for my writing work… I'm a journalist for Huffington Post Travel and CNNGo, and have a monthly column for Lip Service (as well as model for the Goth clothing brand). Recent books are Cute Yummy Time (where food is decorated to look adorable), and Crazy, Wacky Theme Restaurants: Tokyo (about extreme performance cafes in Japan). All my books are available on my site.
Where did your desire to travel come from?
Ever since I was one year old, I travelled yearly to Hong Kong and Asia with my family. In my early teens, I visited Tokyo and my mind was blown open by the stunning Visual Kei, Gothic Lolita and Harajuku Punk styles I saw.
My family loved to explore cultures by experiencing them firsthand. By the time I was in my late teens, I had visited most of the major cities in the US, Europe and Asia. My work began to involve a great deal of travel, which only whetted my appetite further.
How did you get involved with the television side of travel? Does
it come naturally to you?
My blog and online presence organically led to TV hosting, arranging and consulting offers. Andrew Zimmern has been interested in Japanese theme restaurants for some time, and got wind of my book, Crazy Wacky Theme Restaurants. When his production team decided to shoot an episode in Tokyo, they contacted me about appearing as his guide. Of course I accepted!
I find TV hosting to be natural; I've been making ridiculous videos with my friends on my YouTube Partner channel for some time. Over the past two years, production companies have found my blog and invited me to appear on their shows. My partner and I set up a company to showcase our experience and services: La Carmina & The Pirates. The offers keep coming, and we're currently working on shows for several major European networks.
What would you consider to be your biggest achievement so far?
I never imagined that La Carmina blog would take off and lead to life-changing opportunities in travel TV and journalism. I hadn't even considered this career path before, since it's a hard one to break into. But I'm loving the wild ride and everything grows bigger by the moment.
What's the plan for the rest of this year and the future?
The Japan earthquake has thrown many of my plans into confusion. I was supposed to be in Tokyo from March-April, to do a charity campaign and host / fix three TV shows. Now, all that has been postponed.
However, I have big travel gigs in the works, which will take me to Italy and Asia in the next months… I'll soon be writing for another major travel publication as well. Stay tuned to my blog to see where my journey takes me next!
A big thanks to La Camina for taking part, great to have you.
Be sure to check her out:
Blog: La Carmina
Twitter: @lacarmina
Facebook: La Carmina's Page
Fancy being Random Traveller #43? Contact us.