Welcome to round 24 of 'Meet a Random Traveller'. Although we have hit  the  road now, we are still looking for new random travellers as we will  mix them up between bloggers and "normal" travellers! So this week it's  a blogger….
Random Traveller #24
Who are you?
I'm Jonny Blair, a culture hungry Northern Irish nomad always on the lookout for new places to go and new people to meet. I have done a fair bit of travelling in the past ten years, and by early 2011 will have been to all continents, including Antarctica….I keep my blog updated as often as I can… http://dontstopliving.net/  and try to meet as many new people as I can. I always travel with my Northern Ireland flag, which has now been to 35 different countries and been photographed at places such as Cradle Mountain, Tiananmen Square, Berlin Wall, Empire State Building and Red Square. I am currently working in Parramatta in Australia saving up for my next adventure. My working life has seen me working on board car ferries, in theatres which need refurbishment, in a PR office for Apple, on a broccoli field, in a bank and by a beach selling ice cream amongst other jobs which have helped me fund my adventures. Facebook me (Jonny Blair) or check out my blog which is called "Don't Stop Living."
"Been around the world and there's no place like home" – East 17 (1994)
Don't you have a home to go to?
I have a room in a flat at the moment in Parramatta, a western suburb of Sydney, so that's my "home" for now, but before that I lived in my car, my tent and also in friend's houses. In my time traveling I have also slept on a beach, in a farmer's barn, in a 5 star hotel, in hostels, backpackers, guest houses, former prisons, airport floors, trains, buses, boats and pubs, and in the same room as an international footballer. I have never owned a mortgage. You can feel at home anywhere provided you have pleasant people around you.
"All these places feel like home" – Snow Patrol, 2004
I left behind my one true love in life – a beautiful Hungarian lady who means the world to me and always will. She will probably never know how much I love her. I cannot have her so instead I must see the world. This is the one desire that gets me through life.
"what you leave behind you don't miss anyway" – U2, 1997 (I guess they didn't quite get it right…)
Where have you been?
I won't name them all, but I've been to 38 countries, and a further 16 remote islands. I plan to get up to 50 by early 2011. I've been to obscure less obvious places such as Bobruisk (Eastern Belarus), Alicante (Spain), Sark, Lihou and Herm (Smaller Channel Islands), Debrecen (Eastern Hungary), Cullybackey (Northern Ireland), Gullfoss (Iceland), Hualien (East Coast of Taiwan) and "Bogan" Logan (Queensland). I don't tend to hit so many obvious places but have also been to Los Angeles, Auckland, Niagara, Beijing, Moscow, Paris, Venice, Berlin, Stockholm….to name a few of my favourites.
I have been to the top of the Empire State Building, gone sky diving at Taupo in New Zealand, done the monopoly pub crawl in London, visited Lenin's Mausolem, walked on the Great Wall of China and attended a function with politicians at the Sydney Hilton.
"Moving, just keep moving" – Supergrass (1999)
Where are you heading to?
A boat trip to Antarctica, after that Rosario in Argentina to see my friend Juan, and a mini tour of South America then hopefully Gaborone, Botswana. With a few twists and turns in between hopefully meeting up with my friend Sarita as well. But who really knows…
"Nobody knows the way it's gonna be" – Noel Gallagher, 1997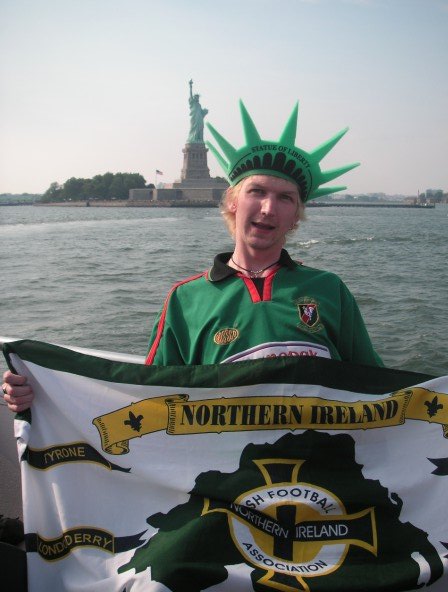 What's your favorite place so far?
I have to be biased and say Belfast: The culture drenched capital city of Northern Ireland is a must see. You've got to love the place you're from and I grew up just down the road at Bangor.
Apart from that I would say the entire island of Taiwan is gorgeous, Hungary has amazing charm and excellent food and Iceland has landscape which will have you gasping in awe. The only places I wasn't totally inspired by were Dublin and Riga. I won't be rushing back to either of those cities. The thing about travelling is you can find beauty everywhere if you want. From watching a chicken get killed on the street in Taiwan to eating pig skin to drinking cocktails out of a coconut to getting soaked beneath a waterfall in Canada, it can all provide beauty and amazing memories. Try and get something positive from everywhere you visit.
"The Belfast Child sings again" – Simple Minds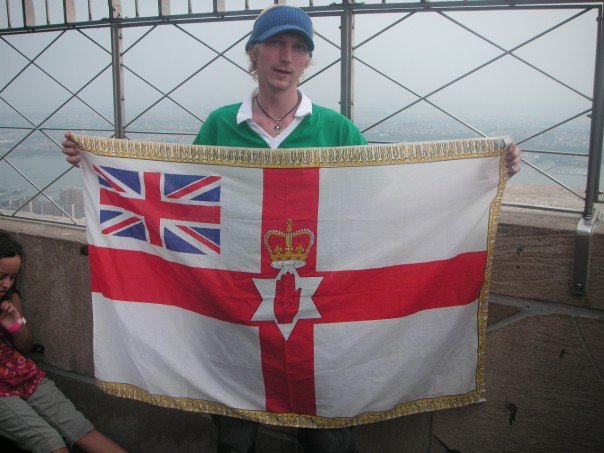 What's in your bag that you are yet to touch?
Condoms. Everything else has been over-used. I sometimes didnt change my pants for 3 days in Asia. Alos threw away a pair of jeans and shoes which got dirty when I worked on remote farms in Tasmanian villages which nobody has heard of (e.g. Poatina). My tent is quite bulky so I may have to get rid of it at some point as well…everything else I'm glad I brought.
"Throw away your television" – Red Hot Chili Peppers, 2004
A big thanks to Johnny for agreeing to take part in this.
Fancy being Random Traveller #25? Contact us.