After 5 days we'd just about had enough of the bright lights and constant mayhem of Las Vegas. We woke up excited about the next stage of our two week trip, the bit I'd been looking forward to most. We were going to spend a few days in LA before driving up the coast of California to San Francisco with a couple of overnight stops along the way.
There was nothing unusual to report about the start of our journey, a taxi to the airport, a simple check in, everything was in order.  Looking back now the only little hint we were given of the day that lay ahead was from a brief conversation whilst going through security.
"Have you flown with Spirit before?" a security guard asked as we held up our boarding passes to enter the queue.
"No" we all replied as another passenger giggled behind us.
"It's an experience" Nobody ever says that and means it in a good way…
As we entered the departure lounge we all scanned around for somewhere to eat, our hungover bellies crying out for some food but one of my friends jokingly suggested checking how long our flight had been delayed for first.  Sure enough he's cursed it and the flight was running 90 minutes behind schedule. A great start to our journey but little did we know it was about to get a lot, lot worse.
We'd chosen a lunchtime flight so we didn't have to be up to early and ruin our last night in Vegas but also so we'd still have plenty of time to begin exploring LA in the afternoon.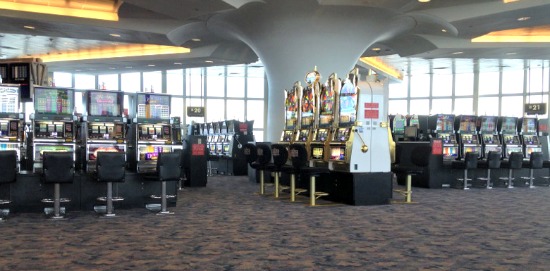 Airport gambling, just in case you haven't lost your house yet…
Despite trying to find something to do we soon realised that Vegas airport is much like the Vegas Strip and your options are mostly limited to slot machines or dirty food.  Surprise surprise returning to our departure gate the flight had been delayed by a further hour and the tone was set for the rest of the day.  As each departure time creeped up the flight was put back further.
Despite the hours spent sitting around the real pain came when another Spirit Airlines flight, the later Vegas to LA flight, arrived and departed with no problems at all. Why hadn't we been on that plane? We were left with no explanation as to where the hell our plane was or what had happened.
As you can imagine all three of us were pretty frustrated by this point having lost our first afternoon in LA but that frustration turned to anger when the departure time jumped a further three hours taking our delay to over six hours in total.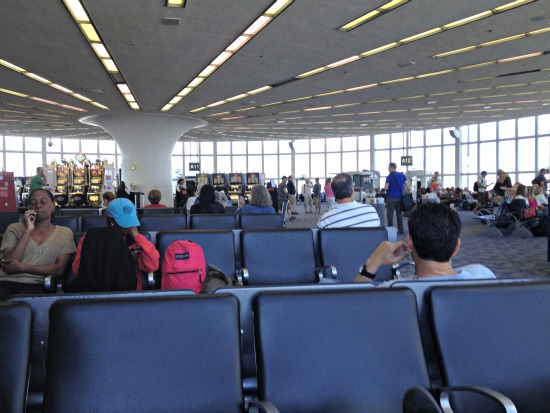 Even a view as special as this gets boring after a few hours…
We were meant to have picked up a hire in LAX that afternoon and now seriously began thinking about changing the booking and driving from Vegas to LA right there and then.  After several calls being cut off by a call centre, finding out the car hire offices were off-site and unable to establish if we could get our luggage back we took our seats back at the departure gate to wait it out.
Care to take a guess what happened next? Yup, more delays.
Our casual, relaxed, lunch time flight to sunny Los Angeles now had an estimated departure time of 10pm. I don't think any of us even bothered to say anything when that final delay was announced.
An hour later they cancelled the flight completely…
Considering we'd hardly moved all day, when the announcement was made that we needed to return to the original check in desk, we covered a lot of ground very quickly.  After our day in the airport we didn't really fancy standing in a queue for who knows how long and it's a good job too.  We arrived first at the Spirit Airlines desk to be told there were no other flights until late the next morning and we'd have to wait in the airport until then.  We opted for a refund and got the hell out of there.
Roughly an hour and a half later thanks to some very helpful Hertz car hire stuff we were driving out of Vegas and finally on route to LA.  Taking it in turns with hour long shifts and with the air condition filling the car with ice cold air to keep us awake we drove through the night and made it to LA alive at around 2am.
Spirit Airlines ruined my day, took a big chunk off our time in LA and cost us a fair few pennies extending our car hire agreement.  They may be cheap but just like the budget airlines in the UK you get what you pay for and however rare these long delays may be I'll be avoiding them in the future.
Have you flown with Spirit Airlines before and had a completely differnent experience or is it common knowledge in the States to avoid them? Judging by the giggling in the security line I mentioned I'm guessing it's the later
Previous Lessons of the Road: