Despite Kirsty moaning about my obsession with a certain football team she has her own sporting interest which might come as a surprise to many of you.
I can't tell you why but it seems that every member of Kirstys family I have ever met has been interested in the Formula 1, I myself have never really been that fussed, I usually know roughly how things stand with regards to who's doing well etc but I've probably only watched a whole race once in my life.
Since we decided to come to this area of the world Kirsty has made it known that she would like to attend one of the races, either Malaysian or Singaporian race. Whilst Kirsty was at work one day (yes, she has a job now) I decided to check the race schedule. It's a good job I did because the Malaysian race was little over a week away.
If you have any knowledge of Formula 1 you'll probably be aware the Singapore night race would be more of a spectacle, but have you seen the ticket prices? F*** me!
Sitting on the grass in the sunlight in Malaysia didn't sound that bad anyway and at twenty five pounds for the entire weekend, it was a steal.
Of course Kirsty was over the moon, so a week later we were arrived in Kuala Lumpur (getting around is very easy when you live in Bangkok) and spent two days at the Sepang Circuit enjoying quaifying on the Saturday and the Race on Sunday.
Here's the snaps: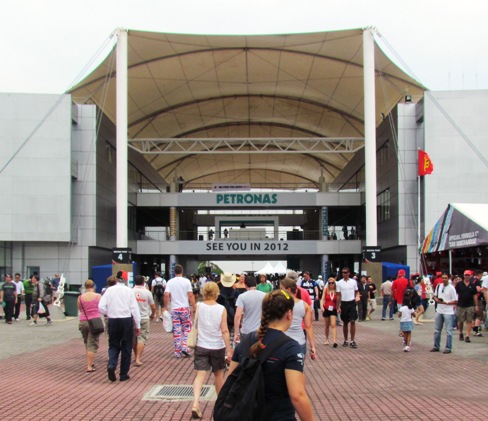 Turns out Formula 1 cars move very fast and they're hard to photograph with our basic skills – sorry about that.