It doesn't take long to get your first experience of gambling in Las Vegas, as I mentioned in the last post, the slot machines are bloody everywhere and impossible to avoid.
As my two friends and I headed out for the first time we all had very different gambling game plans in mind. First in line was Craig, the "Fuck it we're in Vegas" type. He's never been afraid of a cheeky bet and more than willing to through his spare cash around. Next there was Adam, A little different to Craig in that I don't think he's ever placed a bet in his life but like many people who visit Vegas he was of the opinion 'When in Rome…'
Then there was me, I've never bet a penny in my life and had no real desire to do so. Why was I here again?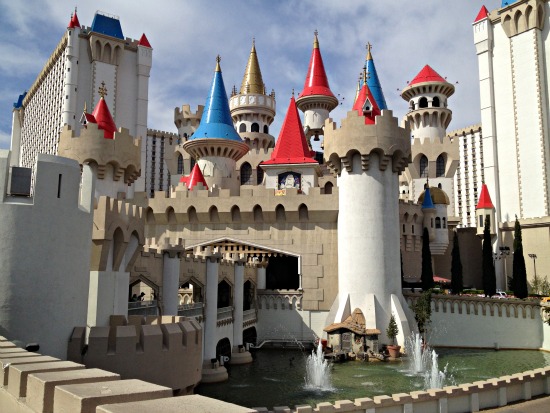 Something out of a Disney film? Nope – Excalibur Casino
The first casino we experienced from the inside was MGM Grand. Just the size of it alone was incredible and the amount of people around was a bit overwhelming to begin with, everyone from well dressed couple to groups of lads in tank tops filled the floor. Fancy cocktails or a cheap can of beer from the shop it didn't seem to matter, Vegas is a free for all for everyone and anyone.
Over the next few days we took walks off the main strip to visit some of the more famous casinos including Circus Circus and The Hard Rock Café before deciding where best to blow our pennies (and of course by 'our' I mean 'their'). Many of the casinos surprised me, I knew they were big but I was blown away by some of the extravagant designs. I was expecting tacky, but found fancy.  The Excalibur and Venetian Casinos were particularly impressive, inside and out.
This is INSIDE the Venetian. Inside, as in that is not the sky
Craig had no problem inserting $20 or $40 into any random slot machine that took his fancy, usually the ones macking a lot of noise or with a big spinning wheel (he seemed to be having a bit of luck on those). The slot machines were doing their job perfectly, attracting people like us who had no idea what they were doing.
$40 may not seem like a lot of money to be putting in a machine in Vegas but to me it still felt like too much. I've spent the last few years either saving or trying to stick to a tight budget so putting money in a machine for a few pulls on a big handle doesn't come naturally. A few of my hard earned dollars did escape my wallet, more often than not it was just to convince the wandering waitresses I was worthy of a free drink. Accepting (kind of) free drinks is something that comes naturally to me.
You've probably worked out I won sod all by now but the gambling gods did balance things out for my friends. Craig the big spender won a few times during our stay including $500 on one machine and he happily went home that night with more money than he took out. His few wins meant he pretty much broke even over the time we were in Vegas.
Adam bet nothing in comparison to Craig but his willingness to at least have a go secured him a cheeky little $75 win. For the non-gambling crowd like us that felt like a huge success – it's free money after all!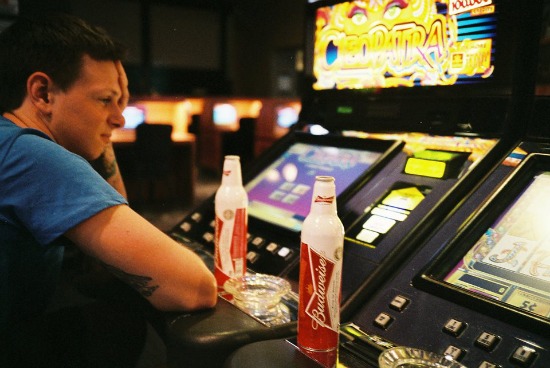 Don't I look happy behind the slots?
Vegas isn't all about the winning though. I remember watching a Louis Theroux (btw, what a legend) documentary a while ago about the big spenders in Vegas and how some people would spend the majority of each day behind a slot machine, racking up ridiculous loses week after week. As we walked between the rows and rows of slot machines I couldn't help but wonder if any of those people were in that situation.
One disturbing conversation started with the following:
"Excuse me, my friend and I have been here a long time, five hours in these seats now and whilst we appreciate the drinks could we maybe have some food? we've spent a LOT of money"
Luckily even our big spender didn't get anywhere near that obsessed and after a few days there was very little money disappearing into the machines, it got boring.
It was time to go outside again!
Have you been to Vegas? If so, did you risk a few pennies and how was your luck?