A while ago I wrote about the best hangover cure I've come across in my life. Well that wasn't the only thing "extreme" thing I did that day… so with the hangover well and truly gone it was time to get on with the rest of the day.
What We Did
Off Road Buggies –
My friend who was visiting us had his heart set on this and after a bit of persuasion the rest of us were in. The buggies are for two people with simple automatic controls , the staff suggested 'man drive first' although there is a halfway point where you can switch during the drive.
For 1,500 Baht you get an hour's drive starting with a short trip to the track which takes you through the jungle on a dedicated path. It's not too challenging if your confident driving and the staff never let the speed get too high, in fact it's a bit too slow.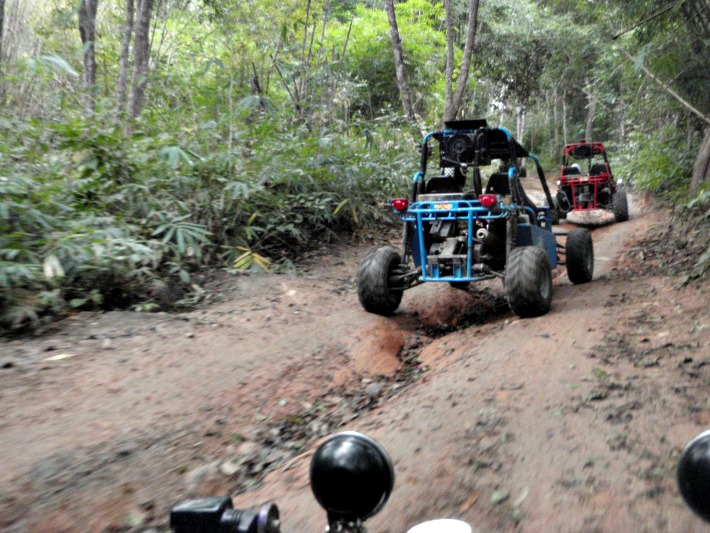 Off-Road in Chiang Mai
Zorb Balling –
This challenges bungee jumping for the most fun you can have in the least amount of time. For those that are not aware, this is the equivalent of a human sized hamster ball, two people are strapped in at opposite sides inside the ball and rolled down a ramp and a hill into a lake – sounds great right? Well it is, if you don't laugh all the way down there is something wrong with you.
It's over so quickly but is so much fun and for only 500 baht is well worth it. When you land in the water (if you don't roll far enough a member of staff will kindly finish the job) the fun really begins. When there is two of you and one (Kirsty) has the co-ordination of a two year old it gets pretty difficult, every time we started running Kirsty would fall over and get carried round by the spinning ball, which also caused us to move away from the shore. After a few minutes the staff took pity on us and pulled us in.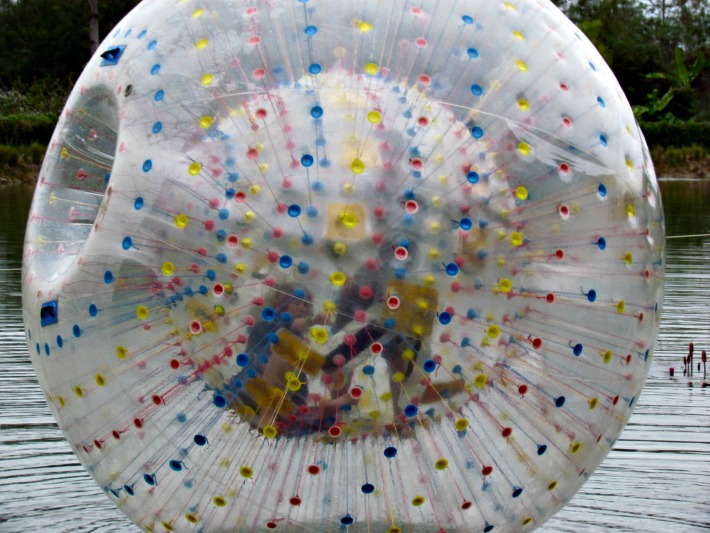 Rolling around like hamsters in a Zorb ball on water
The Other Options
Motocross –
With only one out of the four of us having any motocross experience (our new scooter skills don't count) this didn't seem like a good idea. I would like to give it a go though at some point.
Paintball –
I've been paintballing a few times before at some really good venue's and after taking a look at the paintball area here – no thanks.
Drift Karting –
This is one I do want to go back for, like go karting but more fun! Maybe I can get a travel blogger race on the go with everyone here in Chiang Mai?
Handy Tip: Booking just one activity with 'Chiang Mai X-Centre' will guarantee you a lift to and from town so choose what you definitely want to do and take your time picking other activities once you're there. We went with Zorbing, it's the cheapest but also a a must do! If you are looking for lots of other things to do in Chiang Mai check out the top 25 here.