On the morning we got up to leave Malapascua Island I updated my facebook status – "It's been a while since I didn't want to leave a place this much."
We had 6 nights on the island and I loved every minute of it, when I look back over the last few months it's often the first place that pops into my head but what was so good about it?
Perhaps it was the fact we had just come from Boracay? Don't get me wrong the beaches were incredible and the scenery amazing.  The only problem with Boracay was the amount of people, I've never been on a beach before that felt like I was walking down a high street.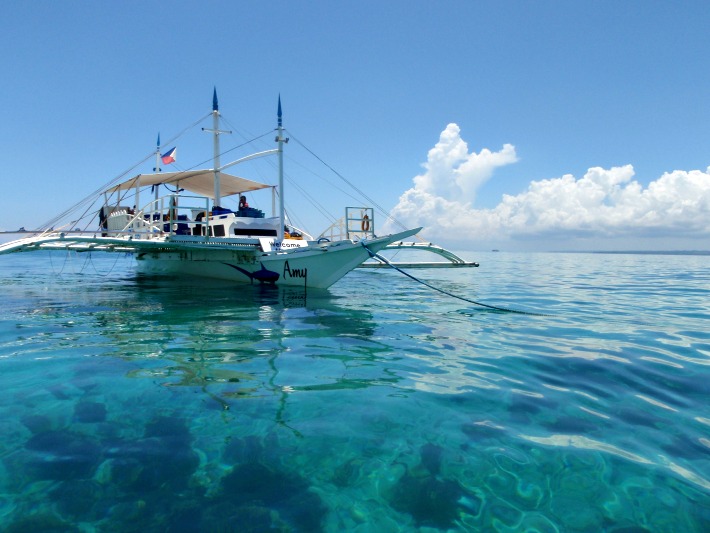 The rather gorgeous Amy (Dive Boat)
And then there was Malapascua, deemed by our cut up, not so trusty guidebook to be 'the next Boracay' or 'Boracay of 5,456.8 years ago.'  I can tell you now it's got some way to go before it's anything like, for starters it's not much of a tourist destination with a painful 5 hour journey from Cebu airport.  Then you have the boat crossing, which can be a bit of a pain unless you arrange a private boat with your hotel (expensive).
However, once on the island it's entirely worth the effort.  It's similarity to Boracay is perhaps the beautiful white sand beaches and the fact it has a walkway running along the beach but that's about it.  Resorts and bars are widely spread out and much of the land is still undeveloped, nor has half the beach been invaded by restaurants and you won't get stuck in a walkers traffic jam just trying to get in the water.
Let's be honest though,the reason we loved the island so much was it's pristine dive spots.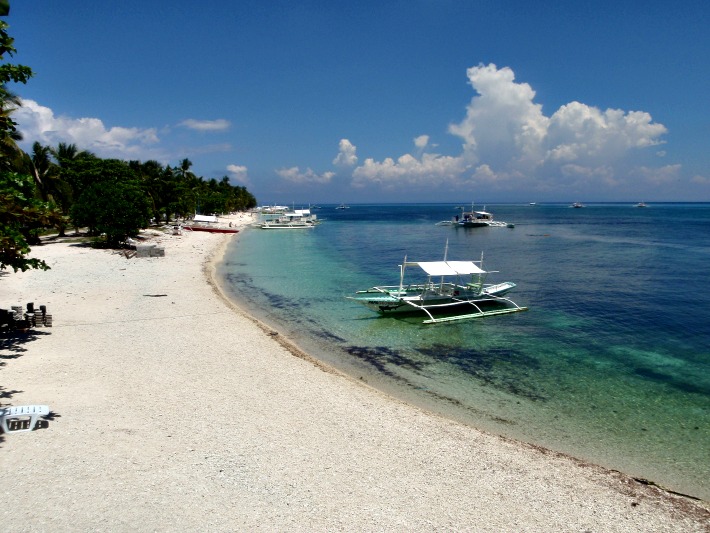 The view from our hotel room
I'd imagine it's why 90% of the people on the island are there and for good reason.  Monad Shoal is definitely the most popular dive spot off Malapascua and it's no surprise. It's the only place in the world where you can see thresher sharks regularly and it's quite the experience.
Despite Kirsty only just completing her open water course we decided to sign up for the monad shoal dive. As we were at a dive school that actually cared about our certification level, unlike before, this dive would also have to be with an instructor as a deep adventure dive.
Of course, after being told for days how common it was to see Thresher sharks on every dive; we saw nothing. It was obviously a little disappointing especially when you have to be up before the sun rises.
Luckily the next morning was a completely different experience. Within a minute of being in the water a shark appeared above us.  As the first one moved slowly and effortlessly over the top of us we spotted more in the distance and spent the entire dive spotting them from all directions.
Thanks to the efforts of the dive staff, divers remain respectful to the sharks and as such they have become accepting of people watching as they make their morning visits to the cleaning stations. It's not uncommon for the sharks to come up close and it wouldn't be unusual to find yourself surrounded by a few of them on a particularly good dive.
It was the first time both of us had encountered any large marine life and an incredible way for Kirsty to start her life of diving, getting up early has never been so much fun.
The rest of our days were spent enjoying the many other dive sites around the island and generally enjoying the amazingly clear water.  A paradise island with great diving, what more could you want?