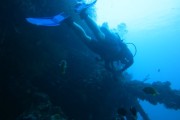 Posted on 05. Jul, 2012 by Poi in Blog, Indonesia
As mentioned in the previous post we'd heard a lot of good things about Tulamben, most relating of course to the USS Liberty wreck.  Unsurprisingly after getting settled into Liberty Dive resort the first thing we did was hunt someone down to go through the dive sites, The wreck being top of our agenda.
Not fancying getting up early on our first morning in town but at the same time wanting to save our first dive on the wreck for the perfect conditions, we opted to try another one of Tulamben's dive sites first.
The Drop Off
After squeezing into a wetsuit at the resort we jumped on the back of a moped which quickly zipped us down to the opposite side of the bay where the drop off is located. Being lazy and diving at midday meant there were quite a few other divers around kitting up but it  seemed much quieter underwater.
We descended onto a steep sand bank and followed it down and to the right until we hit the vertical reef wall.  The wall seemed pretty full of life and with plenty to see it was hard not to descend further into the depths were it apparently goes on to 60m deep. Scorpion fish, Sponges, bump head parrot fish and plenty of interesting coral made for a decent dive.
That was it for the first day, one good dive followed by eating too much, splashing around in the pool and a lot of sleeping.
USS Liberty
The next morning we were up early for our first dive on the wreck.  5:45 we appeared, yawning but excited, this was to be our first ever wreck dive.
After slipping into a wetsuit all we had to do was walk down the road to the beach as our equipment was dropped off by those ever reliable mopeds. By 6:10 we were entering the water, however this time there was no one else around, now who's lazy?.   Similarly to the drop off we followed the bank down to the wreck where at it's shallowest point lies in just 9m of water and 30m from the shore.
Being so close to the shore caught me out a bit and I was quite taken back when I lifted my head up from scanning the rocks below me to see the bow of the ship towering above me.  We worked our way around the ship despite it now being pretty broken up and it's easy to see why it's both a one of Bali's most popular dive spots and known as possibly the worlds easiest wreck dive.
The life taking advantage of the ship is pretty incredible, we'd been told the early morning was a great time to see bumphead parrot fish in groups despite usually swimming solo and this proved to be the case.  Trying not to be too mesmerised by the wreck and remembering to look and see them was the challenge.
If the wreck was exciting in the daylight imagine how it would be in the dark.  Wanting to tick another first off that day we told our divemaster we'd like to dive the wreck again that night. Just under 12 hours after exiting the water we were back again, this time armed with a large torch and a few more nerves.
Descending into the darkness is very weird the first time (every time I imagine, at least for a while) and getting used to only being able to see where your light is shinning is strange, your usual sense of where you are in relation to everything else goes. This time arriving at the bow shocked me even more, despite it coming up quick last time I was still convinced we were no where near it but the light from my torch proved otherwise.
In the dark, following only my light the ship seemed even bigger, towering above me I couldn't help but think "I wonder how often this thing shifts on the sea-bed".  When a large bumphead parrot fish swims by your face taking you by surprise, shinning bright blue in the torch's light it's easy to see why they say diving is addictive.  All the other life was out in force as well, we even found a few Spanish dancers to watch… weird things.
Kubu
After another early morning dive on the wreck we decided to check out one more local dive site before leaving the area.  After talking with our divemaster we decided to head to Kubu, a few kilometres down the road from Tulamben, an easy relaxed dive with plenty to see.
Swimming out from shore again, we descended down to see soft and hard coral as far as the eye could see and large shoals of small fish filling the blue space above.  Although not as exciting as diving the wreck this was a very peaceful dive to end on simply enjoying all the varying colours underwater.
Tulamben was a treat to dive, especially for Kirsty, who was diving only her second spot and although the wreck is undoubtedly the highly the other sites are worth a quick dip as well. I could easily see us returning for a few days to dive the wreck again and if you're in the area it would be one hell of a place to learn to dive.