Welcome to issue #3 of Lessons of the Road, in this series we tell you our biggest mistakes with the hope that you can learn from our stupid errors.
The mistake this time round was not reading the signs. Before our latest adventure we were given 3 clear signs not to continue and yet we ignored them until the final sign left us in no doubt what so ever that is was never meant to be.
This story takes place in Pakse, Laos, not the most exciting place in the world but like most other backpackers in this area we had come to explore the bolivian plateau by motorcycle.
The Signs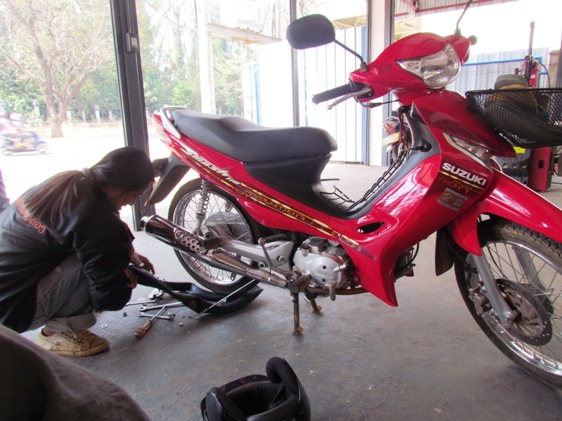 #1. The bike wouldn't start, this had been a problem the previous day but we thought the shop had fixed that. After about twenty minutes we were finally able to get the bike started after many, many kick start attempts. Not fancying dealing with this every time we stopped we took the bike back to the shop.
#2. Whilst getting the first problem solved at the rental shop the next setback came about, a flat rear tyre out of nowhere as the bike was just sitting there. The shop took the bike away and we were left to wait for around twenty minutes, our early start all but out the window.
#3. After finally setting off we were both in a great mood…. until, after about thirty minutes the bike began to shake violently, I had no doubt it was another flat tyre, and we had only just after passed the city boundary! It was the rear tyre again, the one the shop had supposedly fixed, or maybe just pumped up? Luckily for us it happened right outside a car garage who said they could fix it.
30 minutes and 50 pence later we were back on the road. It was already lunch time and we should have been at our first stop, we were hours behind and should have probably postponed the whole thing by a day.
But…We didn't and ten minutes down the road we were lying on the ground.
As the road changed to gravel I tried to turn and get onto the smoother section, I felt the bike slide and had to straighten up. Unable to turn I began to slow down but it was too late.
The bike slipped right away from under us and I took most the pressure on my elbow which immediately swelled up while a wide gash on my hand did took care of the bleeding side of things.
Kirsty landed directly on me but also cut her hand and knee pretty bad. Within seconds of falling Kirsty turned to me and said "now it's definitely time to call it a day!" After calming down from a bit of shock and picking as much of the gravel out of our hands with our fingers as we could. We proceeded to rip my shirt to pieces to create a makeshift bandage for my hand – it wasn't my best look.
The bike worried me most but only suffered a bent pedal and some scratches. After a few kick starts (yes it still didn't really start properly) we started to head back, slowly, very slowly.
Without anywhere to stay that night, we discussed treating ourselves to a nice looking hotel Kirsty had spotted earlier that day. Entering reception we looked a little out of place covered in blood and with ripped clothes but it didn't seem to faze the reception staff and within minutes we had booked into a £20 a night room.
Then came the painful task of returning the motorbike. We were expecting the worst, assuming that we would be ripped off and there wasn't a lot we could do about it. The lady couldn't speak much English but seemed to be more concerned with our wounds and if we had injections than the bike. She gave someone a call and pointed out all the damage we had done and they agreed a figure. The damage would come to whopping 50,000 kip… we were shocked, £4! We had ruined her bike and she was going to charge us £4!
So overall our little bike crash cost us:
– Repairs £4
– Nice swanky hotel room £20
– Nice swanky meal £10
– And some very hurt pride
Although we were unlucky to have the crash, as crashes go we were pretty lucky. We didn't need any hospital treatment nor did we have to pay a shed load of money to repair the bike.
We should have read the signs and given up after the three warnings but instead we ended up with a body full of cuts and bruises or, as I like to call them, an excuse to stay in a posh hotel for a couple of nights and head down to the 4000 islands sooner to do nothing in a hammock all day.