How do you fit 17 people, luggage, 12 planks of wood, a few chickens & birds, a few bags of rice, a motorbike and a coffee table in a minibus that usually seats 12?
On the bus from Ban Lung to Phnom Penh we learnt how…..
The journey started off pretty regularly, there was a motorbike tied to the back so we had to shove our backpacks under the chairs. But despite the warnings from the hostel owner we ended up with quite good seats. When we got on there were three other passengers and we went off to go find some more, when we left Bang Lung 30 mins later the mini bus was full (13 people)… or so we thought.
About ten minutes out side Ban Lung we turned off on to a dirt track to pick up a a family of three, who had a couple of chickens and a few birds in tow. They clambered into the back seat and off we went on the extremely bumpy road between Bang Lung and Stung Treng.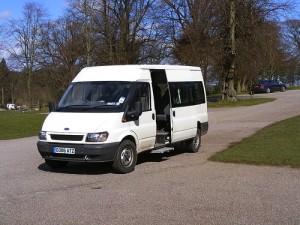 We stopped an hour later in the middle of no where for a supposed toilet stop, but ended up collecting a monk and a few bags of rice too. This meant a change in the seating arrangements. I moved into Poi's seat and the Monk took mine, which left Poi hovering preciously between both seats, with no back rest, basically in no mans land.
We arrived on the edge of Stung Treng ahead of time and got out for a breakfast stop. But the mini bus didn't wait around with us, instead it drove off with all our stuff and absolutely no explanation! We waited over an hour for the mini bus to reappear slightly panicking that they may have sold all our processions – instead we found a table had been added to the mix!
Still without a real seat for Poi, we set off once again towards the capital – around 4 hours later a lady got off the bus, giving Poi her seat – I think his arse was very very very relieved at this point!
We stopped at a petrol station to get all the mud of the north west off the mini bus, as it was being cleaned I noticed that all our bags were being unloaded from the van – "why, what are they doing? Don't say THIS is the end of the road??" Nope – they just needed a bit of space to shove 12 massive planks of wood under the seats!
With our foot space well and truly gone we proceeded, we had been on the road for over seven hours and hadn't eaten anything but a bag of crisps… but there was yet another stop, this time the driver stayed with us but all we really just wanted to get there, but it would be another 4 and half hours until we would be able to finally check into a hostel.
We were told that the mini bus would take a total of 9 hours, but we were on the road for nearly 12! 4 months ago we would be at each others throats by the end of the day, but the interesting thing we noticed throughout the whole journey was how incredibly relaxed we were about each thing – But now it was just like, meh it's fine, we'll get there eventually!