Like many European city breaks, you'll have a long list of things you want to see and might worry how you're going to fit them all in.  Of course at some point you'll have to accept that you're not going to be able to cram everything into a weekend but the good news is that in Budapest you're able to fit a good chunk of the sites in simply on foot.
We decided to go on a guided tour and despite normally being very uninterested in that sort of thing, the local knowledge turned out to be invaluable and the five hours we spent with the guide certainly helped us see and experience a lot more than we would have by ourselves.
But if, like we usually would, you'd rather grab a map and give it a go by yourself then here's a few recommendations for a short walking tour of Budapest.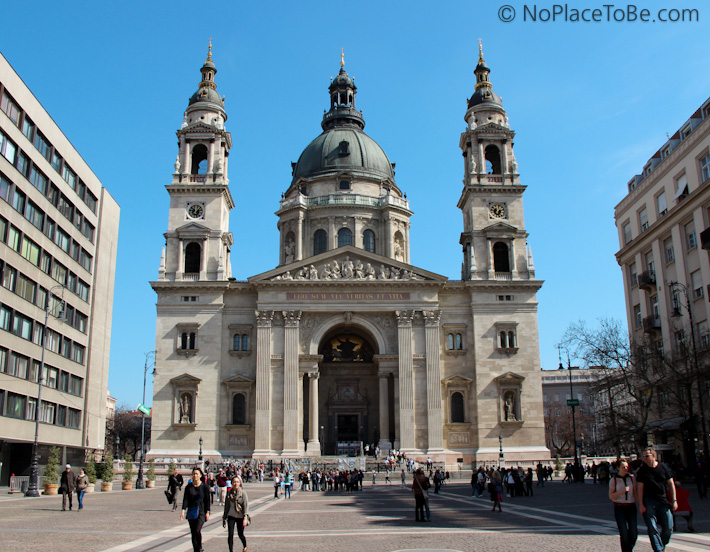 St Stephens Square
St Stephens Basilica
Start at St Stephens square. The nearest stop is Bajcsy Zsilinszky way which is served by metro line 1, 2 and 3.
In the square, you will find St Stephens Basilica which might remind you a little of St Pauls Cathedral back in England. It's Budapest's second largest church and great for a quick wander round.  It's built on a little bit of hill as thanks for saving the people of Pest from flooding. The dome of the building reaches 96 metres high and is open to visitors for great panoramic views of the city.
Open Saturday from 9.00 – 13.00 and Sunday 13.00 – 1700.
St Stephens square
After heading up the Cupola (dome) you might well fancy a quick snack and I would suggest that you head straight to Gelato Rosa Ice Cream Parlour for a very tasty treat! The main attraction of this place is that all of their ice cream is served as a beautiful rose, I recommend chocolate and pistachio.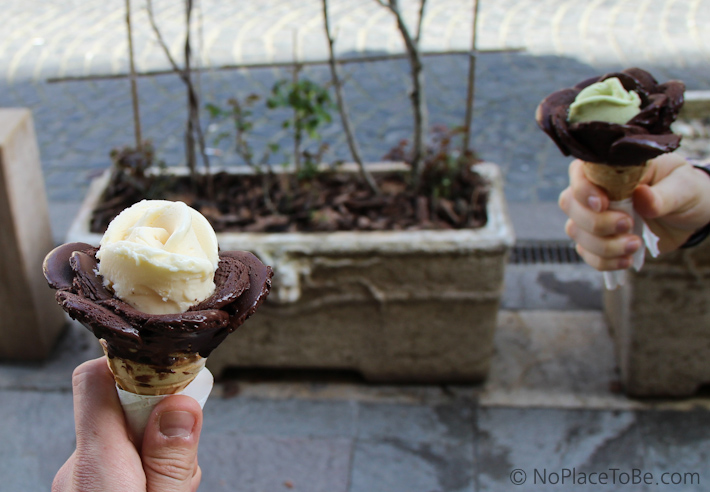 Gelato Rosa Ice Cream Parlour
Hercegprimas Street
Leave the square from the opposite exit to Gelato Rosa and head down Hercegprimas street, then onto Hold Street. You will now be walking in the business quarter which has lots of great examples of 19th Century architecture. Best of all, it is very quiet at the weekend so you can wander around without the crowds. Make sure to stop outside the Art Nouveau postal building, whilst in construction people asked why the roof of all places was so ornately decorated, the architect explained that it was designed for the birds to enjoy!
The first thing I noticed was the bees flying up the building, it turns out these are the very fitting symbol of saving in Hungary. It's a beautiful building and well worth stopping and taking a couple of pictures, especially if you've made the most of the chance to see the roof from the top of the Cupola.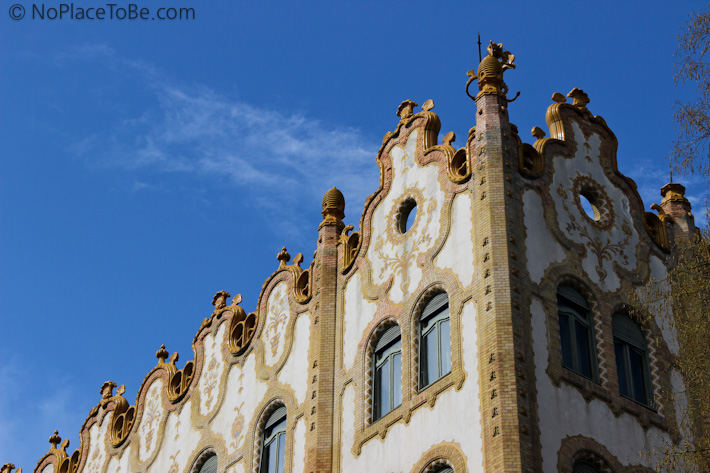 Postal Savings Bank
Liberty Square
Turn left down the street after the postal saving bank (Perczel mor street) – Although it might not look accessible the street is still open to pedestrians. Once you've walked past the American Embassy you'll find yourself in Liberty square.
I really liked this square, in one corner there's an interesting building that used to be the stock exchange, now it's the home of Hungarian national TV. This square also holds one of two Communist statues left in Budapest, the rest have been moved to the statue park outside the city – well worth a visit if you are in Budapest for more than just a weekend. The statue was ordered as thanks for saving Budapest from Nazi rule, the Communists commissioned it but expected Hungary to pay! It also has a statue of Ronald Regan who appears to be walking towards the Russian statue, I am not sure why it is there but my interpretation is that this is thanks to the West for toppling the Communist regime.
Kirsty with the man himself
Parliament Square
Walk past the Ronald Regan statue (on to Vercey street) and you'll be heading towards Parliament square. Just before you arrive at Parliament you will pass another memorial statue from the 1957 uprising, a man on a bridge.
Walking past the memorial bridge you will now be in the large open space that is parliament square. It has just reopened after a massive modernisation project before it wasn't possible to walk up to the main doors and you couldn't really appreciate the amazing architecture because there were a lot of fences. We were incredibly lucky to be there whilst they were changing the guard, where you can get a much better view than at Buckingham Palace in London.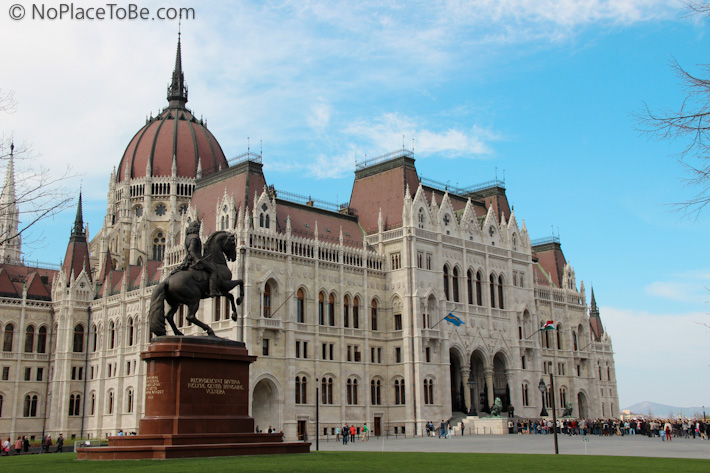 Parliament Building Budapest
The design of the Parliament building was decided by a national competition but rather than just building the winner they also built the 2nd and 3rd place designs which you can see behind the main Parliament. I think the main building won hands down and is so much more interesting and intricate than the other two. They only use one chamber now in Parliament so there are plans to open the house of lords to visitors, although there was no sign of this work when we were there.
Where next?
I recommend taking the tram back down into the city, It's a beautiful route taking you right by the river and another chance to make the most of the great public transport in Budapest, both for its convenience and charm.
Have you had a good walk around Budapest? Did you find anything worth sharing?