You may have read why we left laos early, well once that was all out of the way we had a chance to enjoy our first destination in Cambodia, Ban Lung.
Ban lung is a four hour bus journey from Stung Treng (Some passengers who were told it was only two weren't best pleased with this) and despite the lonely planet saying its along a sealed road it most certainly isn't. Yet another chance to enjoy some off off-roading in a bus – our head certainly became accustomed to the ceiling!
As I said in our previous post we were staying at a posh hotel the first night, well out of our budget, but after Tottenham beat Ac Milan (just had to write it) we moved into the Treetop Ecolodge and what an amazing place it is.
Our beds in Treetop Ecolodge
The 'ecolodge' title is just for attraction purposes but as far as hostels/guesthouses go this place is great. The whole theme of the place is like a treehouse, from the wooden walkway entrance, tree stumps for seats and wooden bungalows on stilts situated on the side of a valley which the whole place looks over.
The staff are friendly and always around to help, they offer well priced transport to other main towns and will arrange just about anything for you at little profit for themselves.
We only had a few days in Ban Lung and after our relaxing time in Don Det we had quite a bit of catching up to do. Treetop provided a prefect place to do that, looking over the valley and enjoying much of the food and drink on offer.
After a couple of days on the computers I was ready to get back in the water again and having read much about the volcanic lake in Ban Lung I was very excited. We grabbed some bicycles from a restaurant and pedalled about 20 minutes out of town. Arriving pretty warn out after a few up hills, it was well worth it, the lake looked great and seemed to be a hangout for the locals at the weekend, of course this being Asia they were all eating.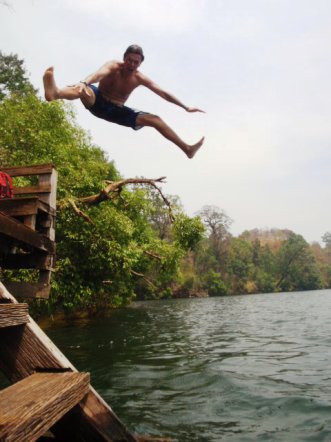 I can't sit still….
The lake is great to swim in and very refreshing in the hot weather, Kirsty spent a couple of hours laying in the sun and cooling off every now and again while I repeatedly jumped off the jetty a few (hundred) times.
Such a nice place and despite being quite hyped up in the guidebooks, few people head to the north east of cambodia to Ban Lung. Not in a long time have we had so many people say hello in the street and everyone genuinely friendly. We would have liked to stay longer and check out the many waterfalls however due to a change in plans we had to be on our way to Phnom Penh, for more on that you'll just have to wait until the next post…