With our 5 year travel anniversary (apparently that's a thing) coming up, we thought it would be good to look back at how our style has changed over those years, and in particular our packing style.
Like most people, we have been on a steady downsizing mission since our first trip. Despite this I've always been a bit of a 'what if?' girl and tend to pack a few extras just in case. Poi, on the other hand, is a lot more content to take only the essentials, usually meaning I can take over half his baggage space as well as my own.
Our first backpacks were huge. For months before setting off to China in 2010 we spent hours and hours looking at all the fancy traveller backpacks available before settling on two 70l+ models from the Australian brand Caribee. At the time we didn't really consider anything smaller, the average bag on the market was 70 litres and planning that first trip it was hard to imagine leaving home with anything less than what would fit in two large backpacks.
I made the decision to go with a pull along model and although it had the option to also be worn as a backpack it wasn't the comfiest and I rarely used it in that way.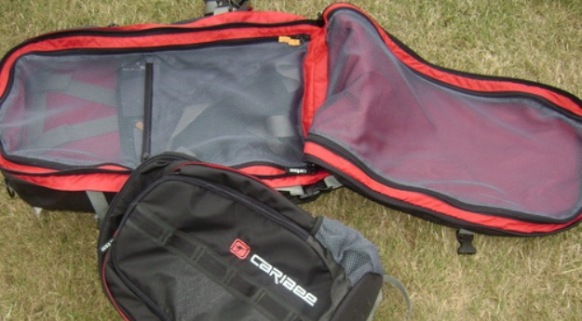 Poi's large but easily accessible Caribee backpack 
In China I thought I'd hit the jackpot, the streets all had paths and I was smugly dragging my bag along thinking, why on earth would you rather have all this weight on your back? Then we got to Vietnam, with more people and fewer walkways I began to doubt my decision.
Eventually, the burden of carrying the bag (not on my back) became a bit of an issue and I began to long for something I could comfortably sling over my shoulders. The bag was wonderful when it came to well-maintained streets but as soon as we headed out of the main towns it all became a little more tricky. Climbing in and out of small boats or up flights of stairs all had me complaining and when we moved to Bangkok I packed my Caribee bag away – never to be seen again.
During our time in Bangkok, we made plenty of short trips to other locations in South East Asia and it's during this time that we truly started to appreciate the ease of carry-on baggage only. Air Asia had quite a relaxed policy in regards to baggage and we never had any problem surviving a week or two with a couple of small bags.
After returning to the UK for a couple of years between 2012-2014 we spent many long weekends away across Europe where we continued to travel with carry-on only  luggage.  Most low-cost airlines in Europe charge extortionate rates for checked bags and if you are only going for a couple of days you don't really need that much. The only problem is they have very strict baggage policies and each one is different. We've travelled on Easy jet, Thomson, Wizz air and Jet 2 – each with different size and weight restrictions for carry-on bags! A nightmare!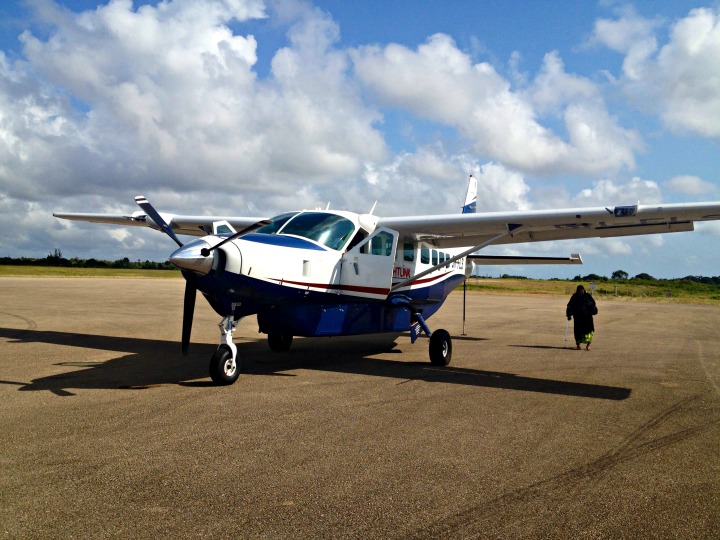 There are slightly fewer restrictions on aircraft like this.
After getting married, we travelled to Tanzania for an 8-week honeymoon and I still only travelled with a carry-on bag, surprising both Poi and myself.  I still somehow managed to find myself with too much stuff but it was great being able to walk around and not lug 25kgs behind you – I think both of our bags weighed 25kgs combined. Although to be honest we didn't need to be that strict with our bags as most of the planes we used didn't even have a hold!
Now we are moving to Romania and taking a whole car load across Europe with us. It's a one off though, once we're unpacked we'll return to our new love of packing light and simple and we'll be encouraging our family to do the same as they make the most of the cheap flights to Bucharest.
If you're just thinking about starting your first backpacking trip then let this be a lesson to you, you'll get there eventually but why not save yourself a few years and start with a 40l backpack instead of that big old ugly 70 litre thing. You can thank us later.
How has your travel style changed over the years? Were you one of the clever ones who has always travelled light or perhaps you still love your big first backpack?