Since being home we've been asked quite a few questions about our experiences away, so I've decided we should start posting some of these along with our answers so that people might stop asking (or maybe gain something from our response, I dunno…)
So the first question for our new feature is:
Kirsty,
I am thinking about taking a year out but don't have much in the way of savings, I was thinking about a teaching job in Thailand but was wondering how easy is it to get a job teaching English? I am worried that I will turn up and won't be able to secure a job and will have to return home within 2 months. Do you know what type of qualifications schools looking for and where you start applying for jobs?
Teaching in Thailand is incredibly rewarding and I have written loads of posts on this subject but never how to do it. There are a lot of things you need to consider before flying out.
First do you have a degree? Thailand requires a degree certificate before they issue their non-immigrant b visa. You need this visa to work legally and I would recommend that you bring the degree certificate out with you so you don't have to do multiple ridiculous visits like me.
If you don't have a degree you can still work in Thailand however it won't be legal. I met lots of teachers whilst I was there who are working on tourist visas and some schools don't mind but it isn't recommended and can be quite annoying so my advice: do it the non b visa way.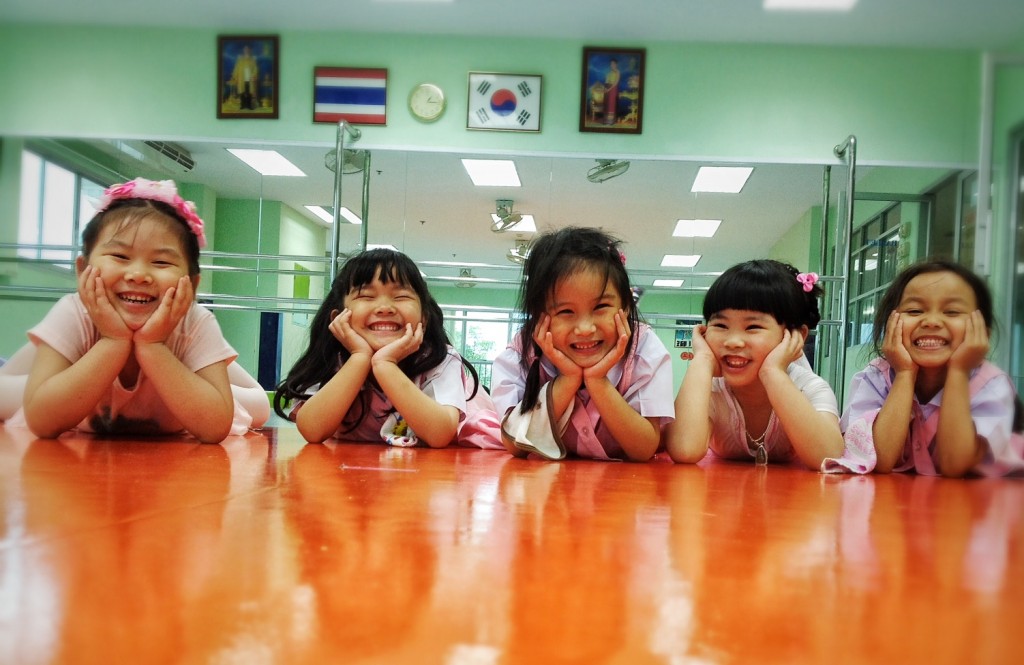 My K2 girls!
I do recommend that you also get some sort of TEFL qualification, however a lot of organisations will try to tell you need an expensive TEFL qualification to work abroad, but you really don't! I decided that I would take a 40 hour course which covered all the basics. I went with i-2-i who usually have different promotions each month – I think when I did mine I got 20% off and could take an extra course for free. One downside to purely online learning is you cannot test out your classroom skills and my first test class was a bit of a disaster.
However even the more expensive residential courses that guarantee classroom hours may not prepare you fully. One of the teachers at my old school went down this route and found that their "classroom experience" was just teaching the other people on their course, not really the same as teaching 30 children who have no idea what you are saying! If you do go for a residential course make sure you do your research to ensure that you are definitely getting the experience you feel suits you best.
The best website to search for your perfect teaching job is Ajarn.com, which has been set up to advertise all teaching jobs in Thailand. The Thai school calendar is different to ours: their summer break starts mid March and last two months and they also have a one month break in October. Schools are mainly looking for teachers at the end of the school year, so the best time to start applying for jobs is at the beginning of March looking to start in May. Bangkok is the easiest place to find a teahcing job, especially if you don't have any teaching experience – there are a surplus of jobs here compared to other, perhaps more desirable places. Naturally the more qualified teachers are going to get the dream jobs on paradise style islands and such like..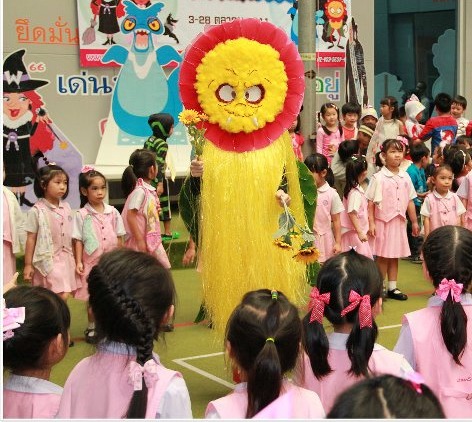 Guess who's under that costume?
A lot of adverts ask for at least 1 year experience but I wouldn't worry too much about this. I applied for 20+ jobs and had at least 5 replies asking for more information – maybe it is just standard to ask for it. I would recommend that you apply for as many jobs as you can before you travel so you can have interviews lined up straight away. We were in the Eastern Cambodia when I got a skype interview for my job and everything snowballed from there.Thai's can and do judge you on your looks alone, so you need to make a good impression straight away. Make sure you have a smart outfit for interviews and a good picture to attach to your CV.
Some Basic details:
Look at the contract you are signing try to get one that pays you for 12 months a lot of schools now only offer a 10 month contract which means you have to work in the summer or take a massive pay cut!
The best time to look for jobs is the beginning of March until mid May
The basic wage is between 30,000 – 40,000 baht but have a look at your duties and working hours. It might be better to go for a lower paid job that finishes at 12 and pick up a second one in a language centre to supplement your income
Look to live close to the school we lived a 100 baht taxi ride away which I used to share with other teachers at the school
Are you thinking of teaching abroad or do you have any over teaching related questions I can help with? Or if you want a question answered contact us at poiandkirsty@gmail.com or fill out a form here