I think it was roughly around 7 minutes into this trip we decided we wanted it to last for as long as possible and our opinions have not changed nearly 8 months in.
Some months we've been spending FAR too much but others we've been able to save so overall we are happy with how things have worked out with the dosh. About a month ago we had to decide how we were going to continue forward, we have enough money to continue travelling for a good few months but then it would be up, that would be it.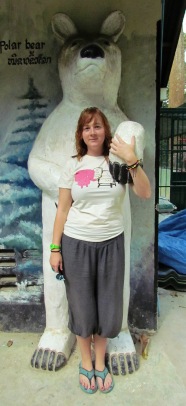 Needless to say we didn't want that to happen, so rather than watch the bank balance go down to the last penny we thought it would be better to top it up and then start all over again. The easiest way to do this in South East Asia is to teach. We had been preparing for this for a while, whilst living in Chiang Mai for three months, Kirsty completed an online TEFL course. We chose an online course mainly because we didn't know when or if she would teach so it seemed a better option than the far more expensive CELTA course.
After leaving Laos, Kirsty began applying for jobs in Bangkok. Up until this point the only thing we had seen of Bangkok was the airport but if we were going to be staying put for a year we needed somewhere that could keep us busy and entertained for that long and with a lot of teaching jobs going, it seemed the perfect place.
The only problem being, we were in Cambodia and believe it or not schools like to meet their teachers before letting them loose with their kids. Kirsty had some good responses from schools and it was clear many were looking to get teachers sorted out as soon as possible.
This put us in a tricky situation, we had just paid $56 for our Cambodian visa and only been in the country a week and of course there was so much more we wanted to see.
After much thought we decided we would only regret it if we missed an opportunity to get Kirsty a decent job, we weren't going to rush straight to Bangkok as none of the interviews had been confirmed but we thought it best if we at least be in Phnom Penh where should something come up, we could easily fly across to Bangkok.
So after 5 nights in Ban Lung we were on our way to Phnom Penh unfortunately missing out Kratie and a couple of other places we had in mind. But we'll be back…