That's right – I went to 'Merica – Land of dreams and all that but lets start at the beginning: 
I've never been on a 'Lads Holiday' before and this latest trip is probably the closest I'll ever come. I mean lets be honest, if I was going to the States with Kirsty (She wasn't even invited this time) Vegas probably wouldn't even be considered. However, with two male friends it seemed like the obvious place to start…
I'm not too keen on these type of short holidays, I mean if our trip to Slovenia taught me anything it's that when I'm done in a place, I like to go somewhere else, anywhere else… but home.  I don't mean to moan though and part of the original excitement of being home was the chance to spend lots of time with our friends.  And what better way to do that than bugger off on holiday with them for two weeks?
Unfortunately for me flights across the Atlantic don't come cheap, add that to the cost of hotels, car hire and internal flights and my poor old bank account was down a thousand pounds before we'd even gone anywhere.  My social life also came to a stand still for a couple of months but the excitement of my first visit to the US including Las Vegas and a drive up the coast of California made it all more than worth while.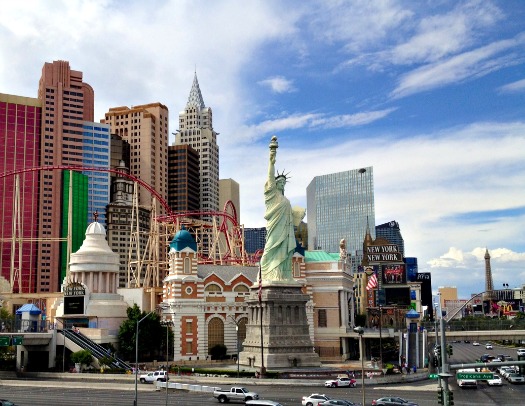 New York New York
Fast forward many days and many hours in the air and we're landing in McCarran International Airport , Las Vegas.  I'd done little research before setting off and despite being told the first thing I'd see was slot machines, I'd written this off as a joke. It wasn't.  Within 20 metres of the exit gate I'd spotted one, luckily I don't have a problem and strolled right past but I can't say the same for everyone on my flight.
Outside the airport the humidity hit me straight away and the idea of putting shorts on before leaving home seven days ago (at least that's how long ago it felt) seemed like a good idea.  The endless supply of taxis soon cleared the line of soon to be millionaires and we were transported to our luxury accommodation for the next five nights.
★ Hooters Hotel and Casino, Las Vegas ★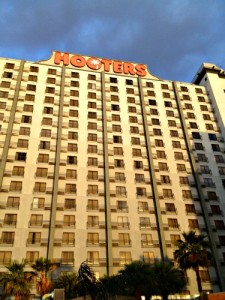 It's not what you think!
Hooters is cheap! We paid £70 each for five nights compared to £60 for one night in a dreary Travel Lodge here in England, it was a bargain. It just so happens the staff were a lot nicer to look at too. Also, did I mention the chicken wings?
Like anyone when arriving in a new and exciting place we threw our bags down and headed straight off out for our first impression of the strip.  Much of action seemed focussed on the Floyd Mayweather fight taking place that night, add to that the usual Saturday evening crowd and Vegas becomes a very overwhelming and intimidating place for three English lads with a severe lack of sleep (and three flights and two airports worth of booze in them).
A couple of hours flew by as we wandered through the casinos, sipping on a 'Silver Bullet' (beer) and trying to work out what the hell was going on.  Eventually the tiredness got the best of us and we slowly stumbled back to the hotel still trying to take everything in. As we left the strip around 2am it was clear that for many the night was only just beginning and for some of those it may last a couple of days.
For us the fun would start tomorrow but the signs were there, we were in for a damn good time.