Last week I had a wonderful 4 days in Kosice with my Mum. I'm not sure what I expected, I was so busy with leaving my job, moving back to Lincoln and then going off to train other teachers that I hadn't done my usual level of research. It was quite refreshing turning up with no knowledge of a place and having other people in the know plan everything.
Almost immediately over dinner I was told that most people in Kosice have a sweet tooth, right then I knew I had found somewhere I'd fit in just fine.
The Old Town
The first of many visits to Kosice's old town was during our very first night in the city. We made the most of the many cafes set up to tempt you in for a drink and a quick bite to eat. The centre of the city (1km) is completely pedestrainised, as you stroll further along you come across a number of different fountains and parks all with a little something different.
The area in general has an old Victorian feel to it and feels very peaceful, the beautiful gothic cathedral only adds to this whole vibe.
Over my four days in the city I spent a lot of time in the old city and never got tired of wandering the streets and just sitting down for a relaxing drink and doing a spot of people watching.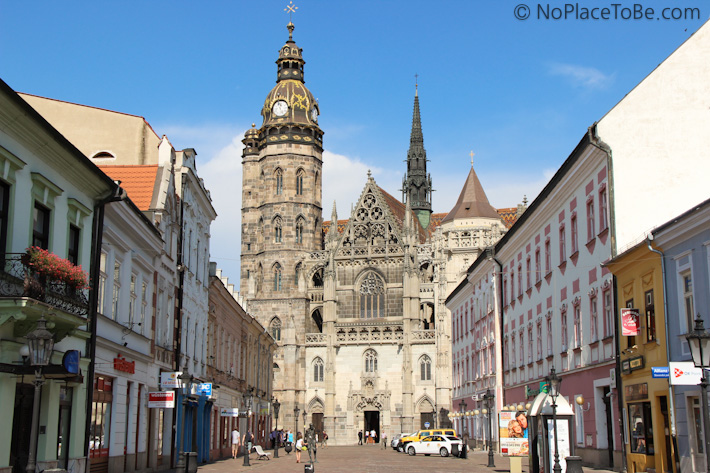 Kosice Old Town
The Locals Like to Drink Shots
This leads me nicely on to my next point. The locals love to drink…. Mostly beer or shots! One of the best memories I have of Kosice is watching my Mum sip a shot called 'the brain' which is topped with absinthe of all things. This, as you have probably guessed, is not something I usually have the pleasure of watching my mum do and was quite an entertaining treat!
Personally, I would recommend Tatra Tea (Tatranskycay), which comes in different strengths from 27% all the way to 72% however, around 52% seems to be normal amongst most bars. It's only available in Slovakia so well worth a taste. I actually enjoyed it, much to the surprise of our hosts.
I'd recommend a bar called 'Jekyll and Hyde' if you're looking to try some of these mixed shots. It's located on the main street on the way to Eastern Slovak museum.
Tokaj
The city is just an hour away from a famous wine region that has even stricter rules than the champagne region in France.
Tokaj is an incredibly sweet dessert wine that can only be made when the grape gets something called 'noble rot' which happens about every 4 years, you can also only grow the grapes on a slope facing south or south west – very strict. We tried the wine at Ostrožovič winery which was absolutely delicious. We also enjoyed a great tour of the vines too!
Wine Tasting in Tokaj
Skiing
As you know we have become a little obsessed with skiing, so when I found out that in the winter the citizens of Kosice are only 20 minutes away from a ski slope I took a keen interest! It's hard to believe this sweltering hot place gets cold enough for that sort of thing but then again, it is only two hours away from a fully fledged ski resort.
During the summer months the skiing is swapped for a pretty exciting toboggan ride which I was more than happy to try out during my time in Slovakia.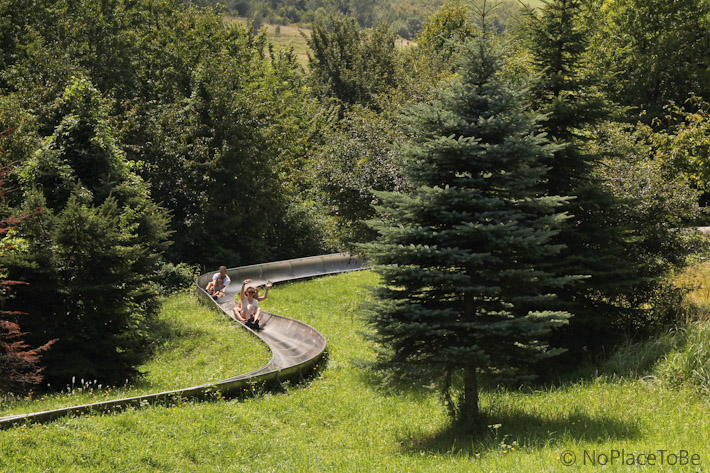 Toboggan Fun
Festivals
There are just so many of them. With so many awesome choices of festivals you'll find it difficult to decide when to visit the city. On my first day in Kosice I found out about five, by the fourth day I knew about twenty-five!
My picks to check out would be Tokaj wine festival (Sept), Nuit Blanche (October), Peace Marathon (October) and Imagination Kosice (May) but it's worth having a look through the list as there really is something going on for everyone.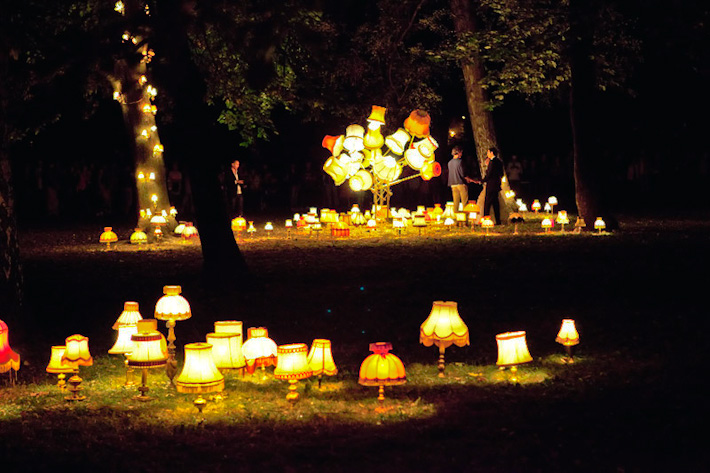 Nuit Blanche Festival
Bonus
A new city card has just been released where you can get free admission to 9 of the main museums and enjoy free public transport . They have also negotiated discounts for a lot of other close by attractions as well.
Bonus Bonus
Everyone I met in Kosice seemed more than happy to suggest somewhere for me to visit, a drink to try or a snippet of local knowledge, that's surely the best bonus you could ask for?
Kosice = hidden gem!
Thanks for the Kosice Tourism board for allowing us to use their white night picture!